"Miss Representation" and Sexy Halloween Costumes: The Best and Worst of October by Anna March
The Best: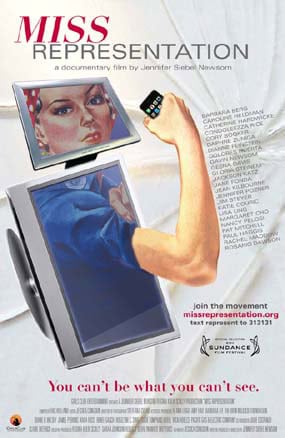 I am in love with Miss Representation.
Miss Representation is a documentary – which will be shown on Oprah's OWN Network on Thursday, October 20 – as well as a call-to-action organization/movement that is tackling head-on the portrayal of women by the media and the message it sends to young girls.
The film trailer so moved me that I cried — and I am not one for bursting into tears.
"You can't be what you can't see" is the simple idea at the heart of Miss Representation.   We need to change what we see in order to change what our children will become.
In the film, writer/director Jennifer Siebel Newsom interweaves interviews with prominent women like Katie Couric, Gloria Steinem and Condoleeza Rice with alarming statistics and stories from teenage girls.
Visit the website to learn more, and mark your calendars to watch the film on October 20. Lois and her daughter are in Chicago right now, watching the movie and participating in the after-show TV discussion with Rosie O'Donnell. Can't wait to hear all about it!
Newest Miss Representation Trailer (2011 Sundance Film Festival Official Selection) from Miss Representation on Vimeo.

The Worst:
Trick or treat? Look, there's a sex-worker at the door! Oh, that's not a sex-worker; that's a little girl in one of this year's costumes — all of which seem to be peep-show versions of themselves.
For instance, girls aren't wizards; they are "naughty" wizards.
Girls aren't devils; they are "red hot" devils.
And let's not overlook this gem — "Major Flirt"
In a word:  Yuck.
It's even worse when you look at costumes for teen girls — the sexiest maids, referees and sailors you've ever seen.
Party City lists in its "Girls' Careers" Costume section: cheerleaders (4 types!), starlet, Barbie dance-diva, princess gypsy. Just the aspirations colleges are looking for in their applicants. Oh, and doctor and zookeeper — in case you were thinking that "career" actually meant, you know, a career. Boys, on the other hand, get to be police officers, firefighters, astronauts, and pilots. And not "naughty" or "hot" ones.
Halloween seems to be the perfect time to both reinforce gender stereotypes and promote the over-sexualization of girls — and there's even candy! Not that we want girls to eat that candy, of course. One appalling costume that has been removed from most retailers due to public outcry:  Anna Rexia.
It's enough to make you want to move to Australia, a terrific country where they don't observe Halloween.
I asked writer Lidia Yuknavitch, author of The Chronology of Water, what she thought of all this. Her response? "Increasingly, the mediazation of civilian society is sculpting girls into sexualized, vapid, glamour dolls. The message is this: girl humans need to look like television, movie, video game and comic figures which, just like good old Barbie, means "Sex it up, honey, or you just don't count." My Halloween costumes as a kid: a bum, a ghost with blood all over the sheet, and my personal favorite: the ham girl from "To Kill a Mockingbird."
Anna's fiction, essays and reviews have appeared in Salon and other publications. She writes the "Ink on the Tracks" playlist column at Connotation Press. Her novel, The Diary of Suzanne Frank, is forthcoming.  She'd love to hear your suggestions, so feel free to reach out to her on Facebook. And if you missed her column last month, you can read it here.