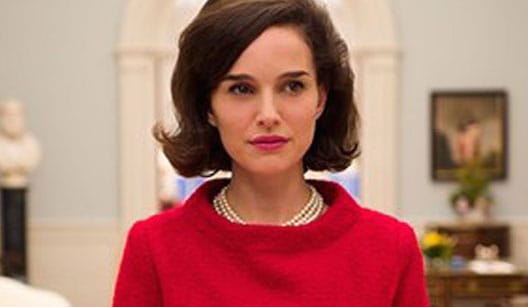 Sorry, Amy Adams, Emma Stone and Emily Blunt, but this year's Academy Award for Best Actress is pretty much guaranteed to go to Natalie Portman for her stunning portrayal of Jacqueline Kennedy in Jackie.
Not only does she channel the First Lady's look, mannerisms and, oh, that distinctive voice, but she transforms herself into a woman we all thought we knew so well and reveals a whole other side of her. Her performance is haunting. [Read more…]
With her signature pillbox hats and unerring eye for fashion, Jacqueline Kennedy changed our image of the First Lady forever. Before she and President John Kennedy moved into the White House, we were used to homey wives like Bess Trumanand Mamie Eisenhower – women who made many contributions during their time but in more traditional roles.
Jackie, though, was the epitome of style. She topped the "Best Dressed" list for four years and was inducted into the Fashion Hall of Fame, yet she was a real woman whom the public watched as carefully as they did her husband. There was nothing phony about her – she was naturally elegant and sophisticated – and her personal aesthetic raised the taste level of our country, giving art, culture, music and fashion the prominence she felt they deserved.
As the youngest First Lady in 80 years, Jackie brought a freshness to the White House, with possibly her biggest impact being her restoration of the White House itself. She counted fashion icon Diana Vreeland as her close friend, and worked with the world's best designers, including Oleg Cassini, Givenchy and Halston.
Although Jackie was only in the White House for a short time in the 1960's, she remained in the public eye until her death in 1994, and her influence can still be seen today. Shelly Branch, author of "What Would Jackie Do?" has recently compared Michelle Obama to the former First Lady, and the Metropolitan Museum of Art has curated a gorgeous exhibit, "Jacqueline Kennedy: The White House Years," with a lavishly-illustrated coffee table book filled with the stories of the clothes that made such an impression on the world.
It says a lot about Jackie's place in history that not only do we all remember where we were when we heard that President Kennedy was shot but we also remember exactly what the First Lady was wearing.
This post originally appeared on my former blog, StyleSubstanceSoul.