Janet Glazer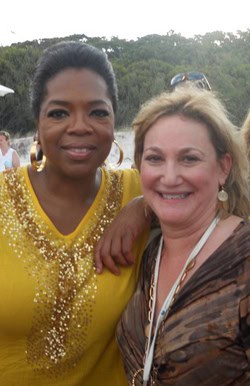 I have been watching Oprah since she was on People Are Talking in Baltimore where I grew up. I continued to watch her through the years and watched her evolve.
After my husband passed away, I was sitting on the couch, depressed, watching The Oprah Show, when Nate Berkus came on. He had lost his partner in the tsunami, and was talking to a woman who had lost her son. She told him that she couldn't move on because every birthday and holiday made her sad. Nate explained that he no longer gave dates any power, but just allowed the memories to come and go. This was a powerful "aha" moment for me, and gave me the courage to move on. I shared this story with a group and I saw tears from a woman who had lost a child and how strongly this resonated with her as well.
Since then, I've sold my house, sent my daughter off to college, retired and moved to Florida. I have begun a new chapter in my life just as Oprah is doing the same. I feel, since the trip to Australia, life has changed for me forever as I work to retain all the lessons that Oprah has taught. When I get down, I stop and focus on the present and reflect on how fortunate I am, and how I can serve others. I am so glad to have met the other Ultimate Viewers who feel the same way I do. Thank you all for sharing your inspirational stories.
Our grandchildren will be reading about Oprah in history books. I feel so blessed to have met her in person and fulfill a dream that I never thought would be possible.
Avalon Middleton
Every afternoon, after I came home from school, my mom and I would sit down and watch The Oprah Show. Ever since I was in middle school it became a tradition for us to do this. When I look back on her show, I realize how much I learned from Oprah. She taught me to think on a global level and be knowledgeable about what was going on in the world. I was then inspired to be a more active participant in making changes in the world, no matter how small.
There was one episode in particular that really resonated with me. It was the episode where Oprah presented the program, Challenge Day. The high school I attended often had problems where students felt isolated and felt that they did not belong. Challenge Day was designed to help schools solve these problems. Through the group I co-founded, Teenagers Against Prejudice, my school was able to bring Challenge Day to my high school. In the letter my mom wrote to Oprah, the one that got us invited to a show, she spoke about our tradition as well as my involvement with TAP.
I never imagined that one day I would be a guest in Oprah's audience, let alone receive such a huge gift from her. I was shocked when my mom told me that we had been invited to attend a taping. I was close to saying that I could not go because I was worried about missing classes! Thankfully we decided to go to the show. It was exciting enough that I was going to a taping, and I NEVER could have guessed that we would get a trip to Australia.
That trip will be one of the most amazing experiences in my life, and I was so glad that I got to share it with my mom. Not only did I have incredible adventures in Australia, but I also met so many special people (like my San Diego "moms" who run this site!). I cannot thank Oprah enough for the trip and, even more importantly, for all the lessons I learned from her.
Julie Lemerond – (Freelance Writer)
"Become More of Yourself"
I first saw these words on a greeting card in The Oprah Store, shortly after receiving the trip of a lifetime to Australia from Ms. Winfrey.  I brought the card home with me and promptly placed it on my refrigerator door, where I could be reminded of that message every day.  Three months later, 302 of us met in Los Angeles and boarded our Qantas flights to Sydney, absolutely giddy with anticipation.
The beauty of our trip was not in the lavish meals that we ate or the ornate hotel rooms in which we slept.  To me, the real beauty of the trip was about the slow swelling of internal knowledge that I am worthy of such beauty, and that I am deserving of nothing less.  Because I am alive, the world is available for me to experience whatever I want from it.  It was during those 10 days in Australia that I learned the true meaning of those four small words, those six simple syllables, which had been posted on my refrigerator months before.
I saw butterflies everywhere while Down Under.  I knew they were a symbol of the transformation I was undergoing.  On our last day of the trip, I found a butterfly ring, its wings filled with amber stones, and purchased it as a reminder of the growth and evolution that life is.  I wear it daily, never forgetting the power of its symbolism.
Become More of Yourself, Oprah asked.  I will, my heart answered.
Rhonda Van Ness Reyes
It's amazing the power one single woman has over so many people: the power of love, strength, hope, inspiration and influence … the list goes on and on. All of this explains why my dad, Larry Van Ness, has loved Oprah and her show for all these years.
When I heard them say at the end of an Oprah show back in July 2010, "If you are or know an Ultimate Viewer, please write in and tell us your story," I knew I had to tell them about my Dad, who refers to Oprah as "his other woman" and quotes her all the time. Little did I know that my letter poking fun at his crush on Oprah and asking if they could get him tickets to a show so he could cross that off his bucket list would forever change not only his life but my entire family's life.
Our ride was about to start and what a crazy ride it was! My dad had the experience of a lifetime, starting with a surprise visit from NASCAR driver Jimmie Johnson who brought my Dad a DVD of Oprah inviting "Larry and his barber chair" to come to her show, then going to the season premiere where Oprah gave the whole audience the trip of a lifetime to Australia. Wait, you have to say it like this –Auuuuustraaaaaaallliiiaaaaaa!!!!
I would like to thank Oprah for a trip that was out of this world and something that my family could never have done without her. We were the only family there out of 302 Ultimate Viewers. There were couples, sisters, best friends, but we — as in my dad, stepmom, brother and sister — were the only whole family. How lucky we were!!
Oprah not only brought us together as a family but also gave us friendships that we will have forever. We have such a unique bond with this group of people. Oprah truly has touched so many people in so many different ways.
Thank you, Oprah, for making my dad's dream come true. If he is going to have another woman in his life, it's okay as long as it's Oprah.
Faunlee Van Ness Gooley
My 11 year old son and I watched the final Oprah show together yesterday, which, trust me, has never happened before! He sat through the whole show, never getting up to go do something "better." He just sat there taking it all in. When the show was over, he grabbed his iTouch and started typing what I assumed was just another email to his buddies. To my surprise, it was an email to Oprah! Yep, he heard her give out her new address and decided he wanted to write her! This is what he wrote…
Dear Oprah,
My grandpa is Larry Van Ness and I just want to thank you for everything you have done for all of the people that you have had on your show. I thank you for letting our family have a great experience not only watching your show, but also surprising my grandpa. You have inspired me to do things to help my community. As I said earlier thank you for everything you have done.
Sincerely, Harrison
Well, that is it. I just had to share how Oprah has touched another generation, even on her last show!
Felicity Gibbs
Being 30, my whole conscious life I have known the name "Oprah."  Babysitters watching The Oprah Show while I played.  I spent summers learning about AIDS, racism, what being "gay" means, how to apply make-up — all in the classroom of Oprah, always in the background of my youth.  She has been a constant in my life.  Sure she has entertained me, enlightened me and educated me but she has done something much greater than that for me, as well (although, really, the aforementioned would have been plenty).  Oprah Gale Winfrey showed me that miracles do and can happen every day if you let them.
I was one of the lucky few that got to be in the audience that warm September day when we were told of our trip to Australia. For me, it was life-changing.  It came at a time when I was very low — recently laid off, broke, 30 years old and never been out of the country, a young woman so lost and defeated.  That trip, her words, and the people I met and still communicate with showed me the beauty of the world again.
That magic can happen for everyone.  Your world can change in an instant.  I don't pretend to know God, but Oprah gave me faith.  For that, I am so eternally grateful.
Brandii Nicole – (Honey Bii Blogspot)
Oprah taught me how to smile. A smile means that I am confident, determined, and secure. She taught me how to always hold my head up high and face any obstacle.
Oprah also taught me that we all have a purpose in life. When you find that purpose, hold on to it. The purpose will make you a better "you."
Mary Elizabeth Shah
Oprah entered my life when I most needed her. I lost my mom to lung cancer and was happy for her to be released into the universe. She sacrificed a lot in her life and tried to be the best mom she could be while dealing with schizophrenia and raising three children. As my mom faded in and out of my life dealing with schizophrenia, Oprah was there as a constant with wisdom, love, and guidance through my college years and my adult years. Oprah has helped me to be a better mom, wife, teacher and person in this world. I now listen to life's lessons and strive each day to make the most out of life.
It was an amazing experience to share the trip to Australia with my sister who also sacrificed a lot in our family as the oldest child. Oprah, over the years, gave me the amazing gift of teaching me how to drop all of my childhood baggage and move on in my life "baggage-free."
The trip to Australia will always be held close my heart and a reminder that I have the power — and always had the power — to make the dreams in my life come true. I'm living the dream and creating new ones along the way!
I love you, Oprah, and thank you. Blessings to you in the next chapter of your life.
Liz Kazungu
What I will miss most about The Oprah Show are the "aha" moments when I was able to think about something differently or learn from a guest on the show. There was not a show I watched from which I felt like I did not take away something that would have an impact on my life. I shall miss this deeply.
Julene Fleurmond – (Dreamfleur)
How can I say thank you to someone for 25 years of inspiration and encouragement, an unexpected trip to the other side of the world and memories to last a lifetime? Oprah Winfrey has been one of my greatest role models since I was a child, and her example gives me the motivation to rise in perseverance despite life's circumstances, and the belief that with God anything is possible.
I've been watching her show since I was a preteen. Oprah has become a mentor from afar for me growing up and in my own budding career in media and entrepreneurship, inspiring me to start a creative company as a teen and pursue journalism in college. Seeing her, a woman of strength who also came from a background of poverty, encourages me use my talents to overcome and serve to give hope to those who are less fortunate.
As many of her Ultimate Viewers have expressed, I not only watch the show but also hope to be a conduit that continues portraying what the show represents: living with boldness, telling the stories of others and sharing our blessings. Last summer my mother and I went to Haiti (where my mom was born) to visit family there and to serve. I was so impacted by the trip and Oprah's example of service and philanthropy to continue to find ways to enrich the lives of the children and people of Haiti.
I also feel moved my Oprah to inspire other people, especially young people, to discover their purpose and serve others with their talents, and through the show's example I've created a youth program through which I do motivational speaking, and a network of online inspirational sites for youth and adults that are created to inspire and motivate others to reach for their dreams.
One of the biggest lessons I learned from The Oprah Show is that everyone has a story and a purpose, and that we are all more connected then we may appear. Through every guest Oprah has interviewed, she brings out the nuances and essence of the human spirit. I loved hearing the stories of some of the other Ultimate Viewers in Australia and am grateful to have shared that time with such an amazing group of people, who are so different yet have so much in common.
The one regret I have about the trip is that in my shyness I did not personally tell Oprah how much she has inspired me. Since I was a little girl, I have struggled with shyness and insecurity. I had an "aha" moment at the top of the Sydney Harbour Bridge when I discovered that the same boldness with which I faced my deep fear of heights to climb to the top of the bridge is the same courage that could carry me through life. Seeing how free and open Oprah was in person made me realize that fear causes one to be less present and to miss out on the most amazing moments in life.