You are here:
Home
/
Archives for ultimate day of service
This past Saturday, many of Oprah's Ultimate Viewers decided to pay it forward with an Ultimate Day O Service as a tribute to Ms. Winfrey herself. Here, care of Keisha Kuma, is what went on in Atlanta:
"We're going to Australia!!!" Oprah told us in her own inimitable way. As the studio erupted into joy, disbelief, laughter, and tears, no one in that audience was prepared for the journey in which we were about to embark. It wasn't just the breathtaking views from the Sydney Harbour Bridge, or the delectable delights from the world-renowned chefs. It wasn't just the rock star treatment or the rocking out with Jay-Z and U2. The journey began way before we left for Australia and it will continue long after The Oprah Winfrey Show has left the air. The journey began in the hearts of all 302 around the world. It began in Kenya, Jamaica, Canada, and almost every state in the U.S. It began with all of our stories that connected us to Oprah and to one another. It continues with our commitment to continue to pay it forward.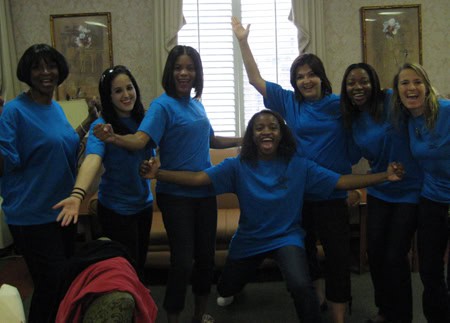 As we came down from our Aussie high, we kept reliving memory after memory with one another via text, phone calls, and social media. The one thing we knew for sure is that we would not let our connection fade simply into a wonderful memory. We decided that a reunion was needed and it had to be in Chicago on the weekend that Oprah was ending her show! We had a date and, in true Oprah form, we also had a purpose. We would use that weekend to pay it forward. We knew that it would be impossible for everyone to make it to Chicago, but that was not going to stop us. We decided we would do an Ultimate Day O Service in every city possible — and we did.
I had the privilege of heading the Atlanta UDOS. As I looked for places for our Ultimate Viewers to volunteer, I wanted to ensure that we would be wherever we were most needed. Tamika Longino told me about Nursecare of Buckhead, where her husband's grandmother was a resident. I knew before she finished telling me about the facility that it was where we should be. What better place to kick off our Ultimate Movement than with family? Charity starts at home.
To begin the day, I handed out blue shirts to all the volunteers as a tribute to our wonderful family at Event Architects who had taken care of everything for us on our trip Down Under and whom we lovingly referred to as "The Blue Shirts."
We then went off to meet, greet and escort our new friends down to the game room. We were ready to get this party started!
Our first mission was to give the residents of Nursecare a little of the pampering that Oprah gave us. It was time for manicures and massages.
Once our new family was thoroughly relaxed, they were ready for B-I-N-G-O! Most of the residents were ready for some heavy-duty competition although it looked like our massages may have been a little too much for one member!
We served treats, did some dancing and crowned our new bingo queen!
Our UDOS was full of laughter and lessons. Our children learned the importance of giving back to your community and doing for others. They also saw how far a smile, a touch, and a kind word can go. All the kids asked when they could come back and what they could do next. They made many friends there who asked the same questions.
So we are committing to visit with Nursecare of Buckhead at least once a quarter. Our next UDOS is scheduled for September 10, and we can't wait! Stay tuned for our next adventure.
Read about the Chicago Ultimate Day "O" Service here.