6 reasons to fall for niagara falls
The last time I went to Niagara Falls was when I was 12 years old. I remember donning a raincoat to ride the legendary Maid of the Mist, and laughing out of pure joy and awe as we got totally soaked.
So I was really excited to be invited to the TMS Family Travel Conference in Niagara Falls last month, and was looking forward to seeing whether the experience would be as powerful to me all these years later – especially after having just visited Victoria Falls this summer.
The short answer is yes.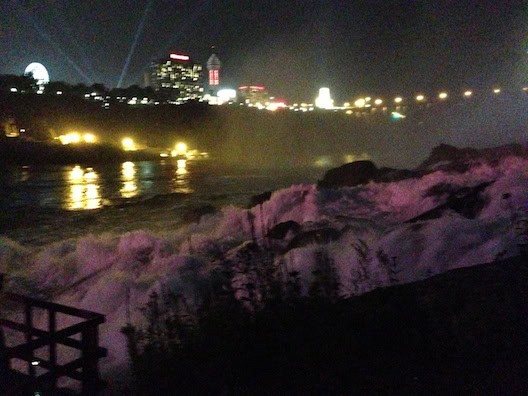 There's something so special about upstate New York that makes it worth a trip from anywhere in the country, especially in the fall when the leaves are turning colors, the air is crisp and you can really experience the change in seasons.
Before I show you half a dozen reasons why you should get on a plane right now, let me first dispel three common misconceptions.
* Niagara Falls is strictly a honeymoon destination. This seems crazy to me, having seen how much there is for families – not to mention singles and old married couples – to do in the area. I asked one of my hosts, Eileen Ogintz of Taking the Kids, how it got that reputation, and here's what she said: "According to local historian Paul Gromosiak, wealthy honeymooners first came in the early 19th century because they could whisper to each other and the Falls would drown out what they said. The advent of trains brought more honeymooners, but it wasn't until the 1960s that Mayor E. Dent Lackey dubbed Niagara Falls 'The Honeymoon Capital of the World,' and it stuck even though he had no statistical evidence that was the case!"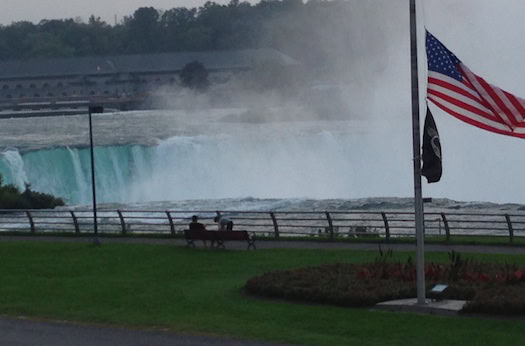 * The United States side of the Falls is the poor relation to the Canadian side. Really? Do these bloggers look like they're finding anything remotely inferior about standing on the Hurricane Deck being pummeled by the magnitude of Bridal Veil Falls?
I can tell you, after walking through Cave of the Winds and feeling the breathtaking power of the water from the wooden deck just a few feet away, it is impossible not to be awestruck by these Falls and the majesty of nature in general. This is something everyone should do at least once.
* There's nothing to do once you've seen the Falls. Wrong! Here are just six of the things I loved about the region – and, keep in mind, I missed a whole day of sightseeing because I had to leave for the Social Good Summit. (I was with the group in spirit, though, as you can see from these pictures!)
The Erie Canal. We took a peaceful and history-filled two-hour boat ride via Lockport Locks & Eric Canal Cruises, during which I learned that the Erie Canal stretches 363 miles and was hand-dug to connect the Hudson and Niagara Rivers. I also got to ride through the locks which were built to overcome the 571-foot difference in the rivers' levels. This is truly a feat of engineering, which is hard to appreciate until you've experienced it yourself.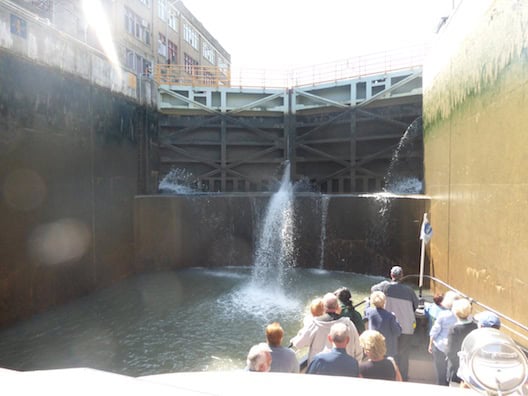 Herschell Carrousel Factory Museum. We had so much fun here, "ooh"-ing and "ah"-ing over the hand-carved animals from the merry-go-rounds of our own childhood memories. The best part? Taking a nostalgic ride on the gorgeous old carousel, of course! By the time we left, we totally understood why their motto is "Once around is never enough."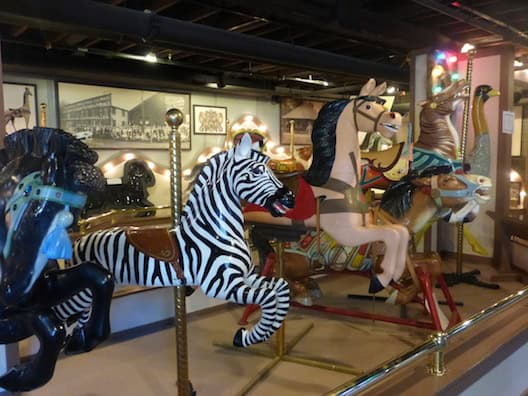 Kenan Center. The town of Lockport features a neighborhood of stunning houses, and the Kenan Center is a major focal point. This 25-acre estate, which used to be the home of scientist/engineer/farmer/philanthropist William Rand Kenan, Jr., has been transformed into the community's cultural center for arts, education and recreation. The oh-so-welcoming Elaine Harrigan treated us to a fantastic tour of the gorgeous interior, parts of which are original and parts of which are restored. I could move in here in a heartbeat.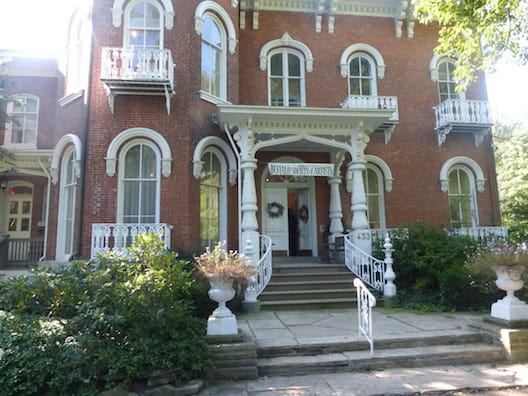 Lockport Cave & Underground Boat Ride. As we walked through this dark, manmade cave which was blasted out of solid rock back in the 19th century, we agreed it would be a perfect Halloween haunt. In fact, we learned that TV's Ghost Hunters filmed in there last year and featured it as their holiday episode. During the slow, spooky boat ride, it was easy to pretend we were riding down the River Styx.
Food. I ate so much on this trip, it's a good thing they kept us so active. We had one dinner with an incomparable view at Top of the Falls, and another scrumptious dinner at the new Remington Tavern and Seafood Exchange, which was once a trolley barn! I wish the Sweet Sixteen Café (whose owner/cupcake maker/human being extraordinaire Ellen Martin has become a friend and will soon be yarn bombing Lockport with the sweater you all encouraged me to toss) and the Niagara Falls Culinary Institute were in San Diego because I could eat lunch at both of them every single day. And it's hard to talk about my love for Lake Effect Artisan Ice Cream without getting a little teary. Do yourself a favor, and read their list of flavors. I miss that salty caramel so much, I think I'm going through withdrawal. And I will be forever indebted to Candace Derickx for making me try the olive oil and balsamic fig. Make a face if you will but you will change your tune as soon as you taste it.
Leaving locks on the Big Bridge. I like to leave my mark wherever I go, so I was obsessed with the idea of leaving a lock on the widest bridge in North America. We each picked out our own individual lock at the Sweet Sixteen Café, wrote a personal message on it and locked it on to the bridge for posterity. I never got to do this when Michael and I were in Paris, so this was such a treat. When you visit the Falls, say hello to my lock for me and be sure to leave your own!
Thank you to the Niagara Tourism & Convention Corporation for hosting me. I can't wait to bring my family back to your beautiful region.