day 2 of our ultimate australian adventure, in which curtis stone serves us dinner, we hang out with all ten tenors, and i make oprah cry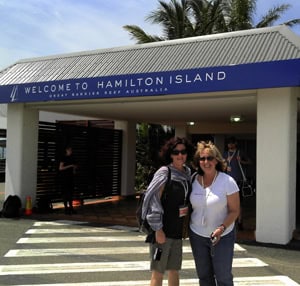 If our Ultimate Australian Adventure had ended after day one, it would have been enough. But, of course, this was an Oprah event so it was only the beginning!
We started day two with a lavish breakfast buffet that would set the tone for all our daily activities to come – beautifully presented, more than you could ever imagine and something for everyone. We shared a table with husband and wife teachers Jerry and Julie McSwords, who told us they almost didn't get to come because of their jobs. Listening to everyone's stories was fascinating and was honestly one of the best parts of the whole trip.
After stuffing ourselves – we did try to stick to some protein and a little fruit for breakfast but somehow those fluffy chocolate croissants crept on to our plates every morning – we were off to the airport, heading for Hamilton Island. While waiting, we got to meet mother and daughter, Lauri and Kelly Fitzpatrick, who are both involved in some fantastic charitable projects.  On the plane, I sat next to wonderful sisters-in-law Mary and Monique Le who made the two and a half hours literally fly by. I don't think we stopped talking for a minute.
We checked into the tropical Reef View Hotel, where we ate a quick lunch and marveled over the fact that, once again, we each had our own room with a king-sized bed and, this time, a magnificent view of the ocean. We need to go back there with our husbands!
Rumors had been floating that Oprah was going to be arriving on Hamilton Island that same day so on our Fantasea cruise to Whitehaven Beach – considered one of the top ten beaches in the world – we all speculated about the chances of her surprising us at our beach party.
As we approached the beach – 95% pure white silica sand stretching for more than four miles – the view was breathtaking. The beach was so white, it almost looked like snow! Being from San Diego, we know from beaches, and we've never seen anything as pristine.
We've also never seen anything like the sight that greeted us as we got closer. The beach was set up with stations of the most gorgeous food ever. And we had to rub our eyes to make sure we weren't experiencing a mirage when we realized that Curtis Stone – possibly the most gorgeous chef ever! — was the one standing in the water to personally help each of us out of the vessel! We almost fell over ourselves in our hurry to reach out to him!
We took lots of pictures with him and feasted on all kinds of seafood — the crayfish was out of this world — exotic fruits and expertly-mixed cocktails, all the while being serenaded by the Ten Tenors! Suddenly, there was a whoosh through the sky and two helicopters circled above, whipping everyone into a frenzy. When they landed, we could see Gayle in one of them and we knew Oprah had to be in the other one.
By the time the BFFs stepped out of their planes, the crowd of 92 Ultimate Viewers were crying, screaming and snapping away. Oprah and Gayle walked through the crowd, bombarded with hugs, "thank you"s and "we love you"s.
What struck me the most about both Oprah and Gayle is how real they are. They are exactly who you think they are. Oprah actually stopped to talk to individual viewers and, most importantly, to listen to them. She was curious about all the different dishes – which Gayle was already sampling! I asked Gayle if she was going to go snorkeling with us at the Great Barrier Reef tomorrow – another rumor that had been going around – and she sighed, "Yes, if you want to call it that." She asked me if I brought a bathing suit with me and when I told her I had, she said, "I guess I better go get one." There is no pretense with her. She is the same Gayle we've watched try to get out of fly fishing and other outdoor sports with Oprah, the same Gayle who's gone searching for the best sandwich in the country. It's easy to understand why she's Oprah's best friend – as soon as you meet her, you want her to be yours, too. I was so excited to take a picture with her, especially to show my mom who once said if she could have lunch with anyone in history, she would choose Gayle!
For the next half hour or so, we basically stalked Oprah, winding our way through the cameras to get a glimpse, a smile – to make eye contact. It was a weird feeling but here was the woman who in many ways had changed our lives and we wanted so desperately to have just a minute alone with her to let her know how thankful we were and how she had inspired us. We got teary as the Ten Tenors sang "What a Wonderful World" – with Oprah and Curtis watching and singing along — because, wow, what a wonderful world indeed.
Then, out of nowhere, our attention was drawn to the ocean where ten gorgeous men (and let me just assure you that every single Australian man we met was shockingly gorgeous – what do they put in the water here?) were emerging seemingly from out of nowhere, holding platters of fresh and delicious-looking lobster. It was a magical moment and I'm hoping they show how they pulled it off on Oprah's Australia shows this week.
Amy, who had been nudging me toward Oprah all evening, saying, "You have to go talk to her," finally had enough of my excuses ("I have nothing valuable to say to her!" "I don't want to bother her!" "She's busy!") and led me right over to where Oprah was now sitting alone with her personal assistant. "Oprah," she said, "I just want to thank you for introducing us to all these amazing people …" and we proceeded to take turns telling her how special this trip was and why. She listened so intently, staring deep into our eyes and taking in everything we had to say. When she interrupted us to call the cameras over, we held our breaths for a minute and then went into a passionate and totally from-the-heart explanation about how important and fascinating the stories behind each Ultimate Viewer were to us and that we wish we could hear all of them and share them. She asked, "Why? Because they've all overcome challenges?" and I said, "No, because they're all trying to do good in some way."
I told her how grateful and appreciative this group was, and that none of us had felt deserving of the greeting we received at the Intercontinental Hotel – that there we were, with bags under our eyes and hair flying in every direction after flying for 14 hours, and these people were applauding us and bowing and thanking us when WE WERE THE ONES WHO SHOULD BE THANKING THEM. Oprah got tears in her eyes and quietly said, "I didn't know about that welcome. That's great. I love that." OMG! I had made Oprah cry! Thank goodness it wasn't the ugly cry!
I went on to tell her how all of us had been asked by friends at one point, "Wouldn't you rather have been on the Favorite Things show?" and we replied, "What are you, crazy? That's why we're Ultimate Viewers and you're not!" She laughed and agreed, "What do you need another TV for?"
Grabbing the moment, I asked her if we could please take a quick photo with her even though she was not doing personal pictures. She said, "Sure," and shooed the woman next to her away so I could sit down. Amy got on her other side, Susan got behind her and we grinned probably the most authentic smile you'll ever see in a photo of us. I guarded that camera with my life for the rest of the trip, afraid of losing that very special memento that proved the trip was not just a figment of our imaginations! After we thanked Oprah profusely, her assistant reached out to me to ask our names. It would be a dream come true to hear those names come out of Oprah's mouth one day!
We left Oprah gracefully (we hope!), happily – and shaking! Once we were out of her line of vision, we grabbed each other, teary and in total shock. We looked around and took in the amazing moment. Here we were, among only 92 people in the world, on one of the most beautiful beaches anywhere, eating delicacies prepared exclusively for us by Curtis Stone, and talking privately with Oprah Winfrey. It was humbling and completely surreal. I will forever be indebted to Amy – producer extraordinaire – for producing our Oprah moment.
You would think the evening could end now – and it certainly could have – but it didn't. With the sun setting quickly, we took the Fantasea vessel back to the Hamilton Island Marina — sitting next to the Ten Tenors, no less! – and headed over to the dessert party at the Yacht Club.
If you're thinking coffee and cake, think again! Think trees made of chocolate balls, popcorn on sticks, sophisticated cotton candy treats, French macaroons and tiny designer ice-cream cones. There was more but we were in such a sugar coma by that time, we can't remember what they were!
By the time we said good night to each other and dropped into our beds, we were emotionally done.
And this was only day two.