day 3 of our ultimate australian adventure with oprah, in which we snorkel at the great barrier reef, celebrate an underwater proposal and tool around hamilton island in our own private buggy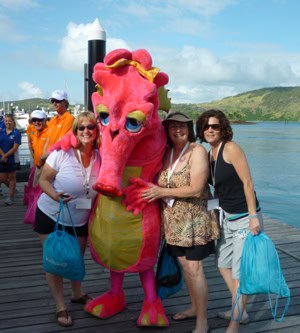 The only way to possibly top the magic of last night might be to spend the day at one of the Seven Natural Wonders of the World. Luckily, the Great Barrier Reef was on today's agenda!
After our usual 1000 calorie breakfast, we set out for the marina, where we were welcomed with adorable water-resistant bags which included a hat, sunscreen (Australia is the skin cancer capital of the world, so we were constantly reminded to wear sunscreen at all times) and a gorgeous coffee table book featuring up-close and personal photos of the underwater world we were about to enter.
The two and a half hour trip out to the Reef was a rocky one, which wiped out a lot of Viewers, including Amy. By the time we reached the Reef, though, everyone was back on their feet, unwilling to miss this amazing experience. Although I am not a snorkeler – I am a terrible mouth breather and always start hyperventilating with the mouthpiece on – I was determined to get out there. All I could hear was the voice of my son, saying, "You don't go to the Great Barrier Reef and not go snorkeling." So Amy, Susan and I signed up to go out with a guide.
We donned our very attractive stinger suits – they're like wetsuits, but made specifically to ward off the jellyfish which had apparently become a problem – and walked along the pontoon to take photos, watch a giant sea turtle in the water and welcome Gayle, whose helicopter was heading in. We looked like a bunch of Teletubbies in our fluorescent – and seriously unflattering! – suits.
After meeting our guide at the "dock," we jumped into the water and held on to a big inner tube while she gave us the scenic tour. Susan, who is a certified scuba diver, quickly realized she was more advanced than the rest of us and swam away to explore on her own.
The Reef was breathtaking – what an amazing world exists under the water! As Amy so eloquently put it, "It was like watching your own private National Geographic special through your goggles!" We saw tons of coral, all kinds of fish and our guide even showed us an incredible sight. After explaining that there was a certain kind of fish who was very territorial, she proceeded to demonstrate this trait. She dove deep down, moved a random shell from one spot to another and then told us to watch what happened next. The fish she had pointed out to us swam right over to that shell and moved it back to the exact spot she had taken it from originally! We would never have believed it if we hadn't seen it with our own eyes!
We spent about 45 minutes taking in the sights and looking for Nemo. During that time, one of our fellow Ultimate Viewers, Blake Overstreet, proposed to his girlfriend, Sami Daraby, underwater! With the help of the Harpo producers, they had cooked up an elaborate plan for him to learn to scuba dive so he could hold up a "Will You Marry Me?" sign while Sami looked on – with Gayle – through the underwater viewing chamber of a semi-submersible. They are an adorable couple, and maybe we can all celebrate their first anniversary back in Australia together!
After a buffet lunch topped off with Tim Tams for dessert (ok, if you haven't tasted these chocolate biscuit cookies yet, don't! They are totally addicting!), Susan had a chair massage and I had a full-body massage, overlooking the Great Barrier Reef. Talk about indulging all our senses that day!
The ride back to Hamilton Island was enough to turn Amy off boating for a while but once we were back on dry land late that afternoon, we were given a new form of transportation: our own buggy! There are no cars on the island, so we drove around in our private golf cart, taking in the beautiful views and exploring the little shops downtown.
For dinner that night, we were offered a choice of five top-notch restaurants. Because we had so enjoyed the marina last night, we decided to go back there and eat at Bommie. The food was – as every meal on this trip seemed to be – delicious and beautifully presented. We had a wonderful evening getting to know the fantastic people at our table: sisters Mary Elizabeth Shah and Analie Papageorge, husband and wife Jesse Bush and Cecelia Behar (whose pregnancy announcement was featured on yesterday's show), and BFFs Erika Beer and Amy Strike.
Although we had just experienced one of the Seven Natural Wonders of the World (thank you, thank you, thank you, Oprah!), spending time with the amazing people Oprah had handpicked as her Ultimate Viewers was truly one of the best parts of this adventure. And it was the part we knew would last forever. Although we may never get to repeat some of these experiences, we will definitely stay in touch with the new friends we made. This we know for sure.