day 5 of our ultimate australian adventure with oprah, in which we visit a kangaroo, walk the red carpet and oprah holds my hand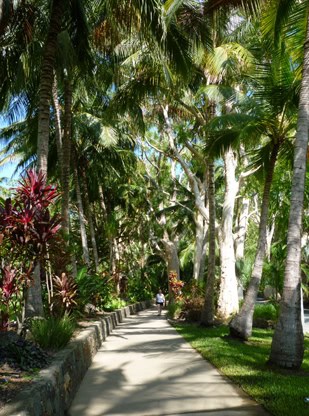 After a big night of partying, we were up early to have breakfast at our choice of four restaurants. Not surprisingly, we headed back to the Hamilton Island Wildlife Sanctuary to have our chocolate croissants next to the koalas. I was obviously in the throes of a deep love affair.
Once breakfast was over, we decided to tour the Sanctuary and finally got to see a couple of kangaroos – sleeping! – as well as a dingo (yes, the animal Meryl Streep claimed ate her baby in "A Cry in the Dark"), and the cutest little six-month old baby koala holding on to its mom. We were shocked to learn, as you might have on The Oprah Show last week, that koalas are the size of a jelly bean when they're born.
On our way out, we ran into zookeeper Bec Barwell, who was holding Franklin. I took this as a sign! We told her how much we enjoyed our experience, and I sheepishly asked if I could hold him one more time. In a minute, Franklin was back in my arms and I was plotting how to get him back to San Diego.  As I hesitantly handed Franklin back to Becca, I asked her if she would do a Q&A with us at some point. She graciously agreed, so look for this as soon as we get back to real life.
Because of the crazy schedule – there was no down time on this trip – we had to change into our clothes for the big welcome party at the Royal Botanic Gardens in Sydney tonight before we boarded the plane since we would have no time once we landed. Of course, it was the most tropical – read, hot and humid! – day of our Hamilton Island excursion so we all tried to find some balance between comfortable and dressed to meet Oprah. We figured everyone would know which Viewers had been at the Great Barrier Reef because we would be the ones with frizzy hair and creased clothing!
I was lucky enough to sit next to Mary Le again on the flight back to Sydney who thought it would be fun to be twins at the event tonight! (Note: Mary is a good – and I mean really good – 15 years younger than I am, so the fact that she could even say this with a straight face is a sign of her amazingly kind and generous heart and spirit.) She and her sister-in-law, Monique, had bought matching jewelry, but Monique wasn't wearing hers that night and lent me her necklace and earrings, which were much more interesting and bold than what I had on. They stood out so much, you can see them on me in one of the most popular photos from our trip (see below!). Thank you, Mary and Monique!
When we arrived back in Sydney, we were ushered on to buses that took us to the stunning Royal Botanic Gardens where we were welcomed once again with a moving Aboriginal blessing, and led on to the Red Carpet, past the cameras and paparazzi. The party had been styled by food editor/author/designer Donna Hay, and the attention to detail was impeccable.
Tons of sand had been carted in to create a replica of Australia's famous beaches, and we all gathered there to await the star of the evening. When Oprah made her arrival, she looked absolutely stunning in a sophisticated, stand-out signature silk kaftan from local designer Camilla Franks. We weren't surprised to see Camilla on the news the next morning, saying orders for her colorful kaftans had gone through the roof overnight and that she wouldn't be having a Christmas vacation this year!
Trying to get everyone together for a group photo was quite a feat, and once again proved why Oprah is the real deal. One of the first announcements she made was that we were going to take a bunch of photos and that after each one, the first two rows would move to the back so everyone would have a turn in the front. Wow! This was such an easy way to make everyone happy, and she had thought about it ahead of time to insure that we were all treated fairly. Wow again!
My new friends, Janet and Wendy, and I were close to the front in the first picture but for the second one, I ended up right next to Oprah WHO GRABBED MY HAND while everyone was maneuvering themselves. I know I sound like a groupie but it was such an exciting moment! Janet looked over — in shock — and immediately put her hand on top of ours! The two of us were grinning like fools and holding on to Oprah's hand for dear life! We probably terrified the poor woman, who subtly removed her hand before the photographer snapped the picture. The next day I started getting emails from my family and friends who had seen the picture on Huffington Post and were laughing and rolling their eyes that I was standing next to the Big O herself.
Courtesy of Huffington Post, Photo by Lisa Maree Williams/Getty Images
The party itself was one of those events you always dream of going to – in an unbeatable location (Sydney Harbour, overlooking the iconic Bridge) with unparalleled food by top chefs (I parked myself by the seafood for a good half hour, where I held court over the shrimp) and an A-list of guests (OPRAH!). We weren't allowed to bring in cell phones or cameras which was great because we it forced us to stay in the moment and experience everything there, but not so great because we were in such a surreal place, we can't possibly remember half of what we experienced!
Kristina Keneally, the premier of New South Wales, gave a warm welcome speech and then Oprah welcomed us herself with a heartfelt and moving tribute to her Ultimate Viewers. I was standing only a few feet away from her, and I swear she looked me right in the eye during parts of her speech.
Courtesy of Oprah.com
There was not a dry eye in the house as she told us this whole experience was proof that anything is possible and that we should continue to dream big. We laughed when she said, "I don't want to hear you, 20 years from now, pullin' out the photo albums and sighin', 'Oh, remember that trip to Australia 20 years ago? That was the best time of my life.' This is not the best thing that will ever happen to you." She went on to encourage us to get out there and make every day the best and make all our dreams come true. I wish I had that speech on DVD because those were some of the most powerful and inspirational words I've ever heard.
After Oprah's speech, we all went outside for more goodies – like yummy gelato from Gelato Messina. I had a cup of salted caramel, and if you want to know how delicious it tasted, just take a look at Analee Papageorge's face in the footage on last week's Oprah!
While we were enjoying our treats, we witnessed probably the most extraordinary fireworks display we've ever seen – and we're from the country that celebrates the Fourth of July! It ended with the illumination of an "O" for Oprah on the Sydney Harbor Bridge, and was another one of those moments that made us just tear up in appreciation for all we had been given.
Courtesy of Oprah.com
The gelato was all we needed but back inside, dessert was being served in all its glory. Honestly, I can't even remember what was there – by that point, it was all a scrumptious, sugar-coated dream — but I grabbed something chocolate and went over to watch Guy Sebastian perform. I was swaying to the music when Gayle turned around, saw my plate and asked me what I was eating! This seemed like such a Gayle thing to do, and I loved that it was really happening! I told her it was something chocolate and delicious, and asked her if she wanted some. She eyed it longingly but said she would go get one after the performance.
Guy Sebastian was great. He sang a bunch of his hits and got the crowd dancing – which they continued to do for hours. We couldn't make it to the end – we were full in every way possible and couldn't dance all night again — we headed back on one of the buses which was leaving every fifteen minutes. On our way out of the Botanic Gardens, we received generous goody bags including Guy Sebastian's latest CD and Donna Hay's Fast, Fresh, Simple cookbook, both of which will always remind us of this magical night.
We still had three days left in Australia. How could each day just keep getting better and better?