day 6 of our ultimate australian adventure with oprah, in which we climb the sydney harbour bridge, eat in historic districts and amy supports the australian economy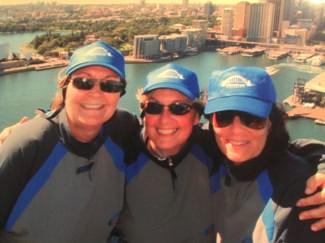 Today, we were told, our morning activity would take us to new heights – 134 meters above Sydney Harbour, to be exact! (I would love to tell you what that is in feet but I still have no idea how to convert measurements.) We were going to do the world-famous Sydney BridgeClimb! We were thrilled because, before we left the U.S., so many people had said this was a "must do," and encouraged us to do it if we had the chance.
We were divided into groups and brought into a room for an introduction and a breathalyzer test. This was a little worrisome to some people who had indulged in one too many apple and thyme martinis the night before, but luckily everyone passed! We were given our bridge-climbing uniforms and lined up to get tethered to a static line on the Bridge. Then, led by our enthusiastic guide, we were off and climbing.
The Climb takes you along the outer arch of the Bridge, and you walk on catwalks and up ladders. For most people, it is really not scary – although it was fascinating and inspiring to watch Oprah last week and see how many people, including Gayle, overcame their fears to reach the summit. It is really fun and exhilarating, and it was amazing to look down and see all the Australian fans waving and taking pictures of us. Cars were honking their horns in support of us, and we literally felt like we were on top of the world!
When we finally got to the top, we could see Oprah and Gayle in the middle of the Bridge, and the helicopter which had been hovering overhead for a while, taking photos of us climbing, suddenly disappeared! We found out that it had to refuel and Oprah was not happy. We were setting a world record for the number of people on the Bridge at one time, and the cameramen were in that helicopter to take an official photo. This was not a good time to have to refuel!
Personally, none of us minded. Because we weren't allowed to bring cameras or cell phones on the Climb, we once again were able to just relish the experience and marvel at the fact that our group – two thirds of whom had never been out of the country before – was standing at the top of the Sydney Harbour Bridge, setting a world record with Oprah Winfrey! It was another amazing moment in a trip full of them.
The 360 degree views were spectacular, it was a perfect day weather-wise and we were happy to wait as long as it took for the helicopter to refuel. Once the picture was taken, we headed back down, where we received certificates and photos proving we had made the Climb, along with some adorable souvenirs to remind us of our experience.
It was then time for lunch at the Waterfront restaurant in the heart of Sydney's historic Rocks precinct. We sat with Sheree Franklin-Hill and her friends, who had all been part of the group which went to Uluru. We loved listening to their tales of this spiritual journey, which was transformational for them. We were riveted, just hearing about it, and we hope to share their stories with you soon. We also hope to visit there ourselves one day.
After lunch, we were given a choice of activities and the three of us unanimously decided on the Chic in the City shopping tour. Led by stylist Eliza, we were given the inside scoop on some of the best independent shops in the very cool neighborhood of Paddington. We got to visit half a dozen stores, and Amy did her part to give back to Australia by buying something in every single one!
I was no shopping slouch myself, although I did force myself to resist the adorable pillows Amy ordered in Lazybones because that was our first stop and I felt like I needed to see what was still coming. Lots of our fellow Viewers picked up some really great vintage-y dresses there, though, like the one Lucretzia Jamison is wearing here. How cute is that?! I should have bought one!
I did do some major damage at Jiva, which featured delicate little white linen and cotton shirts in yummy pastel patterns, and, of course, I couldn't resist sampling and bringing home gifts from Just William Chocolates, where "Keith buys chocolate for Nicole." They were a big hit with my family, and I should have bought more!
While Amy shopped at Fleur Wood, Susan and I headed to the Sanctuary Café behind the store to try and buy some of the tasty HealthyFeast treats, including their famous lemon meringue pie – which, by the way, is gluten-free, a fact you would never guess from its rich, sweet taste. We had the loveliest chat with HealthyFeast founder Kim McGlinn, who was yet another example of the warm, friendly, bubbly people we came to know and love as Aussies. She showed us the front-page article of the Sydney Morning Herald, which featured some of HealthyFeast's delicious desserts, and we begged her to open a branch in San Diego …
Next, our group pretty much cleaned out Tessarella House, whose hand-crafted jewelry was an immediate hit with all of us. We loved everything they made, and I don't think anyone left without a special purchase of their own. Allison Doty even found a pair of one-of-a-kind earrings to wear to her wedding this year! What a special way to celebrate her special day!
By the end of the afternoon, we were full – all over! Our hands were full from our own purchases and the well-stocked goody bags Chic in the City had so generously given us; our bellies were full from the treats at Just William and HealthyFeast; and our hearts were full from our conversations with the fantastic women we had spent the day with, including Janet and Wendy, Lucretzia and Rashida, and Allison and Nikki.
That night, we had dinner at The Cut in the historic Argyle Precinct. The prime Australian beef was delicious, as was the rich pate appetizer (which, interestingly, is called an entrée in Australia, while the entrée is called the main dish). Dessert was served in the 19th century sandstone courtyard, but we really tried to be good or we'd be over our weight limit on the flight home without even counting our luggage.
As an aside – and this was just a weird kind of thing – I went to the bathroom at the club over there and it was fascinating! Not only were they smart enough to make all the stalls accessible to women (they were all marked either W or M + W), since the W line is always the long one, but in the back, they had futuristic pods with urinals hidden behind them. The long, trough-like fixture in the middle of the bathroom looked like a pool table but was actually a sink with the water coming down from above. It was so cool, and so practical. But most interesting to me was the vending machine in the bathroom, selling Spare Soles, which we had just featured on StyleSubstanceSoul the week before. What were the chances of finding these here now on the other side of the world? It was another sign that all of this was meant to be!
If you're thinking, "Okay, they're just over-tired and possibly delusional now," you may be right! We went back to the hotel to get a few hours of sleep before our big Oprah Regatta tomorrow.