day 7 of our ultimate australian adventure with oprah, in which we sail in a regatta, oprah reassures us we're there for a reason, and we get to see u2 in concert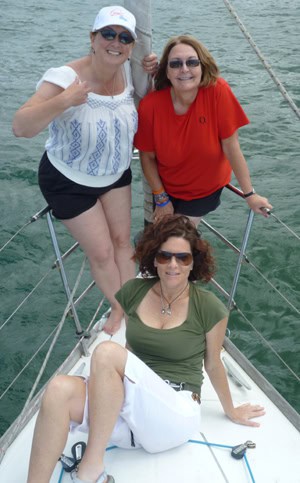 For people who are not sailors, we sure had been on a lot of boats the past few days! This morning, we boarded yachts for a private Oprah Regatta around Sydney Harbour, and we even signed up to help out as crew members, as well. Amy was a bit wary – she is a devoted landlubber now – but she didn't want to miss this Oprah activity, so she donned her seasick bands and, with the help of boatmate Rose Cowan, made it through like a trouper.
The sight of the Harbour filled with these 20 beautiful boats celebrating Oprah's Farewell Season was so moving. The impeccable attention to detail taken with each of the sails reflected the level of care and professionalism of our hostess herself. We took turns at the helm, with a gentle nudge from our professional captain whenever there was a traffic jam or whenever we started steering, uh, drifting, a little too close to Oprah's boat.
We had a relaxing morning on the water, enjoying the breathtaking views. By the end of our ride, we were standing up and holding on tight as we sailed past the Sydney Opera House and under the Bridge we had just climbed yesterday. It was a totally different view from down here!
When we were back on dry land, it was time for lunch at Bungalow 8 at Sydney's King Street Wharf. There were people and cameras all over because You-Know-Who was coming to have lunch with us.
As we were settling in at our table, I noticed someone familiar walk by on the other side of the fence. He waved and I automatically waved back, but it took me a minute to realize who it was. Russell Crowe! OMG! I grabbed my camera and ran to the fence. He had just taken Oprah out on his boat, and he graciously stopped to pose for photos and say hello to us.
Meanwhile, Oprah and Gayle were making their way into the restaurant which, with everyone vying for their attention, was no easy feat.
Oprah gave another empowering speech that day, one that came at the perfect time for her Ultimate Viewers, many of whom had, at some point, commented that they didn't deserve this huge gift we were receiving. "You are all here for a reason," she reassured us. "No one is here by accident." I got goosebumps as she went on to explain that she and the producers had read and re-read every application, that they knew everyone's stories and had handpicked each person for this trip. "That's why there are no assholes here!" she laughed. We roared — you've got to love it when Oprah swears! — but, inside, felt much better!
Oprah also told us that when she was younger, she disliked her name because she could never find it on any of the little license plates or tchotchkes that the other kids had. She waited patiently for Miss Louise on Romper Room to look in the Magic Mirror and see her, but although she would say, "I see Suzy" or "I see Barbara," she never saw Oprah.
Today, though, she realized that God had bigger plans for her, happily pointing out, "Now I have an O on the Sydney Harbour Bridge and a Regatta with my name on it." She assured us that whatever our background was or wherever we were from, "There's a regatta with your name on it."
Wow!
We called good-bye to her as she got into her car, mobbed by throngs of people, and told her we'd see her tomorrow at the tapings of her show at the Opera House.
With just a couple of hours until we had to be on the bus for our "surprise activity," we all descended on Sydney's luggage stores to pick up a bag or two to take home all the amazing goodies we had collected during our trip! Amy, Susan and I bought two bags for the three of us to use and, trust us, they were filled to the brim by the time we schlepped them to the airport.
At 6 p.m. we lined up for our box dinners (not the sandwich and chips you may be imagining — there were like six delicious gourmet courses in this unassuming box) and boarded the buses to – where? This was our surprise activity, and we had no idea what to expect.
Once we were all seated, Oprah came on the video monitor to welcome us and tell us we were going with her to see U2 in concert with opening act Jay-Z! Woo hoo! I love U2 and have wanted to see them forever. Another bucket list item – check!
It was so exciting to pull up in front of ANZ Stadium, where the Sydney Olympics took place in 2000. Our beloved Blue Shirts pointed the way (how in the world were they everywhere we needed them to be?) to our seats which – duh – were great! We bought t-shirts to commemorate the occasion, and rocked the night away to U2's greatest hits with 70,000 other fans. We were especially thrilled when they recognized the special guest star in the audience by changing some of their famous lyrics to, "See Oprah Winfrey right in front of you!"
After a totally satisfying concert, we rode home trying to predict whether Bono would show up at one of the tapings of The Oprah Show tomorrow. Although we would LOVE that, it really didn't matter – we had already had a "Beautiful Day."