day 4 of our ultimate australian adventure with oprah, in which we hug koalas, sail through the whitsundays and susan krumps the night away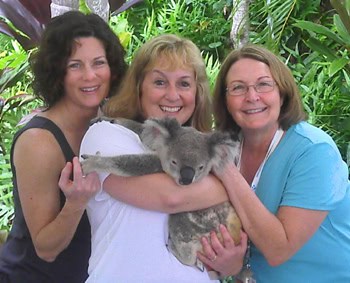 In the first three days of this miraculous trip, I had already checked two huge items off my bucket list – snorkeling at the Great Barrier Reef and meeting Oprah in person, neither of which had ever really seemed possible to me – and I was about to check off number three.
I could barely sleep the night before because I was so excited about our breakfast with the koalas. We had already had the opportunity to pet one at the Sydney Taronga Zoo, but now we'd actually be able to hold them. This is something my kids and I had always wanted to do, and I definitely felt guilty about getting to do it without them. It's apparently something Oprah and Gayle had always wanted to do, too, because it's the first stop they made after landing in Australia.
At 7 a.m. (sleep was not a priority on this trip!), we headed over to The Outrigger, where Becca from the Hamilton Island Wildlife Park was standing with Elvis, the frisky koala who had already made a name for himself by demonstrating the real meaning of "mate" in front of Oprah and Gayle yesterday, while mellow little Franklin slept in a little tree set up just for him. Becca had brought over two koalas so they could take turns being held since posing for photos tires them out – as does just about any other activity!
Holding Elvis was one of my favorite things ever! Although his nails look sharp, he didn't dig in – he just cuddled up in my arms, and I honestly would've been happy as could be if they just let me hold him all day. He was so soft and roly-poly, and that face was absolutely irresistible. They pretty much had to wrench him out of my arms so the next person could hold him, and I'm sorry, Amy and Susan, if I hogged him during our group photo!
Just watching the koalas hang out is enough to make you smile. They are true tree huggers, contentedly spending their days sleeping and chewing on eucalyptus. With tiny brains, they are the epitome of the saying, "Ignorance is bliss!" I am so grateful for being given a chance to hold these magnificent creatures.
After chilling with the koalas, we were off to the marina to spend the day chilling on the Banjo Patterson. There were only 15 of us on this magnificent boat because many Viewers, including Amy, opted to stay on dry land after yesterday's roller coaster ride to the Great Barrier Reef.
This was a completely different experience on the water: calm and relaxing, with absolutely breathtaking views of the Whitsunday Islands. Susan and I totally enjoyed spending time with Mary, Monique, Janet, Wendy, Cecelia, Jesse, Erica, Amy, Markylena, Georgianna, Rhonda, Bob and Sharon. What a great group of people!
We had a delicious buffet lunch on the boat and soon recognized the unmistakable white sand of Whitehaven Beach, where we'd had our amazing party the other night. We donned the now-familiar stinger suits – this time, they were a slightly more flattering navy blue – and most of the group took the opportunity to snorkel again. Janet, Wendy, Markylena and I opted to just go swimming instead. It turned out to be a real highlight of the trip.
Floating on the water was so peaceful and gave us a chance to really be present in the moment. The four of us were awestruck by the beauty surrounding us, the quiet splendor and the fact that there were only 15 of us in the world getting the opportunity to enjoy this time. It was enough to get us teary. Janet and I shared stories and became very close in a short period of time. It was a privilege getting to know people this way, and we are so grateful that Oprah brought us all together.
When we got back on the boat and changed back into our clothes, we were brought over to another part of the beach so we could take a walk through the Whitsunday Islands National Park. We hiked up to the top, where the views were gorgeous (I know I sound like a broken record but every view in Australia was more beautiful than the last one). We took lots of pictures to share with Amy, who was taking her own group hike back on Hamilton Island.
On the ride back, as we got closer to the marina, we were amazed to see a rainbow appear out of nowhere. We laughed and thanked Oprah for the perfect ending to a perfect day.
Only, the day hadn't ended yet! We still had a good-bye party ahead since we were leaving Hamilton Island for Sydney tomorrow. The poolside event, held opposite the Reef View Hotel, was, as always, filled with delicious food and drink, but — also as always — it was the people that made it so special. Unlike the animal it was named for, the Koalas were an energetic group who sure knew how to party!
We danced for hours, with Susan becoming a star for her krumping skills! I wish we had video because she outlasted Viewer half her age, and personified the unbridled joy of dancing with abandon. Her krumping is now the stuff of Koala legend (much to the horror of her teenage daughter)!
Our Hamilton Island excursion had been a once-in-a-lifetime experience and we couldn't wait to see what was in store for us back in Sydney.