Our Journey to Australia with Oprah: The Back Story Featuring Sara Blakely of Spanx!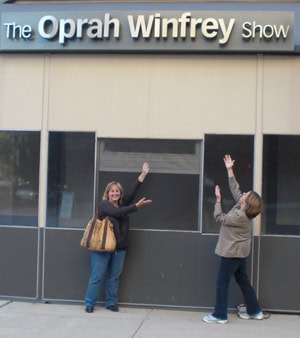 So many of you have asked how we ended up on that Season 25 premiere to begin with, so we thought we should preface our adventure with that story. They say, "it's the journey, not the destination," but in this case, both were pretty remarkable.
Back in August, I had noticed a box on the Oprah website asking, "Are you an Ultimate Viewer?" "Duh," I always answered eloquently to myself but never went any further. It wasn't like there was a deadline – or even a prize, for that matter. It was just a question and it seemed almost rhetorical to me because I so obviously was an Ultimate Oprah Viewer!
One day, though, that box came straight to me in the form of an email and I thought, "Okay, someone's trying to tell me something." For the first time in my life, I didn't procrastinate. I literally stopped everything else I was doing and focused on the application.
The questions were easy, asking about the Oprah show that changed my life, the Oprah guest I'll never forget, why I'm an Ultimate Viewer and the biggest lesson I learned from the Oprah show. I wrote that Oprah inspired me to start StyleSubstanceSoul.com with my best friends and that the show that changed my life was when Sara Blakely came on in February 2007 to talk about starting Spanx.
On that show, Sara told the story about trying to develop her footless pantyhose for years but feeling she needed a sign to keep going. That day, she turned on the TV and Oprah was describing how she cut the feet off her pantyhose. Sara took that as her sign, put her $5000 life savings into the business and was now making $100 million a year. She came on the show to donate one million dollars to Oprah's Leadership Academy in Africa because she believed the symbol of success is being able to pay back and she credited Oprah for being her sign.
I was awestruck watching the show because Susan, Amy and I had been trying to develop StyleSubstanceSoul.com at that time and were feeling many of the same frustrations and doubts. I took this show as our sign and immediately emailed Susan and Amy, telling them Sara's story and ending it with, "So … since Oprah has been such an inspiration to us, I'm looking forward to the day we donate our $1 million to her Leadership Academy. Keep this email — it will make a great story when we're on her show one day …"
There are two times in my life when I feel I've really put the Law of Attraction to work, and this was one of them. I specifically wrote those words to send our dream into the universe – and they did reach Oprah! Although StyleSubstanceSoul.com has strictly been a labor of love to this point, it has touched so many people's lives and we've gotten the most amazing, heartfelt responses from women around the world who have been inspired to take action and do good. We may not be able to donate a million dollars to Oprah's Leadership Academy or the Sara Blakely Foundation – yet – but we are working toward the day we will. And who knows? Maybe Sara Blakely, who says on her website, "While many of our natural resources are being depleted, one is waiting to be unleashed … WOMEN," will recognize her own passion in us and guide us in growing our business!
I shared this story on the Ultimate Viewer application and sat there, pouring my heart out until I reached the maximum character count and hit "send." Then I went back to work. I didn't even tell Amy or Susan about the application because I really had no expectations. I felt like I had filled it out simply in honor of Oprah. It was her farewell season and my last chance to let her know how important she has been to me for more than two decades, how she has inspired me and changed my life.
One week later, I came home after being gone all day and listened to my voicemail. There was a message I couldn't really understand, saying something about an email I had sent. I listened again and started screaming when I heard the word, "Oprah!" I barely slept, waking up at 5:30 a.m. so I could call back when it was 9:00 a.m. in Chicago.
Of course, I played telephone tag with one of the Harpo producers for a few days but when we finally spoke, I was touched to hear how impressed they were with StyleSubstanceSoul, and I described in detail how each aspect of the site had been inspired by Oprah – from the stories about everyday women making a difference to the Click a Day for Charity section which gives readers the easiest way to do good to our Formerly Flip Flops project and our emphasis on great books and authors.
The producer asked if we could send a two minute video describing everything I had talked about, but made it clear that she couldn't guarantee how or if  it would be used over the course of the season. So, even though all our daughters were leaving for their freshman year of college during those same days, we put together a short video. It was certainly not our shining moment and it makes it apparent why we created a website rather than pursuing an acting career – but it was sincere and from the heart.
Within a couple of days, I received an email explaining that, over the course of the Farewell Season, anyone who filled out an Ultimate Viewer application would be offered a chance to come to a taping of the show whenever there were openings. The Harpo people are masters at surprise, so this was a pretty generic email that matter-of-factly mentioned they had some tickets available for the show on September 9 – next week! – so we should RSVP if we were interested in coming with a guest. There was no clue anywhere that this was going to be the biggest show of Oprah's 25 years! I immediately called to RSVP and explained that I didn't want to seem greedy but I had two partners and we had been asked to submit a video about the website so would it be possible for both of them to come? When she said that was fine, I called Amy and Susan so we could book our flights!
Amy, who produces commercials in Atlanta every September, took a look at the date and shocked us by telling us they had changed the venue this year and she was going to be in Chicago on that day! What were the chances of that happening? It was another sign!
We were so excited when we walked up to Harpo on the morning of the taping. We got there early and the women who were already on line eagerly ran up to ask us if we had filled out Ultimate Viewer applications. When we said we had, we all started screaming, soon realizing that everyone on line had done the same!
We now knew this was somehow going to be an Ultimate Viewer show – something special. We still didn't know it was the first show of the season, and we had no idea what to expect but we could barely breathe when one of the wonderful security guards turned to us and said, "If you think you're happy now, just wait until the end of the show!"
Honestly, we all would have been happy just to be at a taping of the show. Walking into the studio which was so familiar to us was a very emotional experience, and there were tears all around way before the show even started.
The rest, of course, is pop culture history and we are so grateful to have been a part of it. Without wanting to sound overly dramatic, our lives changed immediately when Oprah announced, "WE'RE GOING TO AUSTRALIA!" We were now part of the global consciousness and we felt the responsibility of living up to the unique gift we had been given.
This amazing experience has taught us that anything is possible and that you have to dream big and pursue those dreams. They do come true.
This post originally appeared on my former blog, StyleSubstanceSoul.