hamanasi resort in belize, part 2 by alex and julie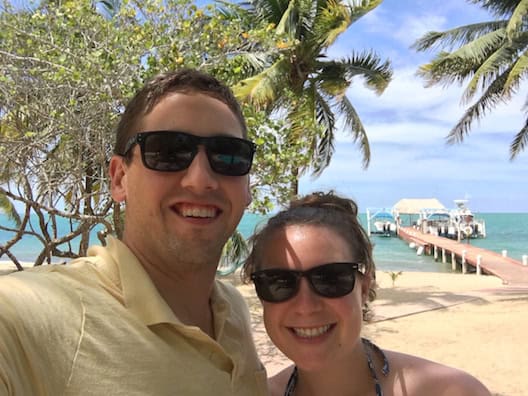 While we both love hanging out and reading on the beach, one of the primary reasons that we chose to go to Belize is the country's diverse selection of activities that leverage its natural beauty. Hamanasi makes it easy to take full advantage of these options with a full-fledged activity center onsite that not only books, but operates tours to all corners of the country. Despite only being in Belize for four full days, we managed to have both "reef" and "jungle" adventures—and we only scratched the surface of the tours that Hamanasi Adventure and Dive Resort offers.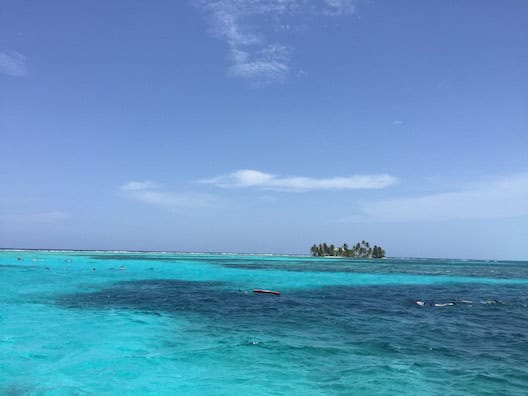 Belize is well known for having some of the best diving in the Caribbean and we were excited to see the famous reefs. On our first day at Hamanasi, we made sure to book the Barrier Reef snorkeling tour and at 8am we set out from Hamanasi's private dock (for anyone who has done a snorkeling tour, you'll know how amazing it is to not have to drive to the dock!). Thirty minutes later we were in some of the clearest water we've seen in the Caribbean, which was full of incredible sea creatures.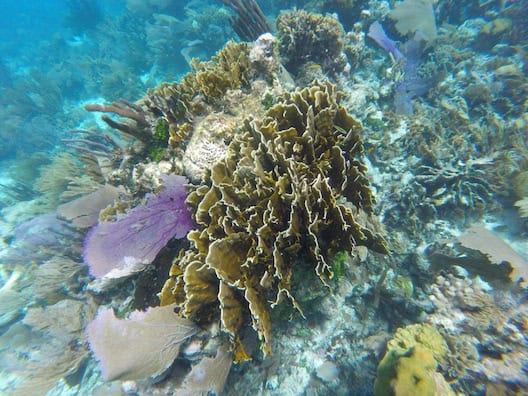 In two guided snorkel sessions, we swam alongside turtles, sharks, held a sea cucumber and saw colorful coral and fish. We also stopped for a cookies and watermelon snack at South Water Caye, a picturesque island in the middle of the gorgeous clear water. All of this before lunch!
Later that same day, we had our first jungle experience with Hamanasi: a guided canoe trip down the Sittee River. Our private guide, Arne, pointed out birds, iguanas, and found tropical fruit for us to pick and eat right off the trees – all on top of shouldering the majority of the rowing so we could simply relax and take in the scenery.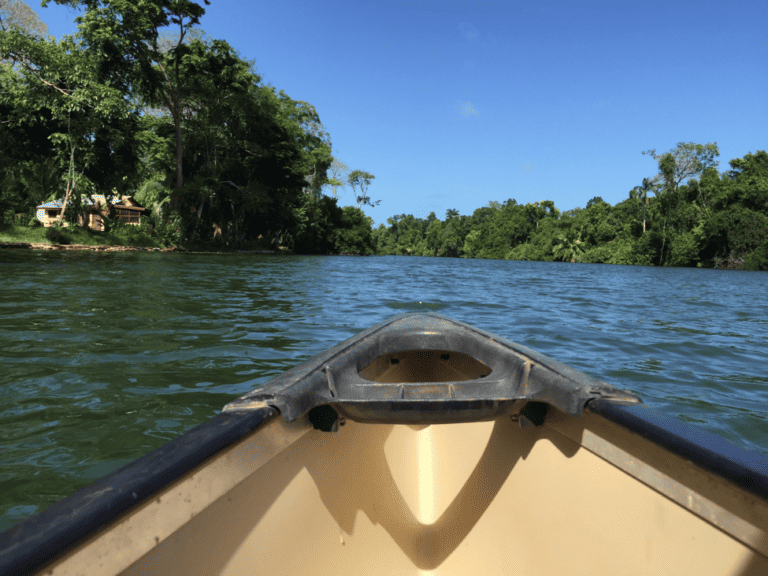 On our final day in Belize, we decided to push ourselves a bit and hike to the Mayflower waterfall. While certainly not easy, the 3km hike was not all that difficult (it did involve climbing stairs and scrambling up rocks). The hike culminates at an awesomely refreshing waterfall and swimming hole, which we took full advantage of as both the first ones in and the last ones out when it came time to head back down. We definitely earned our Maya chocolate brownie ice cream sundae after this hike!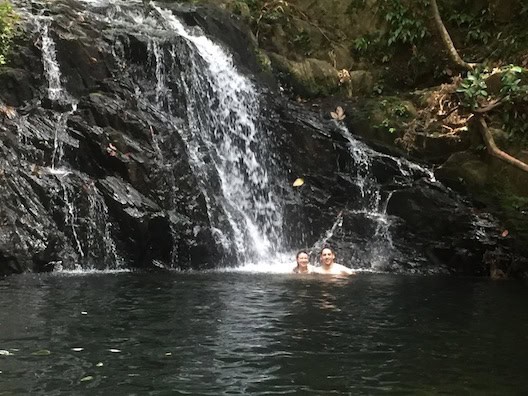 Note: we also highly recommend going cave tubing and visiting the ancient Mayan sites in Belize. Hamanasi offers both of these tours.