the langham huntington, pasadena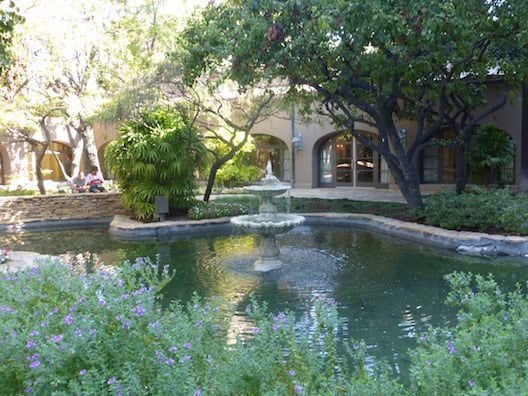 I am dreaming about the Langham Huntington today so I thought I'd share our visit there with you so you can dream about it, too. (Or, even better, plan a vacation!)
A few months ago, Michael was invited to participate in a poetry reading at Vroman's, a fantastic book store in Pasadena, California. He had once stayed at the Langham Huntington in Pasadena on a business trip and LOVED it, so we booked a room and were excited that the hotel generously offered to host us on their Club level.
Okay, I can't even begin to tell you how amazing Club level is — but I will tomorrow!
Meanwhile, let me show you two pictures from the Langham Huntington website because I want to do the hotel justice.
This is the lobby, so you already know you are in a very special place.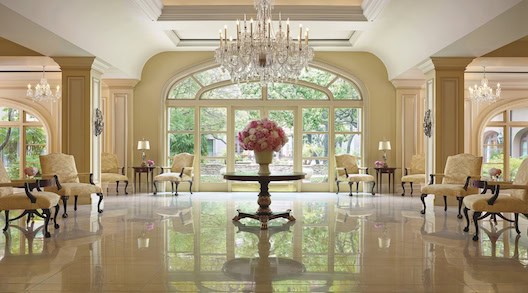 And this is a Club suite, since I was so busy looking around, I didn't take a photo of our own until it was dark out.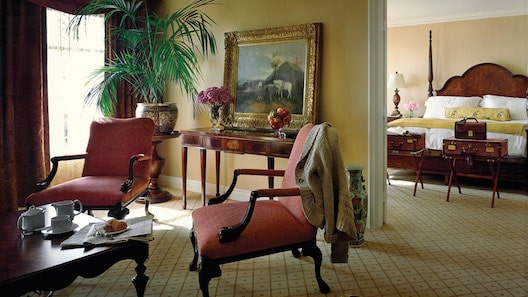 So, now, let me show you how we were welcomed to our room. Or, to be more accurate, rooms.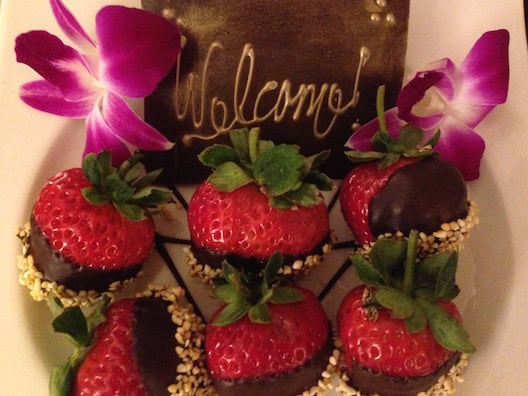 That gorgeous bowl was sitting on the coffee table of our living room, which also had a writing desk with an elegant, old-fashioned blotter, gorgeous books about the hotel and pretty pink pens — one or two which may be in my purse now.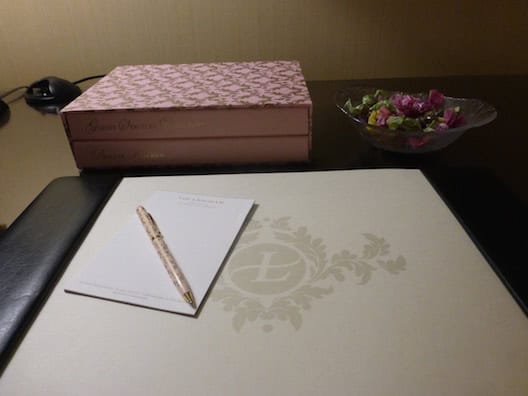 Our bedroom was so serene and sophisticated, I just wanted to spread out on that chaise lounge with a book and those chocolate-dipped strawberries.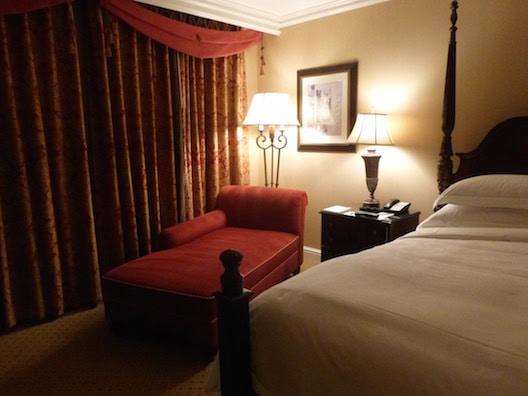 Although it was all atmospheric and romantic at night, just take a look behind the curtains.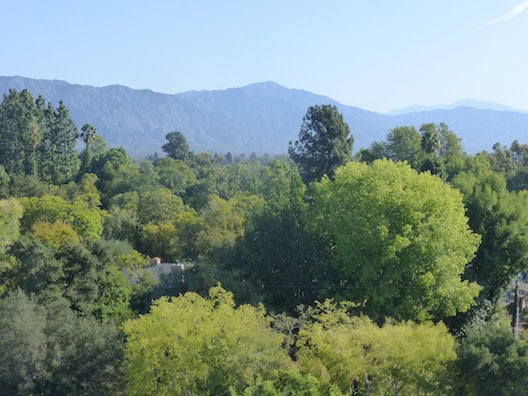 Those are the San Gabriel Mountains back there, and they are stunning. I wish we'd had more time to explore Pasadena because there's so much to see and do, and I am dying to see Nora Walker's house from Brothers and Sisters.
Anyway, back inside, we also discovered we had two bathrooms filled with goodies!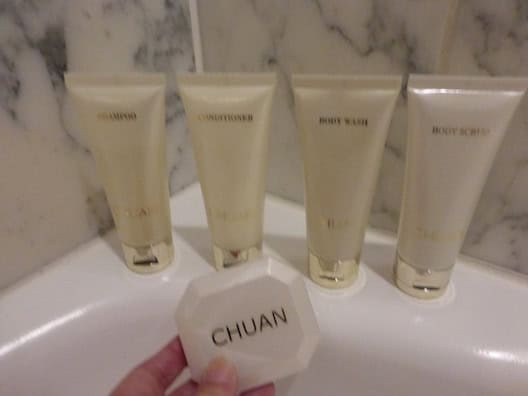 Everything was presented with such attention to detail.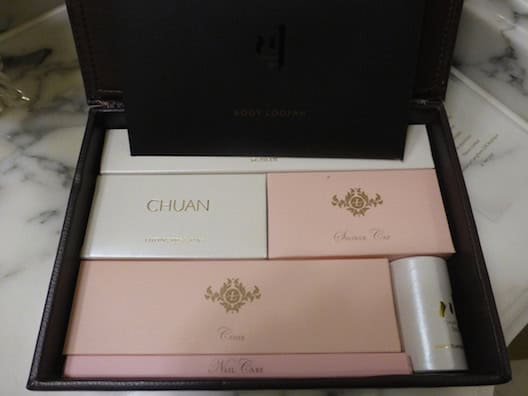 And wasn't it so nice of them to give me my own L for Lois robe? Ha!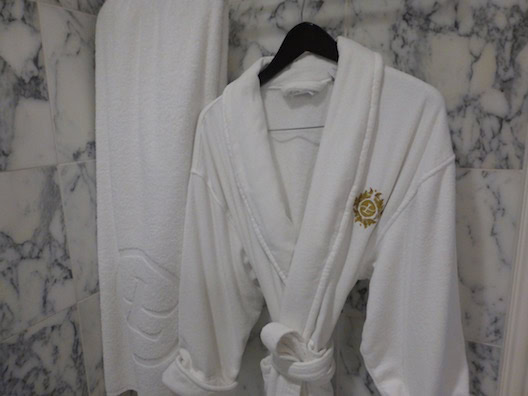 We decided to spend a little time exploring the hotel's renowned gardens before leaving for Michael's reading. (We also spent a lot of time exploring the Club lounge, which you will see tomorrow.) I remembered a friend of mine had texted me from there when she stayed at the Langham Huntington, saying how much we would love those gardens. She was right.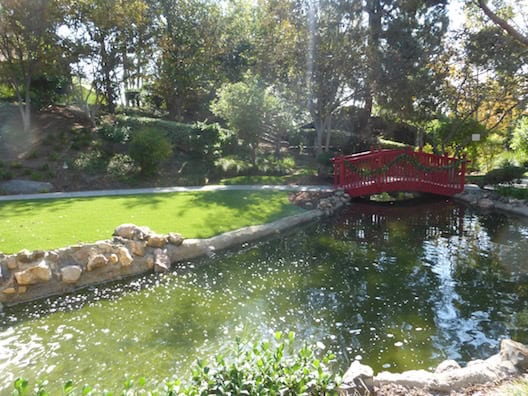 Talk about an oasis. It was so peaceful to wander around the grounds.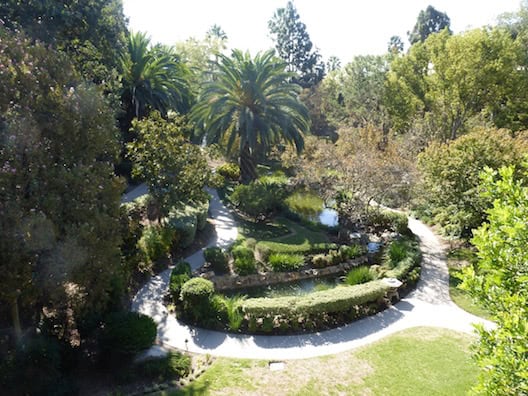 Michael picked up a few ideas for our own garden.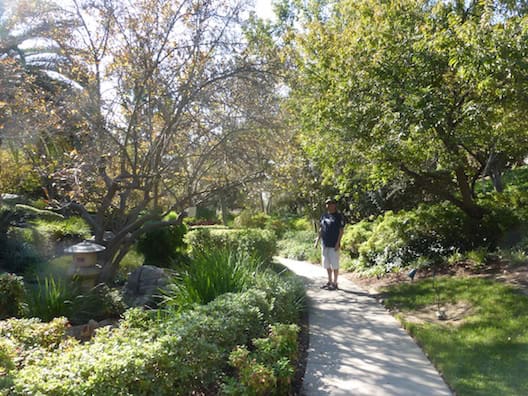 The Langham Huntington is the perfect setting for a wedding or special event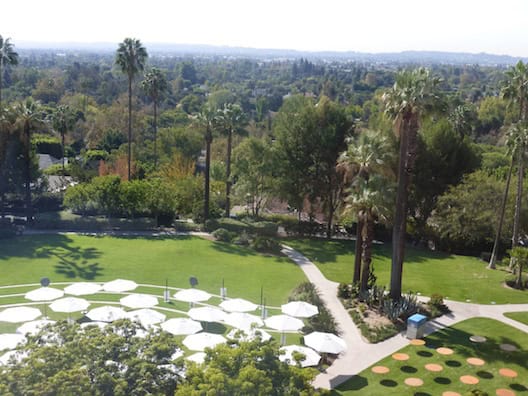 or just relaxing by the pool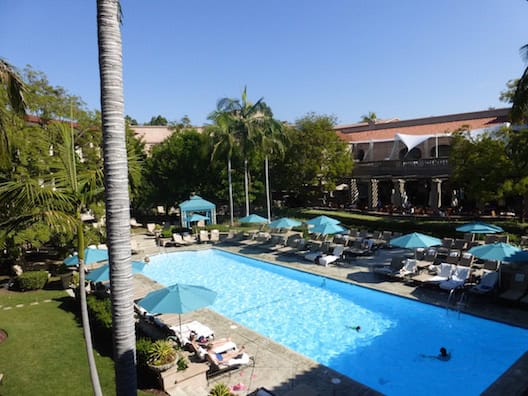 or, of course, eating.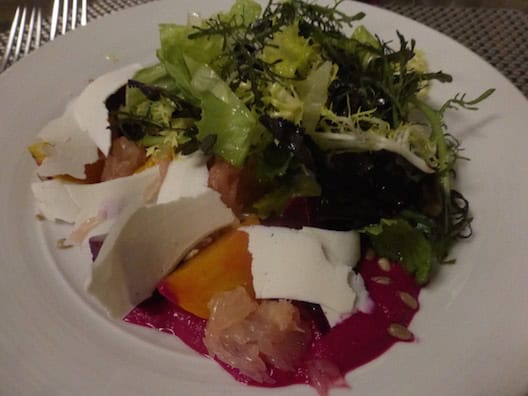 There are three restaurants at the Langham Huntington, and we had a light and delicious dinner at The Terrace after Michael's reading. We did most of our eating, though, in the Club lounge, which I hope you'll come back and read about tomorrow.
When we got back to our room, this was the message waiting for us on our pillows.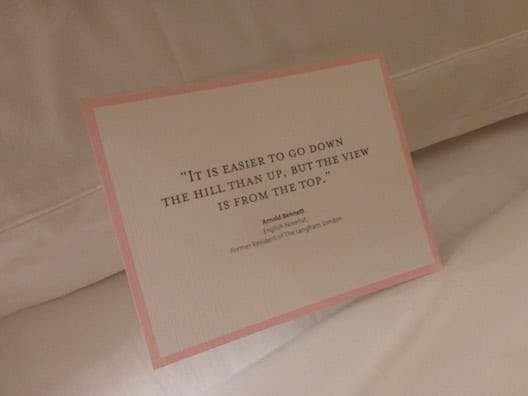 Staying at the Langham Huntington made us feel like we were already at the top of the world — and, as you saw above, the view was definitely spectacular.