nature's spa by jurlique at kimpton's hotel palomar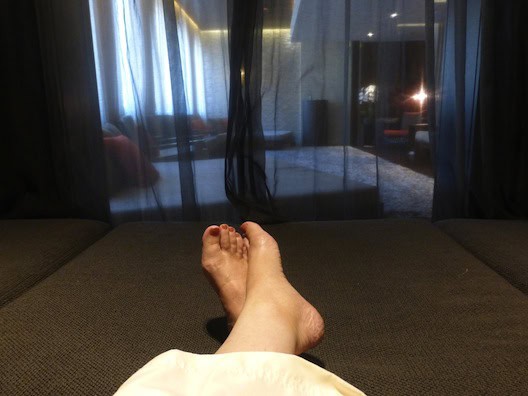 You know how much I love Kimpton Hotels, and you know how much I love massages.
So, when I was offered a chance to experience a massage at the new Nature's Spa by Jurlique in the Hotel Palomar, well, there I am, above, patiently waiting in the relaxation room.
And, let me tell you, they're not joking by calling it that.
Just look at this gorgeous oasis in the middle of downtown San Diego.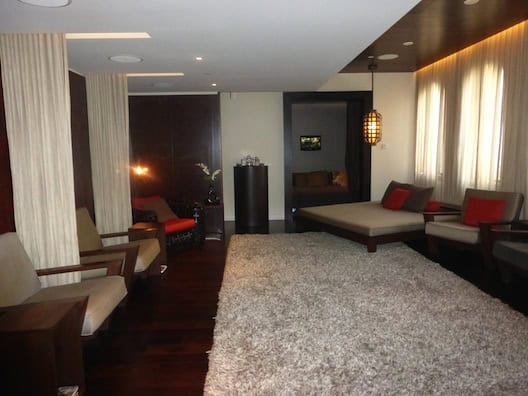 This would be a great place for a girls' night or a spa day, and they've already hosted a number of events in the space since their grand opening just a few weeks ago.
Before my treatment, I filled out a form that asked what I liked best about my last massage and how I want to feel after this one. Those are not typical spa questions and I really appreciated them. I wrote that my last massage was "medicinal," which I liked because it was focused and therapeutic rather than just a soothing rubdown.
Nichele Fruge, the spa's lead massage therapist, paid attention to this and when I told her I'd been sitting on a lot of planes over the past few weeks, she worked on getting the blood and oxygen flowing again, especially in my calves, which were tight and cramping, in addition to all the knots that she magically kneaded her way through.
Plus, I got to take a steam shower right in the same room as my massage. This is a great idea because it draws out the experience a little longer before you have to go back into the real world.
Afterwards, I felt just like what I had wished for on my form – relaxed.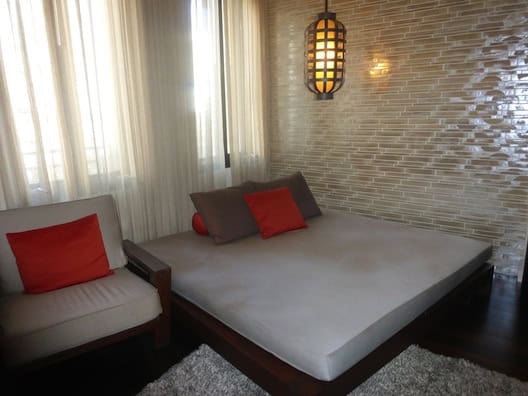 I spent some time with spa manager Courtney Leyva, who was nice enough to join me in my new favorite spot on the cushion-filled couches behind the curtain rather than make me get up. She told me how happy she was that Kimpton had chosen Jurlique not only because their products are plant-based and pure but because the company gives back in so many ways. This has become a deciding factor in who I support these days, and I know many of you feel the same way.
One of their initiatives that touches me deeply is the non-profit Jurlique Ideas of Beauty Fund which raises money to empower women and children around the world. In the United States, for example, they help homeless and low-income women find jobs and become self-sufficient. To me, these efforts say so much about a company.
Plus, their products, which I've been sampling at home, are yummy.
I asked Courtney which treatment is her personal favorite and, without hesitation, she practically purred, "The Nutri-Define Contouring Facial. It's the ultimate pampering facial!"
As she described the jade and rose quartz rollers, and all the luxurious enhancements including NuFace MicroCurrent and two different Clarisonics for deep cleaning, we both seemed to sink deeper into the cushions. You can be sure I'll be coming back to test this out.
I was so comfortable, the only thing that was able to rouse me was the fact that I was meeting my friend, Anna, for lunch downstairs at Saltbox, Kimpton's gastro-lounge, and I didn't want to be late. She and I both share the tendency to get hangry, and we are not salad girls. I love Anna.
So I took my clothes out of the lovely garment bag they provided, got my valet parking validated (love that!) and hugged Courtney goodbye.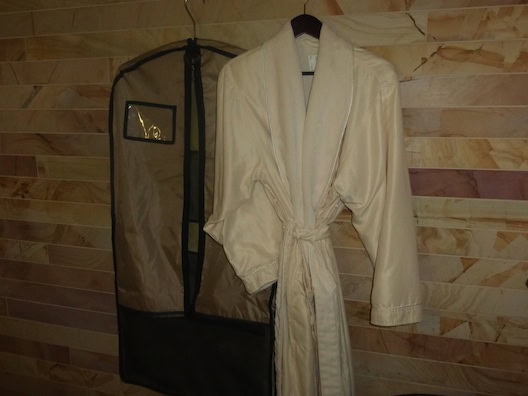 She sent me off with these words of wisdom, "Order the brie and pear flatbread."
Loopy from my massage, I first walked the wrong way, then found my way downstairs where I took one look at the grilled cheese (made with goat cheese!) and promptly forgot Courtney's advice.
Chef Jeremiah Bryant (look how cool he is!) came over to make sure we were enjoying our food while I was happily chomping away on my sandwich and Anna was "ooh"-ing and "ah"'-ing over her short rib dip. I think he got his answer.
The moral of the story is if you live in San Diego, you should book a day here right now.
And, if you live somewhere else, you may want to consider moving.