april is pixie tangerine month at the oaks at ojai!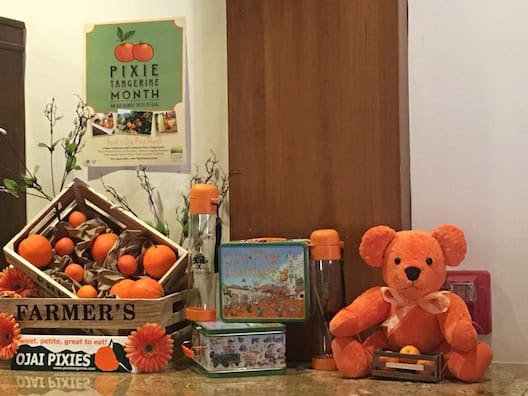 Not that you need another reason to visit the iconic Oaks at Ojai but April is Pixie Tangerine Month and that just sweetens the deal.
So, when I was invited to spend a couple of days at the spa, I booked myself a ticket on Amtrak and headed north.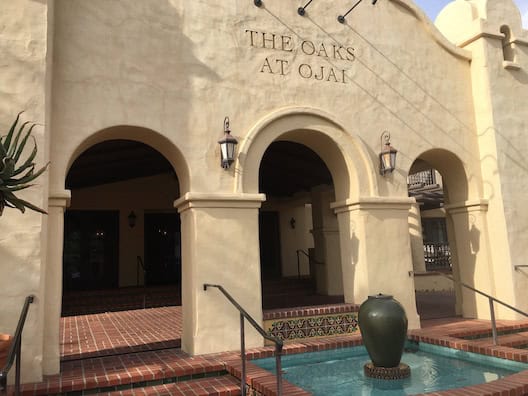 The Oaks at Ojai has been around since 1976 and many of the women I met during my stay have been coming religiously every year since then. No wonder.
This destination spa, which regularly wins top spa awards, is a little haven in the middle of one of the cutest artist towns in California — a town you may remember from my favorite TV show, Brothers and Sisters.
I checked into my cottage — a spacious and comfy home-away-from-home — and immediately headed for lunch.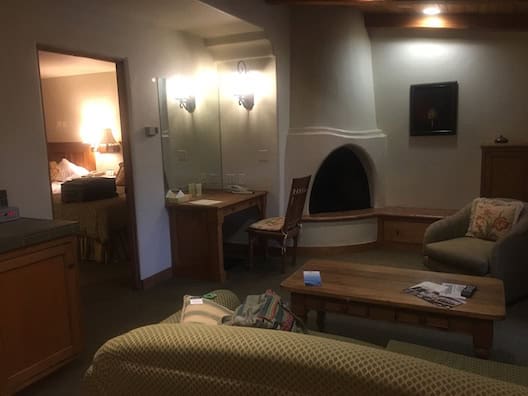 Because the focus at the Oaks at Ojai is on health, fitness and weight loss, the menu is calorie-conscious and full of fresh fruits and vegetables, natural foods and no added salt or refined sugar. I admit I was a little wary of this but the three meals a day plus snacks were delicious and surprisingly filling.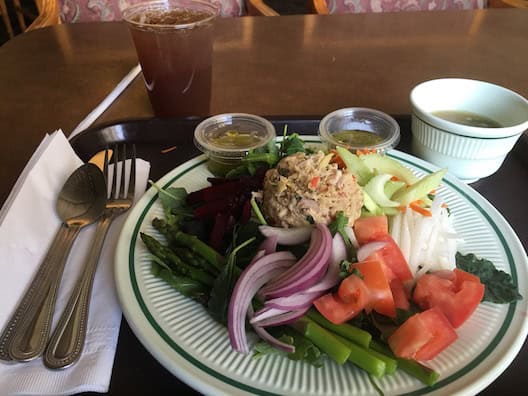 I could definitely eat healthy if someone was cooking these meals for me every day.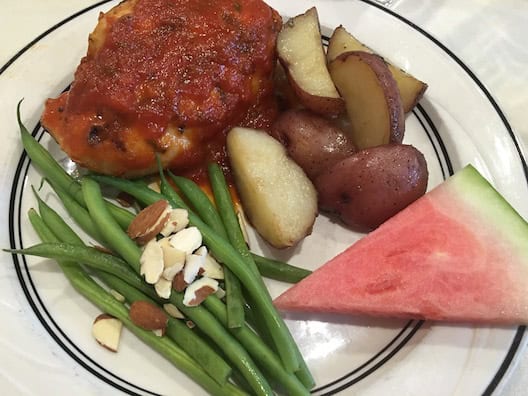 And, yes, there was dessert.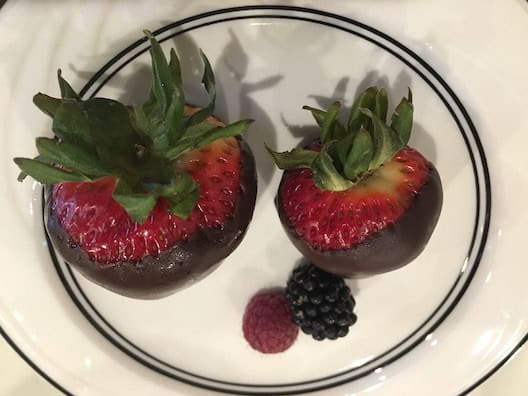 They even served popcorn during the movie nights, and had tea, coffee and fruit available all day.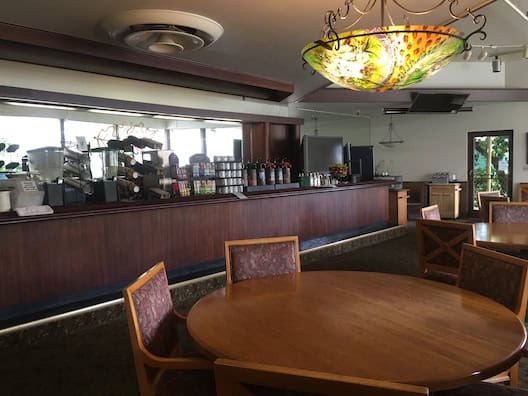 There are dozens of classes and fitness options at the Oaks at Ojai. I started the day with a morning stroll with general manager Peter Bowen, who shared with me the fascinating history of this Pink Moment city. You see, because Ojai is located in an east-west valley, it is one of a handful of places in the world to be blessed with a gorgeous pink sunset — which, unfortunately, I missed because I was enjoying spa treatments at that time. I will have to go back sometime soon to experience that Pink Moment although I don't feel bad because those treatments felt a little like heaven themselves.
Although I never tried any of the gym equipment — are you surprised? — I did take some great classes in jazz dance, Zumba, meditation and stretch.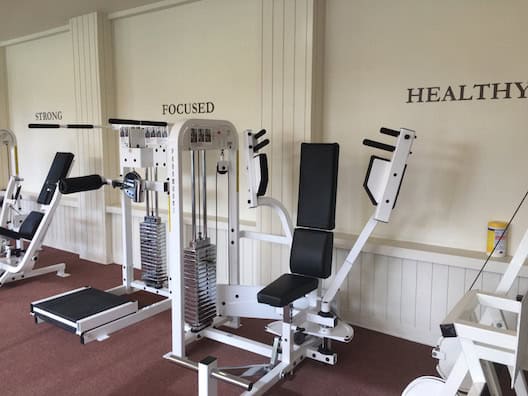 Because that was more exercise than I've done in a while, I also spent some nice quiet time on a lounge chair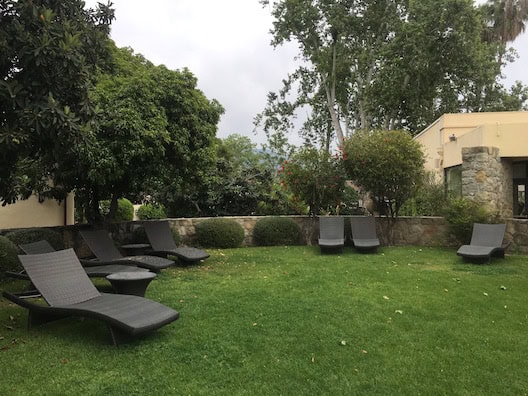 and on my beautiful little patio.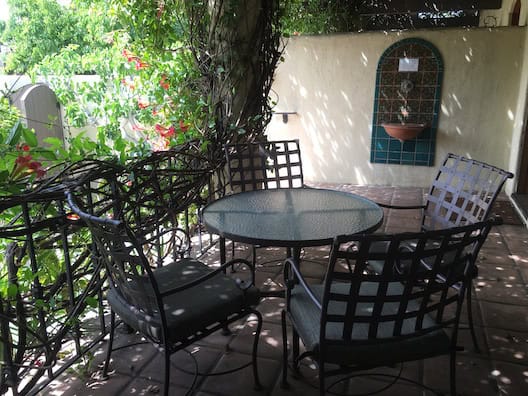 I "forgot" to bring my bathing suit so I skipped the water classes, which looked like fun. I like that there's an awning over the pool so you can swim without worrying about the hot sun beating down on you.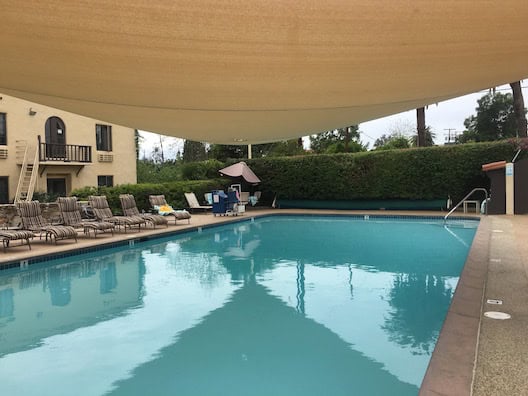 Because, to me, spas are all about pampering, I was excited to try the Fit & Firm Signature Facial. After the sugar cane AHA resurfacing, the mask, the eye lift treatment and anti-aging "cocktail" — not to mention the luxurious hand, arm and neck massage — my skin looked clear and rejuvenated. Oh, and the spa just sent me a box of Skin Authority products in the mail so I can keep it like that.
I also had a Pixie Pedicure in honor of Pixie Tangerine Month — which, I should explain, is celebrated throughout Ojai, the exclusive home of these seedless, easy-to-peel balls of sweetness.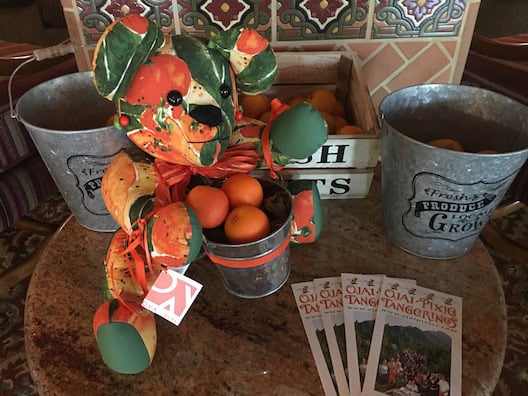 For my pedicure, Pixie juice  — as magical as Tinkerbell's pixie dust! — was squeezed into the sugar scrub rubbed on my feet and legs. It smelled delicious. I considered having my nails painted one of the cute tangerine-colored polishes that were being featured but ended up opting for Opi "It's A Boy" baby blue instead.
The spa also offers a full body scrub which uses tangerine essential oils along with fresh Pixies squeezed into products table-side, and a Pixie scrub class so you can make your own bottle to take home .
During the month of April, Green Tangerine Dream cleansing drink with Pixie juice is served daily, there are special menu items and cooking demos, and, for afternoon snack, there are my new favorite Pixie Popsicles.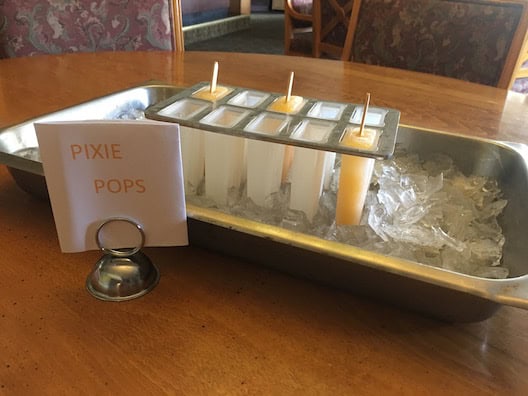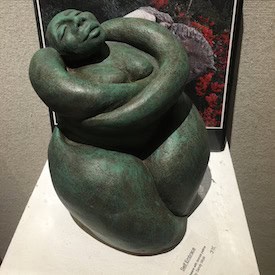 I can definitely understand why so many women (and a few men) make annual pilgrimages to the Oaks at Ojai. It's such a low key, supportive place and is more affordable than you might expect, considering everything that's included. This beautiful sculpture in the lobby is a perfect representation of how you feel while you're there.
On my final morning, I spent a few minutes in the Intention Garden, feeling deep gratitude for my time at the Oaks at Ojai.
You still have 10 days to experience Pixie Tangerine Month at the Oaks at Ojai. Orange you glad I told you about it?!
Full disclosure: On one of my walks through town, I stopped in here. In the name of research, of course.