swissotel berlin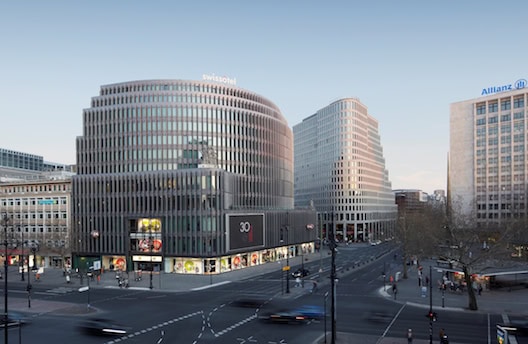 This is a sponsored post. All opinions and desires to visit 
again are totally mine.


The last time we visited Berlin was during a cruise excursion many years ago.
There was so much to do and see, we were really disappointed we only had one day to explore the city. And I remember being taken in by the unique architecture of Swissotel Berlin and wishing we could have spent the night there.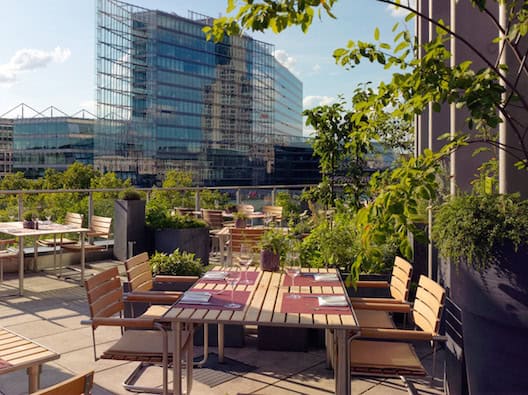 We've stayed at a lot of Swissotel Hotels & Resorts around the world because we know we can count on them to be clean and comfortable, with great service and those little extras that keep you coming back — whether they're unexpected upgrades or friendly staff who make you feel truly welcome.
I recently read that the Swissotel Berlin has a new lobby design, and that's enough to make me start thinking about another visit to Berlin.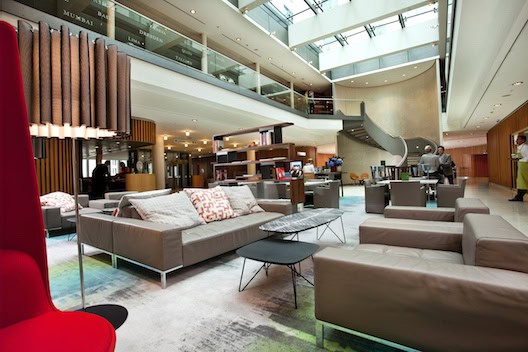 And so is this photo of the hotel's dreamy library.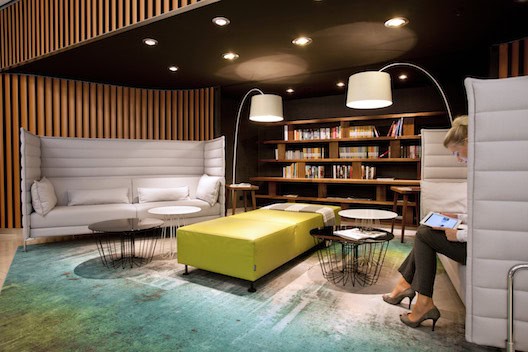 Of course, it's a long trip to make just for a hotel so, luckily, this one just happens to be in a perfect location in a vibrant city!
Located in the heart of the city, the hotel overlooks the Kurfürstendamm, which is often referred to as the Champs-Élysées of Berlin. This famous boulevard is lined with shops and restaurants, and there's great shopping at nearby KaDeWe, the largest department store in Continental Europe.
The hotel is so convenient to everything you'll want to see in Berlin, including the beautiful Tiergarten Park and the sobering Kaiser-Wilhelm-Gedächtniskirche anti-war memorial. There is so much history to absorb in Berlin along with modern museums, galleries (the hotel itself is home to an amazing private collection of contemporary German art) and stores.
Some of the highlights of our own trip were seeing what's left of the Berlin Wall, walking through the Holocaust Memorial and visiting Checkpoint Charlie.
I'm actually visiting Germany again soon — on, sigh, another cruise — and am trying to figure out how to fit in a stay at the Swissotel Berlin.
Meanwhile, I will dream about waking up with this gorgeous view of the vibrant city.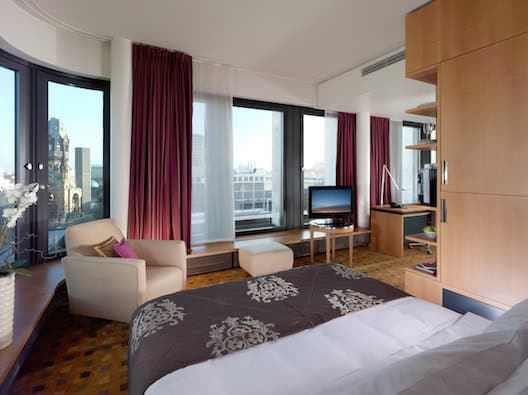 And, until then, I will just say Auf Wiedersehen.
Follow Swissotel on Facebook, Twitter and Instagram. Hopefully you'll see pictures of me in that library on one of them soon 🙂