anna, katie and edith: a week with my role models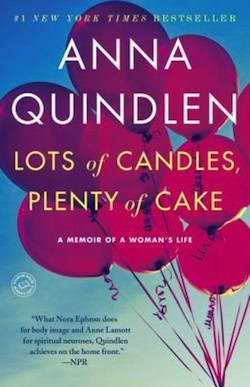 Last week was amazing. I got a chance to see two fascinating movies, Arthur Newman and Mud, participate in World Book Night, have lunch with some of my local blogging friends, take a pizza-making class and meet two of my all-time favorite role models – Anna Quindlen and Katie Couric. I did most of these things with my other favorite role model, Edith Alter — my mom — who is better known to my readers as "The Cute Tomato."
I have been reading Anna Quindlen's writing forever and was so excited to hear she was going to be appearing at Warwick's in La Jolla. She is, as I admitted to her, one of the main reasons I became a writer. I told her about my blog and asked her, if she were starting out now, whether she thinks she would be a blogger. She laughed and said, "Probably, and as a matter of fact, Lisa Belkin [who wrote the Motherlode column for The New York Times and is now the Senior Columnist on Life/Work/Family for The Huffington Post] once called me the original mommy blogger!"
Although it's now normal for us to pour our hearts out and share the intimate details of our everyday lives with strangers, Anna's deeply personal yet completely relatable essays were way ahead of their time, and reassured a generation of women they were not alone. Her "Life in the 30's" column for The New York Times got me through my own thirties – I still cherish the thick file of every column I cut out of the newspaper, although I'm sure they're all available online – and I'm grateful she's back to lead me through middle age with her new book of essays, Lots of Candles, Plenty of Cake.
Listening to Anna talk about the fact that she's grown more comfortable in her own skin – despite its sun damage and age spots – was so empowering. I have highlighted countless lines in her essays and often gasp out loud while reading her work, as she articulates my thoughts better than I ever could. She has given me much to think about, especially when confessing to her "aha!" moments about the way she had wrongly dissed both her mother's generation and the new generation of young women.
I showed Anna the scrapbook I made for my husband on our 18th anniversary (almost 14 years ago), which ends with her essay in which "Infatuation takes on the burnished glow of marriage." It is a gorgeous, spot-on ode to marriage and its messiness, and it still takes my breath away.
Anna, who, by the way, is a Pulitzer Prize winner, is now 60 and she continues to be my professional role model. I will happily read anything she writes, and I still aspire to write as poignantly and meaningfully as she does. And, because she is a huge proponent of the importance of girlfriends, I'd like to invite her to be my friend and join us at a Generation Fabulous lunch any time.
Like Anna, I am blessed to have incredible girlfriends – one of whom I was lucky enough to accompany to a taping of The Katie Show in Los Angeles. I adore Elin Stebbins Waldal, the author of Tornado Warning: A Memoir of Teen Dating Violence and Its Effect on a Woman's Life and feature her whenever I can. I would include her in my list of role models here but I'm talking about older women who are paving the way and, alas, she's younger than me. Damn you, Elin!
Anyway, I would go anywhere with Elin but when she invited me to see Katie Couric, well, that was just a double scoop of deliciousness. I have always been a fan of Katie's – she's smart, she can hold her own in a man's world and she's adorable. I'm sorry, but I mean that in the best possible way. I am not being sexist and I would say that about her male counterparts if I could think of any but I can't – although I guess Walter Cronkite was adorable in his own grandfatherly way.
I admire that Katie can talk to anyone about anything, and that she is warm, funny, self-deprecating and full of life. Plus, she has strong Michelle Obama arms, she can stand on her head and she wears great, simple, flattering dresses. She is what I want to be like at 56 (which gives me two years, sigh).
Set your DVR for The Katie Show today, and look for Elin and me in the audience. Be sure to listen for Elin's reaction to Jimmy Fallon's story about Calista Flockhart, which made the cameraman whip around to capture her on tape and left the two of us in a fit of laughter. We also got to shake hands with Katie at the end of the show, which was really a thrill.
Note to Katie: I know you're looking for other cities to bring the show, and San Diego would provide the perfect backdrop. Plus, you always have an open invitation to a Generation Fabulous lunch. Elin is already part of that group, and maybe you can pick up Anna on the way. Just saying.
Because I am obviously meant to connect with Katie in some way, my mom and I ended up getting tickets for another taping of The Katie Show the next day. Let me try to explain to you how much my mother loves Katie. She tapes the show every single day, she calls me to discuss what was on the show, and when we get together, she'll ask me if I saw the show the other day.
Because I love my mother as much as she loves Katie, I didn't want her to have to wait on the same long line that Elin and I did. So I asked her to have my father take a picture of her holding a sign saying she is Katie's #1 fan and I would tweet it to 1iota, the company in charge of the tickets. Taking the picture was easy but it then took a good hour to get it from their computer to mine. My mother hung in there, clicking away, until it worked. I can't swear she would do this for anything but her place in line for Katie was at stake.
This is what happened next:
When we casually sauntered to the front of the line, the 1iota people couldn't have been nicer. They told my mom how much they loved her picture, and my mother explained that Katie was like a daughter to her, apparently forgetting that her real daughter was standing next to her.
I asked our new friend, Daniel, to please take care of my mom when we got inside so she wouldn't have to walk up a lot of steps, and – huge shout-out to Daniel and his amazing 1iota staff – we were seated in the second row right in front of the set. Or, more importantly, right in front of Katie.
We had the best time, and here are a few reasons why my mom is my real life role model:
* She is up for anything. She went right along with that photo idea, just like she goes along with many of my ridiculous ideas.
* She is joyful. The audience warm-up guy pointed to my mother and announced, "Look how this woman is smiling and applauding. That's beautiful!" and later casually slipped her a Katie hat. It's now in the safe deposit box. (Kidding!)
* She is appreciative. The first guest was Will.i.am, whose music is not really my mother's taste, but she never stopped smiling and clapping. She praised his philanthropic efforts, gushed over Zooey Deschanel and happily waved to Katie.
Like I said, it was an amazing week filled with amazing women. I am so grateful to have these role models, and will strive to write like Anna, be as personable as Katie and spend lots of time with my mom.