eat dessert first!
Farmer's Market Desserts by Jennie Schacht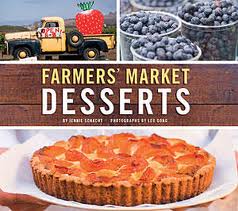 You know all those gorgeous fresh and home-grown ingredients you salivate over at the farmer's market but can't really rationalize splurging on? This book is the ideal resource, giving you dozens of great excuses to bring home a bagful of persimmons (Persimmon Swirl Cheesecake in a Gingersnap Crust), that goat cheese you sample every week (Meyer Lemon-Goat Cheese Souffle Cakes) or locally-grown lavender blossoms (Lavender Walnut Sandies). The photographs are as appealing as the recipes, and there are lots of great tips for selecting and storing ingredients, top seasonal and between-season choices, and a guide to specific markets nationwide. With farmers' markets popping up all over the country, this is a book you will turn to again and again.
Spice Dreams: Flavored Ice Creams and Other Frozen Treats by Sara Engram and Katie Luber
We pride ourselves on being ice cream connoisseurs so this innovative book took us by — very pleasant — surprise. In The Spice Kitchen, Sara Engram and Katie Luber (who founded two award-winning lines of organic spices: tsp spices and Smart Spice) taught us how to literally spice up everyday – a.k.a. bland and boring – meals. Now, they're shaking up that classic dessert. These recipes are not for the faint-hearted; making ice cream takes effort. But once you've tasted Almond Ice Cream with Turmeric, Cardamom and Cloves, Basil Ice Cream or Chile-Lemongrass Ice Cream, you just may be screaming for spice cream.
Super-Charged Smoothies by Mary Corpening Barber and Sara Corpening Whiteford
Smoothies are those rare treats that taste so yummy, you can't believe they're good for you. This great little guide ups the ante with more than 60 recipes meant to make you look and feel better than ever. Featuring ingredients like pomegranate juice, Greek yogurt and fresh fruits, they'll make your hair and skin glow, and turn your immune system into a thing of beauty. Smoothie queens – and identical twins! — Mary Corpening Barber and Sara Corpening have already written two bestselling books on the subject, and this one takes the drink to a whole new level. Smooth!
Leave a comment below, and you just may win one of these books! Giveaway ends Sunday, August 22 at midnight Pacific time. Winners will be notified by return email.
This post originally appeared on my former blog, StyleSubstanceSoul.