my writing process — or lack thereof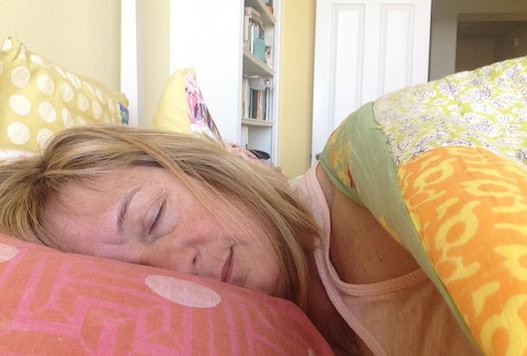 My initial reaction to being invited to join a blog hop about my writing process was hysterical laughter.
"Are you serious?" I asked, wildly trying to visualize the way words get from my head to the screen. "What writing process?"
You see, that picture above pretty much sums up how I do my best writing. But I'll get to that later.
I'm actually really honored to be included in this blog hop because I so love and respect the writers who are participating. Of course, I had to say "yes," but, secretly, I'm still wondering what words of wisdom I can possibly impart and how anything I say will remotely help anyone who wants to become a writer.
So, if you're still onboard after that disclaimer, welcome into my head. I'm jealous you'll be able to leave.
Why do I write what I do?
I write about things that interest me – and that means everything from my feelings about midlife to the songs I'm loving now to Cronuts – because I believe anything is more powerful when you're passionate about it.
Also, I really like to share. There is nothing better than having a reader relate to what I've written and take some kind of action, whether it's looking at an issue from a new angle, finding a new product, place or way to make a difference in the world or just spending a few minutes laughing. It's so rewarding when readers leave a comment or send me an email telling me how much a specific post resonated with them. That sense of community is very important to me.
I'll admit it. I love having people read my work. If I didn't care, I would just write in a journal.
What am I working on?
I just got invited to be part of Life Reimagined, an amazing initiative from AARP which I'm very excited about because it's something I believe in strongly. I'm writing my first post, which will go up on Monday.
I'm also working on some fun pieces for USA Today, Boomeon, Manilla and Felicity Huffman's What the Flicka? and am pitching some ideas to a couple of my favorite magazines. My dream is to write for O magazine and I'd love to write for Entertainment Weekly again.
How does my work differ from others of its genre?
Well, it inherently differs because it's mine. It's my voice, which is unique from every other voice even when we're writing about the same subjects. My writing is very conversational and, for better or worse, I pretty much write the way I speak. Minus the New Yawk accent.
How does your writing process work?
Ah, the $64,000 question. And, by the way, why does that question use the word "your" when all the other questions use the word "my?" See, that's the stuff that distracts me and makes it impossible to use the word "process" to describe my writing.
The truth is, I think I do my best writing while I'm lying in bed, trying to fall sleep. Ideas flow and marinate all night long – which is probably why I have deep bags under my eyes – and I write sentences in my head which I try to remember to spew into my laptop when I wake up.
People think I write fast and easily but, honestly, that's because I spend so much time thinking about what I'm going to write. I just do it while I'm out shopping or eating lunch or watching TV rather than while I'm sitting at my laptop. Because if I sit down at my laptop, this is what happens:
Write a sentence. Check Facebook. Follow long thread about someone's blog. Click onto that blog. Read it. "Like" it. Comment. Get ready to Tweet it. Want to tag someone else. Go to Twitter to find that person's handle. Check out my new followers. Follow them all back. Go to fridge for an iced tea. See some mold on the block of Cheddar cheese. Google whether it's okay to just cut off the moldy part. Ooh, look at the Anthropologie ad. Free shipping today! Spend 20 minutes and $150 on Anthropologie.com. Why do I have a Word document open? Delete sentence.
Okay, I'm exhausted now. Thanks, Connie McLeod, for including me in this blog hop. I hope you'll all check out some of my fellow writers' posts because they do have some really great tips.
As for me? I have a post due tomorrow so I'm going back to sleep.
I'm honored to pass the blog hop torch to my great friend, Elin Stebbins Waldal, who is a beautiful writer and one of my favorite people in the world. A writer and inspirational (truly) speaker, Elin is the author of Tornado Warning: A Memoir of Teen Dating Violence and Its Effect on a Woman's Life. Read about her writing process on her blog, Beyond the Backyard Blues.