happy mother's day from hallmark and me (yes, gifts are involved!)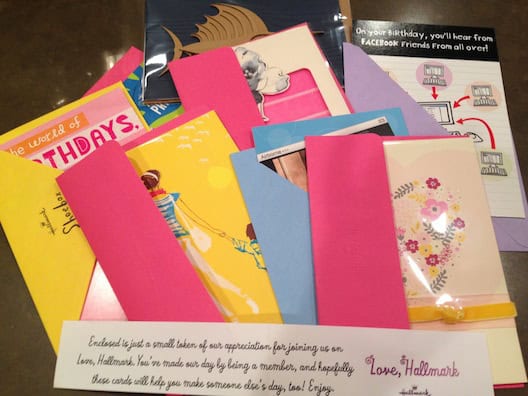 I'm thrilled to have become a Love, Hallmark blogger because, well, I really do! I've spent more time and money in Hallmark stores than Michael should know and, with Mother's Day coming up, I'll be spending even more. Oh, speaking of mothers, my mom needs to stop reading now because she just may be getting some of the goodies I'm about to talk about. EDITH ALTER, THIS MEANS YOU! Go check out Pinterest instead. 
Interestingly, 2014 marks the 100th anniversary of Mother's Day. Personally, I can't believe it took that long – can you imagine having babies before epidurals, disposable diapers and washing machines? Those women certainly deserved a Hallmark gift – and a spa day. But it was President Woodrow Wilson who declared the holiday in 1914. I bet his mom was proud.
A century later, Hallmark continues to come up with great ways to celebrate mothers. One of my favorite new items is the "We Love You Because" kit. As a DIY-challenged crafter wannabe, I love kits. Everything you need is right there but it's still really personal because you're using your own photos.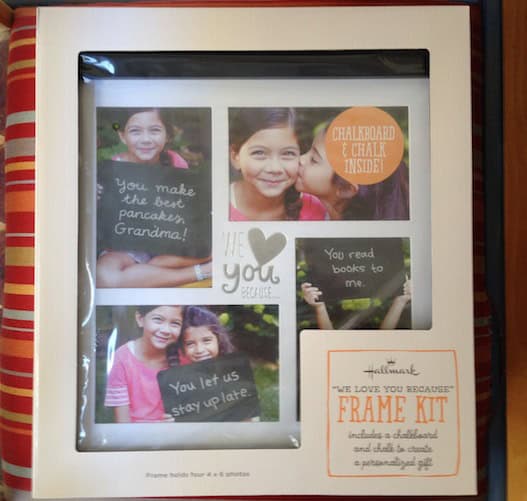 Hallmark offers a variety of these Pics 'N' Props kits, but this one is perfect for Mother's Day because it comes with a really cute chalkboard and a four-photo frame. Family members can each write their own message and you can then take pictures of them holding it up.
I'm only showing you the generic one right now because I don't 100% trust that my mom has left this post.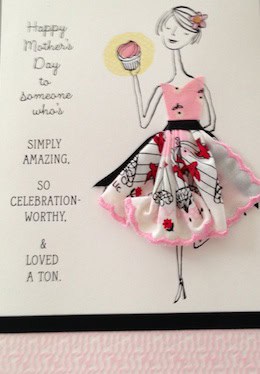 Hallmark has also added some great new card collections, like the Sarah Jessica Parker Collection which adds modern touches to vintage artwork from the Hallmark archives; Magic Prints, a great line that lets kids literally give moms and grandmas a hand(print); and – my favorite – the Hallmark Signature Collection. These handcrafted cards feature beautiful papers, rich textures and unique embellishments like this adorable little handkerchief. I love this card, and will be giving it to my mom. I hope she'll act surprised.
As a special Mother's Day treat, I'm giving away a 10-card pack of greeting cards as well as a special gift from Hallmark to three Midlife at the Oasis subscribers. (If you're not a subscriber yet, sign up now!) For a chance to win, simply leave a comment below. Contest ends on May 11, Mother's Day, at midnight Pacific time. Winner will be notified by return email. Prizes can only be sent to U.S. mailing addresses.
Happy Mother's Day!