life reimagined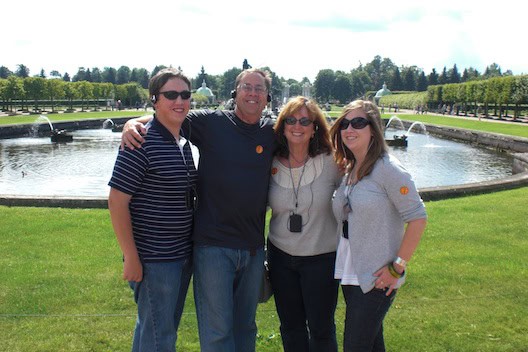 When I was a little girl, I imagined I would grow up, work in a corporate job, get married and have children. I imagined cooking for my family in our house, probably on Long Island, and going on vacations to the same tourist spots my parents took my sister and me.
What actually happened was that, although I am happily married and have two amazing kids, I hated working in corporate jobs and was totally uninterested in cooking. We never bought a house on Long Island or visited Williamsburg, Virginia or Hershey, Pennsylvania.
Instead, we lived in a Manhattan apartment overlooking the East River, and took the kids to Europe and Alaska. When my husband was offered a job in California, we laughed and rolled our eyes. I mean, really, who leaves New York?
Well, we did. We've been living in San Diego for the past 16 years. And we can't imagine moving back.
Now, at the age of 55, I feel like I'm going through another transition period. My husband has retired, my youngest is graduating college next week and I'm working hard to get my writing into some of my favorite publications while growing Midlife at the Oasis – which will celebrate its first anniversary in July.
What I've learned from all of this is that life is a journey. If you're lucky, it's a long one. Yes, there are forks in the road. And plenty of detours, obstacles and crossroads.
Ultimately, I think we're all trying to get to a place of happiness and satisfaction.
Thankfully, there are many different ways to get there. So, when I discovered I didn't really want the life I had originally imagined, it was easy to take a different route. We have the power to choose which path to take.
Sometimes, though, we get lost.
Right now, I'm feeling a little lost.
It seemed like divine intervention when I was recently invited to experience and help introduce Life Reimagined, a new initiative from AARP which takes a tool-focused approach to rethinking what's next. It's awesome.

I spent a lot of time on their website, reading articles that totally pertain to where Michael and I are at this stage of life (he's looking for a new walk like the Camino de Santiago he did last year; I'm sadly obsessed with my electronics). I learned so much about their innovative approach to helping you write the next chapter of your own life.
They get it.
In fact, they even provide a LifeMap to literally chart and visualize your course.
I immediately registered on the site – which you should do, too – and I've already started taking advantage of their extensive resources. I love thinking about and answering their questions and planning an abundant future. There are tons of interactive activities, inspirational stories and so much practical advice, it's like having a personal life coach. And it's free.
What I love about Life Reimagined is that it's not Life Reinvented. You don't have to become someone different or transform yourself into someone else. You just have to imagine the possibilities and learn how to make them a reality. And you can do this even if you're in your 30s and 40s. Why wait to live the life you want?
I'd love to know how you imagine the next chapter of your life. Please leave a comment, and let's take this journey together — even if it's on different paths.
I'm going to be writing a lot about this because it's a subject that's so important to me. It's why I created Midlife at the Oasis, and why its tagline is, "Living an amazing life never gets old."
You can take up a new sport at 50. Learn a new language at 60. Go glamping at 70. Become a volunteer at 80. Write a book at 90.
You can live an amazing life at any age.
Imagine that.
This post is supported by Life Reimagined, your guide to rethinking what's possible and seizing your "what's next" in work, relationships, health, personal finance and more.  All opinions are my own.