nablopomo: everything's better when you share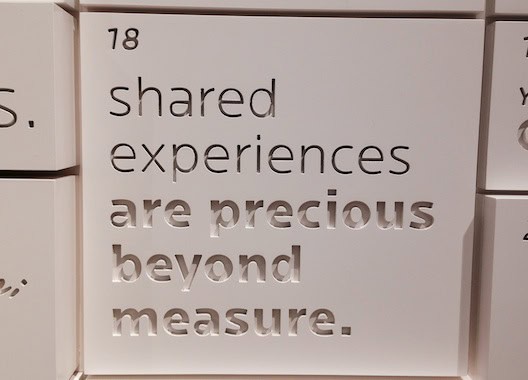 It's November 30, which means it's the last day of NaBloPoMo. Thank God.
Nah, not really. I like to complain about it and affectionately call it things like NaBloMePoMo but, deep down, I love it and am happy to participate. In fact, it's always such a great experience, I've commited to starting the year with another one in January.
As much as I love the writing, though, I realize that what really makes this month so special is the sharing — first, with all of you, who are so supportive and active and who have helped me create a community of women (and a few men!) who I look forward to interacting with every day. You leave comments, send me emails, make suggestions. You laugh and cry over my stories and you share your own with me. Thank you. Without you, I might as well just be writing a diary — and that's just never been that interesting to me.
Second, my amazing NaBloPoMo Midlife group. These women write smart, funny, heartbreaking, inspiring posts that have become a highly-anticipated part of my daily reading. I will miss that in December. As people, they are also smart and funny, not to mention compassionate, thoughtful and encouraging. I know for sure that NaBloPoMo would not be nearly as meaningful — or as much fun — without them. I'm grateful that I have gotten to know many of them in real life, and consider them among my closest friends. So, thank you, Elin, Ruth, Cathy, Mary, Linda, Carol, Jackie, Jamie, Nancy, Donna, Doreen, Angela and Elaine. Keep writing, and please join me in January for another round!
Oprah always says that everything's better when it's shared, and I agree. I once checked into a hotel for a conference and they upgraded me to an amazing, gigantic room with a gorgeous ocean view and a tray full of desserts. My immediate reaction was, "OMG! I wish Michael were here."
There's nothing better than sharing things you love with those you love. I've taken Michael to see movies I already saw at press screenings, texted my kids about new songs I heard on the radio, brought my parents to favorite restaurants, sent books to my sister, lent DVDs to friends.
I can tell you that even Cronuts taste better when you share them — despite the fact that there's then less to eat — because the sound of joy times two trumps everything.
So, I'll still be writing three blog posts a week in December but will also be redesigning my home page, sending out boxes of books to all of you who ordered them, spending time with my family and friends and organizing my life so I can get ready for NaBloPoMo again.
Meanwhile, I want to share this with all of you. xo