ringing in our 37th new year together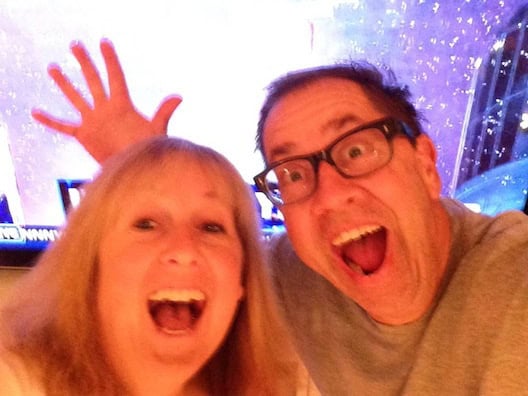 Michael and I celebrated our first New Year's Eve together at my friend Rachel's party (Happy birthday, dear Rae!) over winter break in college as 1977 turned into 1978.
It was our second or third date and I was smitten. I was practically strutting because he had cancelled his other plans so we could be together on New Year's Eve, and I felt alive with the mystery and anticipation of what was to come.
I was totally, madly in love.
Now, 37 new years later, the big mystery is where we put our keys and whether we left the garage door open. We have bills, health issues, grown kids and aging parents to worry about. The habits we found quirky and endearing in each other now often drive us crazy.
There are days we look at each other and think, "Who are you?"
I'm sure he's asked that a lot this year, as my hormones have taken on a life of their own. And I hope he'll remember. I'm the one he's spent decades laughing with. The one with whom he can communicate a whole story with just a look. The one whose hand is always there for his.
And I will remember the day he got on a bus to Boston with me because he didn't want to say goodbye. The weekend he took me to Paris for my 50th birthday and massaged my feet every night. The way he calls to ask if I want him to pick up ice cream on his way home.
And I will turn off the light he left on without making a comment. And hope he'll do the same when I turn on to our street without signaling.
And, although I've always loved him, I will fall totally, madly in love with him all over again.
And, as the ball drops at midnight Eastern time, I will kiss him with the memory of 37 new years past and the mystery and anticipation of at least 37 more to come.