all i really need to know, i learned from oprah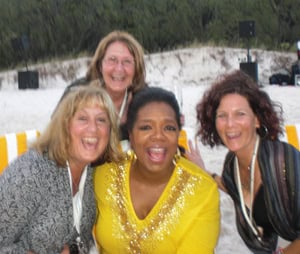 Oprah Winfrey may be one of the biggest celebrities in the world but, as she always admits, the role that is most meaningful to her is that of teacher. For 25 years, The Oprah Show has been her classroom where she's taught millions of viewers everything from paying attention to that little voice in their head to experiencing the power of "now." Along the way, she's also shown us the importance of wearing the right size bra, checking the shape of our poop and approaching every action with intention.
What's made Oprah such an amazing and effective teacher is that she doesn't stand there lecturing – instead, she shows us how things work and introduces us to people who have gone through those experiences. And by letting us see her in some of her own vulnerable moments – without makeup, in her pajamas, doing the "ugly cry" — Oprah has given us a safe haven to ask embarrassing questions and share our most personal hopes, worries and secrets.
When I was selected as one of Oprah's Ultimate Viewers last September, I felt like Oprah had just taught me another huge lesson – the Law of Attraction really worked! I had been talking about, dreaming about, praying to somehow get to Oprah for years. She was the inspiration for StyleSubstanceSoul.com, and I wanted her to see that, because of her, we were trying to make a difference in the world. I had put that in writing and sent it out into the universe back in 2007 and then put all of that in writing on the Ultimate Viewer application. The fact that it was now actually coming to fruition – and that Amy, Susan and I were GOING TO AUSTRALIA WITH OPRAH! – took my breath away.
That trip was life-changing and I was surprised, when we got back, at the number of people who asked me what Oprah was like in person, whether she was really the same person they saw on TV. Of course she was. She didn't just talk the talk; she walked the walk. She was exactly who she seemed to be, and many of the lessons she had been teaching us all these years were put into practice and proven over and over again on the trip.
Here are five of them:
Dream big
After a private tour of the Sydney Opera House, we were treated to a surprise and very intimate performance by legendary soprano Penelope Mills and pianist Simon Kenway. Following a once-in-a-lifetime private beach party with Oprah and Gayle – catered by Curtis Stone, no less – we were invited to the sweetest dessert party ever. Each activity in which we participated included a goodie bag.
Any one of these special events – and, trust me, special takes on a whole new meaning here – would have been enough for us. But not for Oprah. She and her producers dream big in a way none of us could ever imagine, and that's a skill worth practicing because if you can dream it, you can make it happen.
Step outside your comfort zone
For two thirds of the Ultimate Viewers, this trip halfway around the world marked their first time out of the United States. During this trip, people who were afraid of heights climbed the Sydney Harbour Bridge. People with fears of the water swam in the Great Barrier Reef.
Because we had Oprah as our safety net, it was easier to try things we had never experienced before. I am not a snorkeler – I get nervous trying to breathe underwater – but I'd be damned if I was going to miss the opportunity to snorkel in the Great Barrier Reef.
Putting that mask on and viewing that unparalleled underwater world was something I'll never forget. I left there with a real sense of pride and accomplishment, as did so many people on that trip. It was transformative to learn that you could do something you had always held yourself back from doing, and I will be forever grateful to Oprah for giving us the chance to learn that firsthand.
Everything's better when it's shared
Oprah could have headed Down Under herself but she chose to take 302 people who she knew would appreciate the experience as much as she would. She always says, "Everything's better when it's shared," and she proved that to us on this trip.
I am really not a big group person but this was not just any big group. As Oprah herself said in one of her speeches to us, "Of course it's a nice group. We didn't take any assholes on this trip!" Each person was nicer than the next and we would all turn to each other at different times to try to take in the incredible moment together.
Now, almost six months after the trip, we still communicate through a very active Facebook group. I am so thankful for the amazing people in this group because they are the only ones who truly understand the emotions of that trip and the only ones we can share our feelings with, without sounding like we're boasting in any way. We help each other in whatever ways we can, and we know we are bonded to these people for life.
We'll be introducing you to some of our fellow Ultimate Viewers over the next week and know you will love and learn from them, too.
Be grateful
Oprah has kept a gratitude journal forever, and she gave us all journals at the beginning of the trip so we could do the same. We could have filled up a dozen of them.
As we traveled around Australia, we were constantly being thanked by the warm, hospitable Aussies for coming so far to visit their country. We genuinely couldn't understand why they would be thanking us, and we would fall over ourselves trying to explain how grateful we were to them. These encounters often ended with lots of hugging, which, really, could be the answer to world peace.
The most touching display of gratitude, though, was Oprah's surprise visit to the airport to see us off and thank us for being her Ultimate Viewers. It was such a classy – and unnecessary – thing to do, especially since, once again, we felt that we were the ones who had so much to thank her for. I thought this revealed so much about her as a person.
Anything is possible
This lesson is now indisputable. If you had told me anytime before last September that Amy, Susan and I would be going to Australia with Oprah, I would never have believed you. It was hard enough to believe when we were actually there! And I think all 302 of the Ultimate Viewers would agree.
With Oprah's final show coming up this week, there's another lesson that's also indisputable now: One person can make a difference. Oprah has proven that over and over again.
I mentioned to my husband the other day that no one will ever take Oprah's place and he said, "No one, but many." That was a giant "aha" moment for me because I think he's absolutely right.
Oprah's influence has been so far-reaching that if every person she's touched in some way did their own part to make the world a better place, the world really would become a better place.
So, with tears in my eyes and a lump in my throat, all I can say is, "Thank you, Oprah."  I will miss you in my house at 4:00 every day — although please know you are always welcome to show up!
I will take to heart the lessons you have taught so well and work hard to do you proud. I know we will meet again – maybe for a StyleSubstanceSoul segment on OWN or back in Australia for an Ultimate Viewer reunion? (Hey, I am mastering that Law of Attraction lesson and have to throw it out there!)
Meanwhile, I am stocking up on tissues to watch the finale on Wednesday because I am going to go full-swing into the ugly cry. This I know for sure.