word!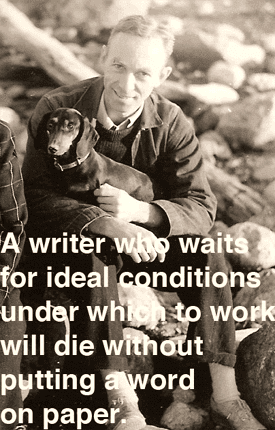 As a writer, words obviously mean a lot to me. I know how powerful they can be, and I don't use them lightly. In fact, I can spend an inordinate amount of time choosing the right one and then go back and change it several times until I'm convinced it expresses the message I'm trying to convey.
So, as my friends and fellow bloggers have been sharing their one word for 2013, I have sat, stumped. How can I possibly choose one word to sum up my dreams/wishes/intentions for the new year? One word to live by, to honor, to keep me focused on the big picture? That's a lot of pressure to put on one little word.
And then it hit me. My word is do. Two letters that are more impactful than paragraphs of inspirational thoughts. Of course, you can (and should!) imagine, hope, strive, but to actually accomplish your goals, you have to do something. It's the reason Nike has been so successful with "Just do it."
This is such a fantastic word for me for so many reasons. On the positive side, I have experienced firsthand the incredible miracles that can come from taking action, so I know that do-ing works. For example, I've had so many people tell me they wish they could have gone to Australia with Oprah, too – but they didn't take the time to fill out the Ultimate Viewer form!
On the negative side, I am a big procrastinator – not because I'm lazy but because I often over-think things. Would it be better to do it this way or that way? Would it look better like this or like that? I have cartons full of photos and closets full of scrapbooking supplies but the two rarely meet because I can't figure out the best way to put together albums.
The great thing about do-ing is that I almost always benefit by it. I regret the things I haven't done way more often than the things I've done. And the philosophy I've recently embraced – "Done is better than perfect" – is proof of that. It's also the only reason you see posts from me here.
Once I've actually finished something, I rarely go back and think, "Oh, I wish I had done it this way or it would have been so much better if I had done it that way." I appreciate it for what it is. The couple of scrapbooks I did put together are cherished by my family, and no one has any idea of what may be missing or the other pictures or embellishments I considered including. The same goes for the articles I write — no one knows what's been changed or omitted. And, honestly, no one cares.
So, 2013 is the year I do. I've already planned three trips, cleaned out 1500 emails from my inbox, applied for a couple of very cool professional opportunities and started drinking eight glasses of water a day.
I'm feeling really excited and empowered by my word, and hope to make it proud over the next twelve months. And, if somehow things do go awry, the good thing is my word for 2014 can be redo.
What's your word for 2013? Why did you choose it?