my 2014 academy awards predictions!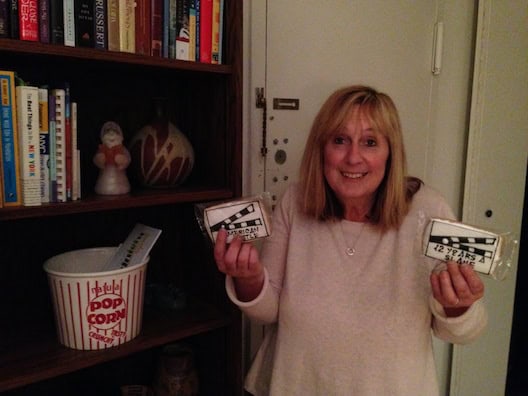 Watching the Academy Awards is akin to a religious experience to me.
Okay, that's a little dramatic – in keeping with the subject matter – but it is my favorite night of the year and one that I take seriously. I turn down viewing parties, and the only people I will watch with are my family members. And even they have to be quiet.
I actually love living in California on Oscar night because it's on at 5 p.m. here. That means we bring in dinner – nothing that needs to be tended to in an oven, though, because I only get off the couch during commercials – and, it doesn't matter if the telecast runs late because we're still done at a decent hour.
Michael, the kids, my parents, my sister's family and I all fill out our ballots ahead of time (although someone is always emailing it just as the opening number is being cued) and we vote for every single category. I told you this is serious.
I – the one who cares about this the most, the one who reviews movies for a living – never win. Never.
With that in mind, here are my predictions:
Best Picture: 12 Years a Slave
IMHO, this was a terrible year for movies. Although there are some good films here, not one of them deserves a Best Picture award except Her, which was the most original, touching and relevant story of the year and which has absolutely no chance of winning. I think it's going to come down to 12 Years a Slave and American Hustle, both of which I wanted to love – but didn't. I did love the reunion of the Silver Linings Playbook gang and the excellent '70s soundtrack but American Hustle is so over the top, it feels more like a caricature of the story it tells than an actual story. 12 Years a Slave brings much-needed attention to an important topic and the graphic brutality makes it powerful – but, I'm sorry, it doesn't make it a great movie. I think the Academy will ultimately honor it, though, to compensate for the shame it feels over our country's despicable history.
Best Director: Alfonso Cuaron
This could go in any direction. Personally, I thought Gravity was boring and was basically a one-sentence movie: "Astronaut gets stranded in space and attempts to get home." The only way to find anything redeeming about it is to watch it in IMAX 3D, and even then, it's only exciting for about ten minutes when you truly feel you're alone in the universe with Sandra Bullock. That's when you appreciate the technical marvel achieved by Cuaron, although the feeling definitely wasn't sustainable for me. I think the Academy will give him the award to encourage other filmmakers to get creative and bring audiences back to theaters. On the other hand, they may give it to David O. Russell who should have gotten it last year but was robbed by Ang Lee for his TECHNICAL ACHIEVEMENT with Life of Pi. Or they could reward Steve McQueen, who older voters might be confusing with the actor they still consider the King of Cool. If nothing else, I pray this award doesn't go to Martin Scorsese for the indulgent and appalling The Wolf of Wall Street, which I wish I'd never seen.
Best Actor: Matthew McConaughey
I'm afraid this could go to Leo, who I've lost a few layers of respect for between The Wolf of Wall Street and his mispronunciation of Philomena on the Golden Globes, but I think the Academy has been so blown away by Matthew McConaughey's 40 pound weight loss for Dallas Buyers Club that they'll want to get him onstage so they can take another look and figure out how to achieve the same success.
Best Actress: Cate Blanchett
What she did in Blue Jasmine was so breathtaking, it was impossible to leave the theater without a stunned expression on your face and a compulsion to gush over her performance. Woody Allen should be bowing at her feet for providing probably the only positive association with his name right now.
Best Supporting Actor: Jared Leto
This is the one sure bet of the night. In Dallas Buyers Club, Jared Leto absolutely transforms himself into Rayon, a transgendered AIDS victim who steals the movie with purity, dignity and sassiness. The performance is so seamless, I didn't even realize until the credits that it was Jared Leto in that mini skirt and high heels. I was so touched by Rayon, I wanted to reach into the screen to give her a hug. I'd like to do the same with Leto.
Best Supporting Actress: Jennifer Lawrence
Hmm. Lupita Nyong'o is definitely a contender for 12 Years a Slave but I think the Academy has a soft spot for Jennifer Lawrence, who's kind of America's Sweetheart. I adore her, too, and, although I think her performance in American Hustle was a little hammy, it's always fun to hear her speak. What she'll say is totally unpredictable.
And, honestly, so are many of these awards.
Who do you think will win?
Enter to win a copy of the American Hustle soundtrack here.
And watch one of my favorite Jennifer Lawrence moments after last year's Oscars: