best of scottsdale, day 5: glass, gardens and the hyatt regency at gainey ranch
On our last day in Scottsdale, we woke up early so we could spend some time with my friends, Julie Lemerond and Priscilla Nelson, who I had met on my Oprah adventure. Priscilla is an amazing artist and Julie is a yoga teacher extraordinaire.
We tearfully checked out of the Hotel Valley Ho, which Michael will forever consider his own personal Hotel Valley Home, headed over to Priscilla's new studio to see some of the beautiful paintings and scarves she's working on, and then met up with her hilarious husband, Chuck, for scrambled eggs and Tater Tots. (I will seriously have to look into the popularity of Tater Tots in Scottsdale.)
After breakfast, Michael took Julie's yoga class, which he loved and put him in the perfect mood for the Desert Botanical Garden, where we were looking forward to seeing the Chihuly exhibit.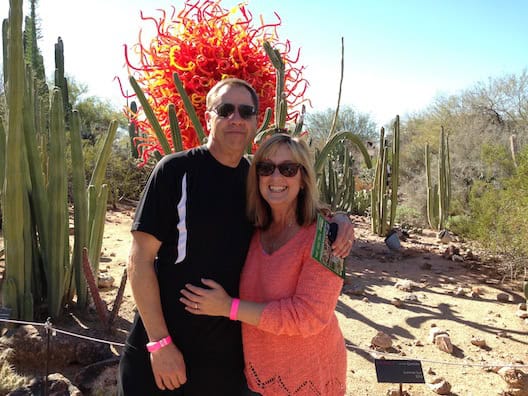 DBG is not your typical botanical garden, filled with lush plants and flowers. Instead, it offers beautiful trails lined with more varieties of cacti and succulents than we ever knew existed.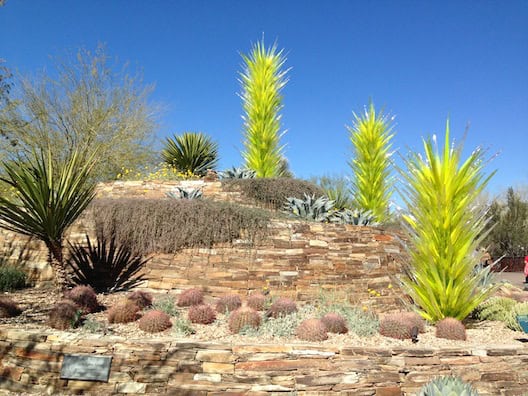 Dale Chihuly's stunning glass sculptures take your breath away as you suddenly catch sight of them in the desert landscape. They are so colorful and vibrant, and I got excited every time we spotted one.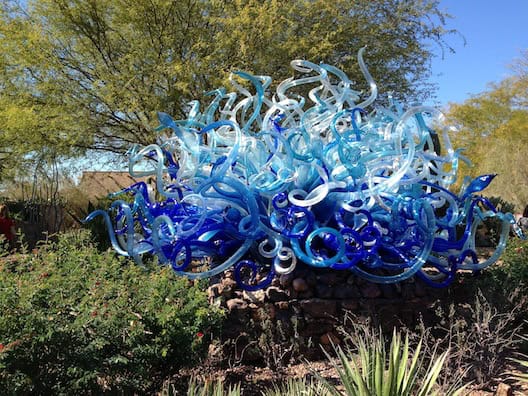 I was so enamored by Chihuly's art, I'm dying to see more of it now. It works so well at the DBG because the juxtaposition of raw, natural desert and smooth, shiny glass is such a surprise and is so powerful. This is a must-see exhibit.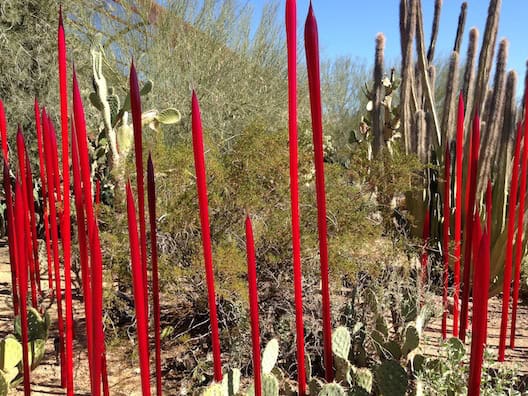 Thankfully, we'd be able to continue our sense of peace because it was time for my massage at the Hyatt Regency Scottsdale Resort and Spa at Gainey Ranch. Despite all the times I've been to Scottsdale, I've never been there – and, now, I want to go back! It's a beautiful property with a great spa.
For me, one of the signs of a good spa is a nice relaxation room with snacks. Spa Avania features comfy lounge chairs with soft throws – perfect for curling up with a good book post-treatment – and a yummy selection of nuts, dried fruit and yogurt-covered pretzels. It would be the perfect place to spend a rainy day. They also have a great little shop.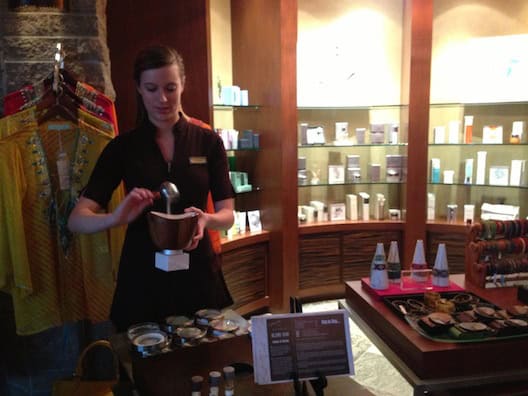 My Blend Bar Avania Massage was totally rejuvenating, and I met Michael for lunch on the terrace afterwards. We sat by the outdoor fireplace and ate delicious Portobello sandwiches.
Before we left for the airport, I stopped at the Blend Bar, where I got to choose a custom product to take home as part of my treatment. I opted for a Sugar Scrub, which smells so good, just opening the beautiful jar brings me right back to my spa experience.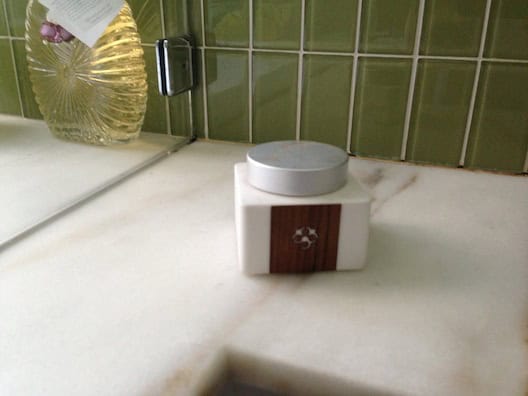 I hope to really come back to Scottsdale soon because we had such a fantastic time, and although we got to see and do so many different things, I'm already making my list for the next visit.