stevie nicks, sarah polley and bergdorf goodman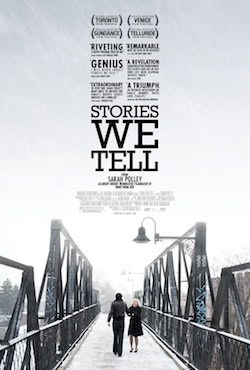 STORIES WE TELL
Sarah Polley, who directed the beautiful and powerful Away From Her, turns the camera on her own family in this fascinating documentary about the truth – and its many versions. The film revolves around Sarah's mother, Diane, an actress who died of cancer when Sarah was just 11 years old. As Sarah interviews her family members and her mother's friends, secrets begin to surface and the plot keeps twisting. Because these are real people whose real lives are affected by the events that occurred – or didn't occur – the film becomes more and more riveting, building to a conclusion that will blindside you. Ultimately, Sarah has the most at stake here, both personally and professionally, but the way she puts the pieces together and presents them to her audience is masterful storytelling in itself.
SCATTER MY ASHES AT BERGDORF'S
Growing up in New York, I practically lived at Bloomingdale's. I would venture into Saks and Barney's but I was always intimidated by Bergdorf's. After watching this documentary, I can see why! Catering to "the most discerning clientele in the world," the store – and the movie – features the top designers, a fashion director with an eye for the next big trend and a personal shopper who knows how to make a sale. I enjoyed watching this in a voyeuristic kind of way but admit that the idea of Bergdorf's as "aspirational," as "the American dream," left me cold. My favorite scenes were the ones in which the visual presentation crew painstakingly prepare the elaborate holiday windows – the only point of contact most of us will have with the grand dame of retail.
STEVIE NICKS: IN YOUR DREAMS
In my dreams, I am Stevie Nicks so I was excited to watch this documentary about the year she spent making her latest album with Dave Stewart. The movie has received acclaim for giving fans a rare inside look at the actual creative process and an opportunity to watch Stevie and Dave write the songs that may someday be considered classics. But, to me, the best part was getting to know the woman behind those songs. At 64, Stevie still writes in a journal with ink, cherishes her decades-old friendships with "the girls," and believes in love above all. She admits she doesn't like being told what to do and she's never been in her own Jacuzzi. She uses a magnifying glass to read and hopes that, after hearing Annabel Lee, "14-year-old kids are going to think, 'Who is this Edgar Allan Poe guy?' and maybe they'll get off their video games and go for some serious reading." This is a woman after my own heart, and I'm grateful she's ten years ahead of me so she can lead the way, asking questions like "Can I handle the seasons of my life" and assuring, "Time makes you bolder, children get older, I'm getting older, too."