You are here:
Home
/
Social Good
/
Causes
/
join the alzheimer's prevention registry and help prevent alzheimer's
join the alzheimer's prevention registry and help prevent alzheimer's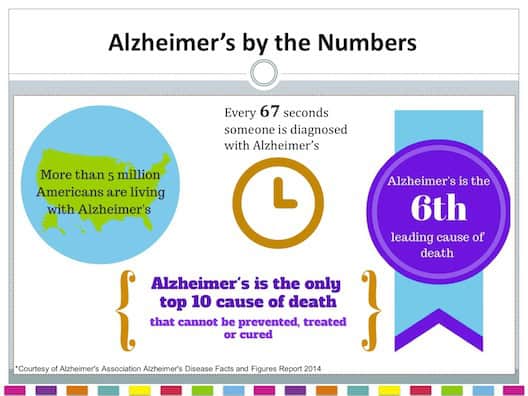 Banner Alzheimer's Institute sponsored this post. Opinions are mine. 


Julianne Moore is already receiving Oscar buzz for her role in Still Alice, the upcoming movie based on Lisa Genova's bestselling novel about a 50-year-old Harvard professor who is diagnosed with early-onset Alzheimer's disease.
The story is so powerful and sobering, I can't stop thinking about it.
In fact, I test myself every day on the name and address Alice's neurologist asks her to remember — that she can't.
John Black. 42 West Street, Brighton.
Because November is National Alzheimer's Disease Awareness Month and also National Family Caregivers Month, it seemed like the right time to tell you about some hopeful and innovative research projects taking place to combat Alzheimer's and how you can get involved.
I recently attended an online briefing by Dr. Jessica Langbaum of Banner Alzheimer's Institute in Phoenix, which was eye-opening. Try to absorb the enormity of these basic facts:
* Alzheimer's has reached epidemic proportions, afflicting more than 5.2 Americans and impacting more than 15 million caregivers. By the year 2050, 16 million Americans may suffer from the disease. These numbers are staggering.
* Alzheimer's is the 6th leading cause of death and the only condition among the top 10 causes that has no cure or treatment.
* Alzheimer's is a form of dementia. Dementia is an umbrella term – just like cancer. Alzheimer's falls under that umbrella – just like breast cancer falls under the cancer umbrella.
There is hope, though.
Researchers have discovered that changes in the brain actually start 10 to 20 years BEFORE any symptoms begin to show, which is a monumental finding.
It means that if we can treat people during those silent years, we may actually be able to prevent Alzheimer's. Scientists' goal is to stop the disease pathology in its tracks, and they now know there's a critical period in which to intervene.
To do this, BAI has created the Alzheimer's Prevention Registry, an online community of people who volunteer to participate in studies. It's crucial to sign up because eighty percent of research studies fail to meet their recruiting goals, knocking out the possibility of finding answers before the studies are even started.
Here's how the Alzheimer's Prevention Registry works:
* Everyone over the age of 18 should sign up. It doesn't matter what your background is or whether or not you have a history of Alzheimer's in your family.
* You receive notices about prevention trials and can apply to get involved. You are under no obligation, though, to participate in any studies – ever.
* You don't have to share your personal health information or any other personal information when you sign up. All studies associated with the Registry are approved by an ethics committee and ensure participants' privacy and confidentiality.
* The Registry has partnered with top institutions including Columbia University, Johns Hopkins and the Mayo Clinic.
So far, almost 45,000 people have joined the Registry but they need way more in order to find answers. Michael and I just signed up, and I hope you will, too.
Together, we can help make Alzheimer's just a memory.