"janis: little girl blue" movie review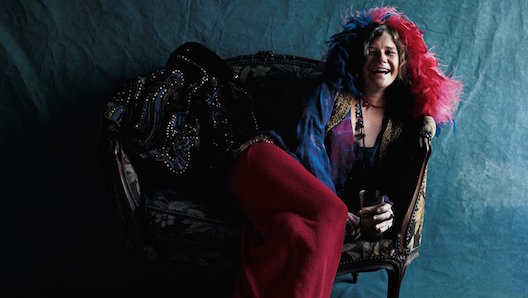 A generation or two before Amy Winehouse, there was Janis Joplin.
Both powerhouse singers died tragically at the age of 27 from substance abuse and, with the release of the eye-opening new documentary, Janis: Little Girl Blue, the comparisons are inevitable.
But what's actually most striking — and surprising — are their differences.
I was only 11 when Janis Joplin died in 1970, and I remember being fascinated by her story. I was a Joni Mitchell girl, and Janis kind of scared me. She exuded so much confidence and sexuality, and was loud and raw with a primal scream of a voice that could send chills down your spine. I couldn't understand what kind of pain she must have been in to feel the blues that deeply.
After watching Janis: Little Girl Blue, I think I understand.
Oscar-nominated director Amy Berg explores Joplin' life through the singer's own personal letters to her friends and family, read as a voiceover by singer-songwriter Chan Marshall (Cat Power). The letters are articulate, painfully honest and revelatory, revealing a side of Joplin desperate for love and acceptance.
Unlike Winehouse, who was hounded incessantly by paparazzi, Joplin's fame was pre-internet and her demons were her own, deeply ingrained from childhood.
"I'm sorry to be such a disappointment to you," she writes to her family in one of many heartfelt letters. Her brother and sister talk openly and sadly about her inability to follow rules — and to fit in to their hometown of Port Arthur, Texas. They share her scrapbooks in which she curated pictures of society's ideals of beauty, and admit how devastated she was to be named "ugliest man on campus" by a college fraternity.
How does someone get over something like that?
Although her talent was recognized by fans, critics and fellow musicians, it simply wasn't enough. Joplin yearned for romantic love, and none of those relationships seemed to work out.
It's heartbreaking to hear her words, "I want to be happy so bad," and listen to her wonder, "Why do all the band members go home with girls and I go home alone?"
The movie features some poignant moments, including Mama Cass sitting in the audience at Monterey Pop, obviously blown away by Joplin's performance, Dick Cavett reminiscing about his relationship with Joplin (what?!) and Kris Kristofferson exclaiming it was "exhilarating" to hear Joplin cover his "Me and Bobby McGee."
Led by that chart topper, Joplin's album, Pearl, went on to become her biggest hit, selling four million albums.  The fact that it was released three months after Joplin died alone in a Los Angeles hotel room just takes another little piece of your heart.