"the big sick" movie review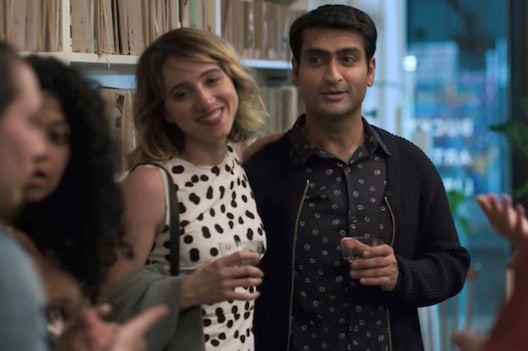 From the minute we saw the trailer for The Big Sick, Michael and I knew we would love the movie.
And we did.
As fans of Judd Apatow's This Is 40 and Knocked Up, we find his movies to be not just hilariously funny in a real-life, easy-to-relate-to kind of way but also surprisingly poignant.
This one is based on the true story of Pakistani comedian Kumail Nunjiani (who perfectly stars as himself) and his wife, Emily V. Gordon (played beautifully by Zoe Kazan). The couple wrote the screenplay which is truly a love story for these times.
Kumail meets Emily at a comedy club one night when he's doing stand-up and she good-naturedly heckles him. As they spend more and more time getting to know each other, Kumail realizes the relationship is going to be a problem since his parents are unwavering in their mission to arrange a suitable marriage for him — to a Muslim woman.
When Emily realizes this, too, it's a game-changer. By the time she ends up in the hospital thanks to a mysterious infection, the two are no longer together yet Kumail gets called to make some heavy duty medical decisions for her.
Emily's parents (Holly Hunter, Ray Romano) fly in and are not too happy to see the young man who broke their daughter's heart. But, as they are forced to spend time in the same room, they come to understand and appreciate each other, even though the first real questions Emily's dad has for Kumail involve his feelings about 9/11.
The movie doesn't shy away from the tough subjects, and there are jokes about everything including ISIS which are actually funny, clever and thought-provoking.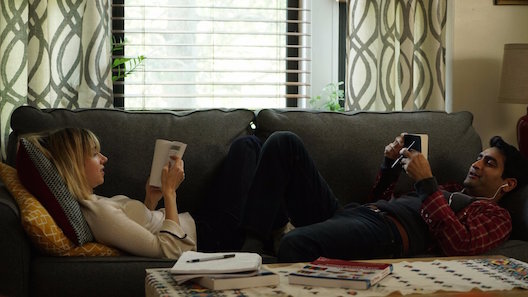 I know I'm painting this review with the broadest strokes — I don't want to give away the whole story or the best lines — but it's the tiny details that make it such a joy. Every performance is fantastic, and Michael and I were totally invested in every single character. Zoe Kazan just lights up the screen, and Holly Hunter is astonishing in her Mama Bear-ness.
The 4th of July seems the perfect day to see this modern American tale. For a country that's hurting so deeply, love and laughter may really be the best medicine.