"jane" movie review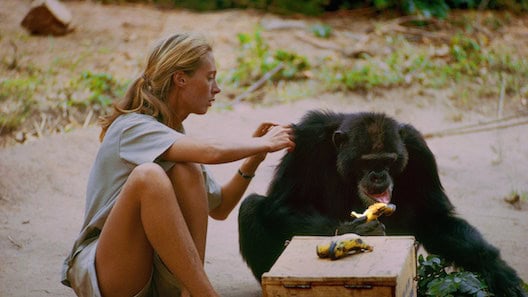 I have always admired Jane Goodall.
I'm a big fan of brave pioneering women who go out into the wild to learn about and help animals, like Jane and Dian Fossey. I don't think I could do what they did. (OMG, that is the most ridiculous statement ever. Let me be more accurate: There is no way in hell I could ever do what they did.)
Instead, I devour everything I can watch or read about them, living vicariously through their adventures and doing what I can to support their work.
So I was excited to discover Jane, a new documentary featuring never-before-seen footage shot in Gombe National Park in Tanzania during the 1960s, a period she herself calls the "happiest time" of her life.
At the request of renowned anthropologist Louis Leakey, for whom she was working as a secretary, Jane heads out to Africa to study chimpanzees in their natural habitat despite — or because of? — the fact that she has no experience as a scientist.
Her joy is infectious, and we are transported along with her into the real-life land of her dreams. This is where she was always meant to be, doing the work she was obviously destined for.
The stunning cinematography captures the lush natural beauty of the African landscape, and it's easy to see why Jane was so enraptured with it.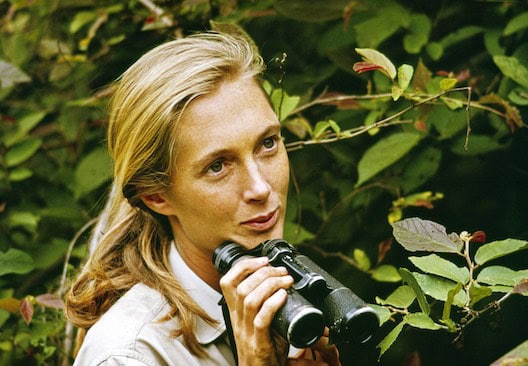 But the story is as much about Jane's personal life as her work, and it's such a privilege to get to know more about the woman behind the legend. We learn about her relationships with her mother, who acted as her chaperone in Africa for a while; her husband, who she met when he joined her on assignment from National Geographic to be her photographer; her son, who she loves and protects like a Mama Bear.
Watching the "family movies" of Jane and her husband playing with their baby and introducing him to the animals feels so intimate, and listening to her talk about how her work with the chimpanzees influenced her own behavior as a mom is just fascinating.
Although much of Jane's time in Tanzania is truly idyllic, Africa is no Eden and, eventually, the real world intrudes and the family has to make life-changing decisions.
Director Brett Morgen has created a rich, stunning portrait of a woman who has become a well-deserved role model for feminists, activists, conservationists and, through her trailblazing Roots & Shoots program, children.
Because the movie is so beautiful, both visually and emotionally, it strikes a deep emotional tone that's enhanced by Philip Glass' rich score. There's something so profound about the whole package, don't be surprised when you're moved to tears.