"weiner" movie review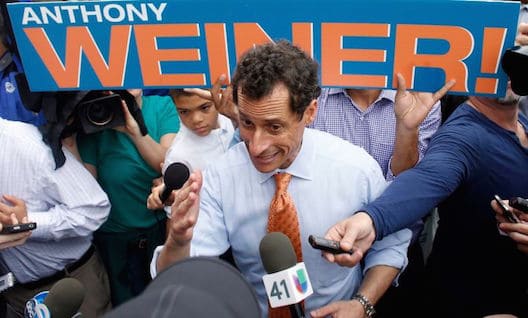 It feels appropriate to end my 2016 movie reviews with Weiner, don't you think?
This has been a year of crushing disappointments in both politics and male behavior, and Weiner is the perfect representation of both.
Unlike the man himself, though, this documentary doesn't disappoint.
What makes the film especially fascinating is the fact that directors Josh Kriegman and Elyse Steinberg set out to film a comeback story. As you know, Weiner, after a very public fall from grace for sexting, decided to throw his hat into the ring and run for Mayor of New York City. Unfortunately, that wasn't the only thing he threw out there, and the filmmakers were there to capture every cringeworthy moment in real time.
The result is like a train wreck that you can't look away from. It's riveting.
With a surprising amount of humor, the movie begins with this quote from Marshall McLuhan: "The name of a man is a numbing blow from which he never recovers."
Yep.
The media has a creative field day with his name, which is so well-suited to his antics, and during one interview, a New York Post reporter asks him, in a self-congratulatory tone, which of their headlines he liked best.
But, despite the jokes, there is so much about this story that is devastating and depressing. Weiner, a seven-term New York Congressman, was considered by many to be a rising star in Washington. Watching his impassioned fight for a healthcare bill for 9/11 emergency responders reveals the powerhouse he could have been for the Democrats. He seemed to have no problem standing up to his opponents. Unfortunately, his worst enemy was himself.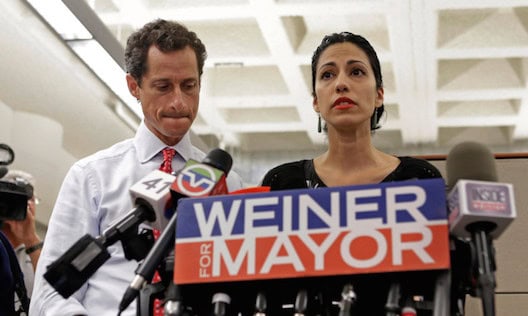 It's painful to watch Weiner's wife, Huma Abedin, who was pregnant with their son during the first round of the scandal, try to reconcile the man she's married to with the cartoonish character who sends pictures of his privates and goes by the ridiculous pseudonym, Carlos Danger.
Abedin has since left Weiner but that still wasn't enough to prevent her boss, Hillary Clinton, from getting swept up into a controversy that should have had nothing to do with her. This makes me want to smack Weiner and ask him, just like a talk show host does during a TV interview, "What is wrong with you?" When he watches the tape of it, Abedin asks him, "Why are you laughing?" We feel her revulsion. And we feel our own.
Oh, speaking of revulsion, there's a moment where Donald Trump chimes in, "We don't want perverts elected in New York. No perverts." Well, let me add that we certainly don't want them in the White House, either.
Weiner is a fascinating documentary that raises more questions than it answers. It's likely to keep viewers talking and arguing, especially in our changing political climate.
At one point, the filmmakers ask Weiner why he allowed them to make this movie. It's a question audiences will no doubt ask themselves, too. Whatever the answer, you can bet the filmmakers are thanking their lucky stars — and, in February, they just may be thanking the members of the Academy as well.