"the wholehearted" at la jolla playhouse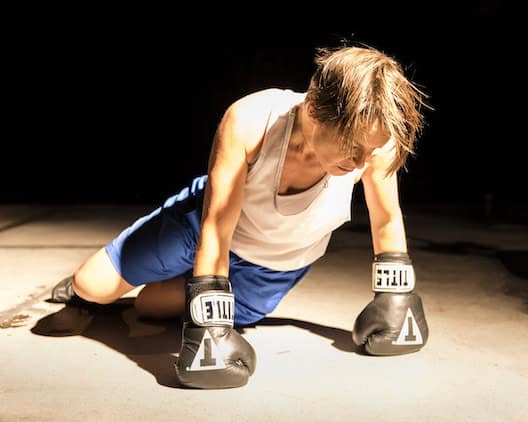 If you're in San Diego now, stop what you're doing and order tickets to see The Wholehearted before this special — and I do mean special — engagement leaves on Sunday.
La Jolla Playhouse always features unique and thought-provoking shows, but this is one of its most powerful theater experiences ever.
Written by UC San Diego professor Deborah Stein, The Wholehearted is a one-woman show performed by Suli Holum, who co-directed it with Stein.
And it's a knockout.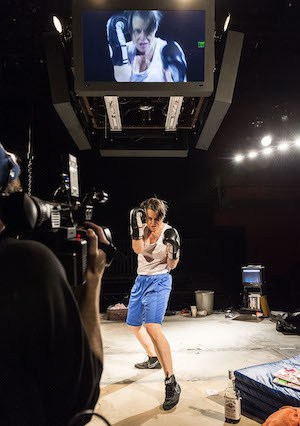 The Wholehearted is a stunning portrait of Dee Crosby, a female boxer who miraculously survived a brutal attack by her husband and, 20 years later, is hiding out in a gym, plotting her revenge as his prison term comes to an end.
The entire set is a boxing ring (minus the ropes), with the audience sitting around all four sides. It's like you're actually watching a fight — although this one is between Dee's reality and fantasy. The small, intimate setting makes the show even more intense and in-your-face. For all her bravado, Dee is vulnerable and obviously broken. You can't help feeling every one of the raw emotions written all over her face.
Holum is breathtaking. She is so present, it's impossible to take your eyes off her, whether you're watching her in the flesh or on one of the Jumbotrons perched on every side of the set. The use of technology in The Wholehearted is brilliant, mixing TV footage with live video taken by Dee onstage with a handheld camera and by a cameraperson who makes occasional appearances, adding a whole other layer to the experience.
Although I wouldn't call this a musical, Dee sings four fantastic songs — taking on the voices of other characters — that I'd like to download on to my iPod. They've got a catchy country western twang that belies the depth of their lyrics and reveals Holum's beautiful voice.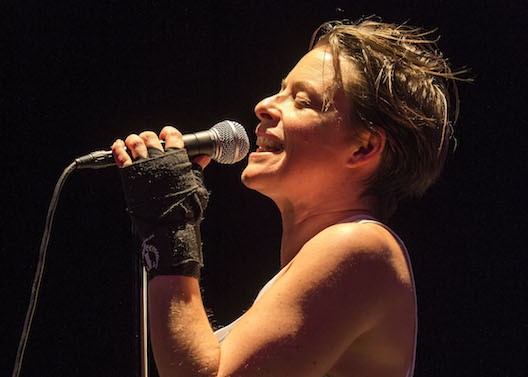 We stayed after the show for the talkback, which gives the audience a chance to chat with the performers. It was fascinating to listen to Holum talk about her training and her research. When she explained that "non-violence is a privilege," it was like a gut punch. How devastating is that statement? I had never thought of it that way before and it is something that will stay with me. In fact, I need to do more reading about this and find a way to get involved.
This is a show about women and violence. It's about the sobering reality that, for too many women, the ring is actually the safe zone.
It's also a sad reminder that women need to keep fighting.
The Wholehearted runs through December 18. Visit LaJollaPlayhouse.com to buy tickets.
Photos by Craig Schwartz