"the zookeeper's wife" movie review – plus a giveaway!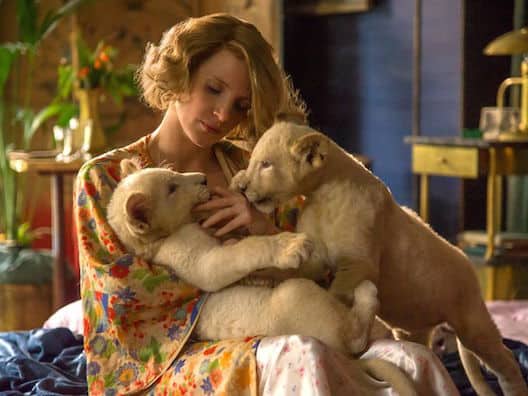 I'm finding it harder and harder to watch movies about the Holocaust and I can't bear to watch anything bad happen to animals so, in theory, The Zookeeper's Wife should not be a movie I'd want to see.
But I love Jessica Chastain, I adore animals and I'm finding it more important than ever to learn as much as possible about the Holocaust.
With too many similarities happening today, I wish everyone would see The Zookeeper's Wife, which is based on the true story of Antonina Zabinski and her husband, Jan, who oversaw the Warsaw Zoo and who hid hundreds of Jews during the Holocaust.
It is an astonishing story of heroism and proof that every person has the power to make a difference in the world.
The movie opens with Antonina watching her young son sleeping in bed with a couple of lion cubs. She kisses one, then sets off for her morning rounds of the zoo, greeting each animal with a smile and a "my love" or a "sweetheart."
The animals are gorgeous, and Antonina is more comfortable with them than she is with human beings. When she runs out of a dinner party to help a newborn elephant, her compassion and patience are evident in every movement. Her interaction with both mother and baby is stunningly beautiful, and it is an unforgettable scene.
Of course, the idyllic world of the zoo starts to change as the Nazis come to power and the Germans invade Poland. The animals' reactions to the first bombings are disturbing to watch, and it is devastating when many of these innocent creatures are killed — which is symbolic of the Holocaust in general. So many millions of innocent people killed.
Although Antonina is terrified about what's happening in her country, she can't just sit back when her Jewish friend will be taken away. "So we just close our eyes and let her go? Our dearest friend in the world?" she asks. That's when she decides to take a stand and hide her, despite the risk to her own family.
Antonina and Jan become participants in the Resistance and, putting their own lives in jeopardy, miraculously save hundreds of Jews.
The Zookeeper's Wife is a must-see, especially during this precarious point in history. It reveals the importance of getting involved, and proves without a doubt that the only way to combat acts of inhumanity is with acts of great humanity.
Update: The Zookeeper's Wife was  just honored with the Truly Moving Picture Award by Heartland Film, a non-profit arts organization that is all about the transformative power of film.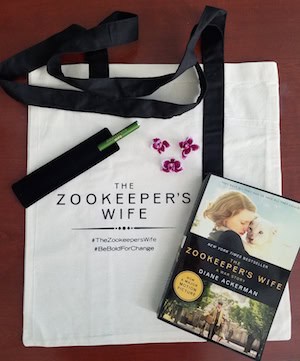 Now I am honored to be giving away five copies of the book which the movie is based on — one autographed by the author! — as well as some great-looking tote bags.
For a chance to win, you must be a subscriber to my weekly newsletter. If you're not a subscriber, first sign up in the right sidebar of this page. Then, simply leave a comment below.
For a second chance to win, tweet this:
Contest ends on April 10 at midnight Pacific time. Winners will be notified by return email. Sorry, but prizes can only be sent to a U.S. mailing address.
Go see the movie this weekend. It will inspire you.