"room" movie review and book giveaway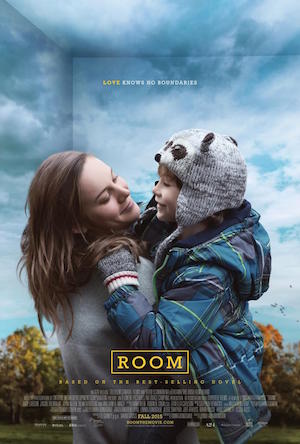 As I've mentioned before, Room by Emma Donoghue is one of my favorite books ever.
When I heard it was being made into a movie, I was wary because it was so meaningful to me, and it's a very hard subject to think about, let alone actually watch.
In fact, during a Q&A following a screening at Loews Lincoln Square theater, Donoghue admitted she felt the same way.
"I thought it could so easily be a terrible movie," she said. "You could go terribly salacious or terribly sentimental."
Donoghue had actually drafted a screenplay before the novel even got published. Luckily, she felt a kinship with fellow Dubliner — and parent — director Lenny Abrahamson, who agreed that the focus should be on the mother-child relationship rather than the crime element.
So, thanks to Oscar-worthy performances and the screenplay penned by the author, this film festival audience favorite captures the true essence and emotion of the novel and remains with you long after the credits roll.
That being said, I still think you should read the book first.
Without giving too much away, Room is the story of five-year-old Jack (Jacob Tremblay) and his Ma (Brie Larson), who have been confined in a small, enclosed space since before he was born.
Their physical surroundings are tiny but, for Jack, it's enough. Ma is, literally, his whole world — and that's fine with him. Like good mothers everywhere, she teaches him constantly and works hard to keep him healthy, stimulated and entertained. Imagine doing that 24/7 for five years in a space the size of a garden shed.
The trailer and other reviews have given away much of what happens next but I'm leaving it at that.
To me, this is a stunningly beautiful love story between a mother and child. It captures that raw bond more powerfully than any I've ever seen, and I sobbed while reading the book and while watching the movie.
If you're a mother, you will relate in a completely visceral way.
To celebrate the release of Room, I'm giving away copies of the book to five lucky Midlife at the Oasis subscribers. (If you're not a subscriber, first sign up for my weekly newsletter in the right sidebar of this page.)
For a chance to win, simply leave a comment below. For a second chance, tweet this:
Contest ends on November 8 at midnight Pacific time. Winners will be notified by return email. Prize can only be sent to a U.S. mailing address.
Follow Room on Facebook and Twitter, and read my interview with Emma Donoghue.