i can see clearly now, thanks to readers. com
Somewhere around my 50th birthday, my friends and I started holding restaurant menus up for each other across the table so we could read them. I held books at arm's length and if my husband put something under my nose to take a look at, I had to push it a foot away to actually see it.
At my annual eye doctor visit, I marched in and announced, "Okay, I'm 50 now and I guess I'm finally going to have to get glasses." He nodded, somberly, did his usual, extensive exam and said, "Nope, your vision is still 20/20."
I was thrilled but thought he was nuts. I recounted my near-breakdown in the shower, when I couldn't even remotely read the itsy bitsy print on the back of the expensive conditioner to find out how long to keep it in my hair. I skipped the part about throwing the bottle on the floor in frustration.
"You don't need glasses," he assured me. "You need a magnifying glass."
So here we are, five years later, and we've pretty much had this same conversation every year. Last time, he suggested I try the weakest reading glasses but warned that they may still be too strong.
After watching the videos my friends Cathy Chester and Helene Cohen Bludman made, showing off their adorable new readers, I decided it was time to reach out to Readers.com and see for myself what they were like.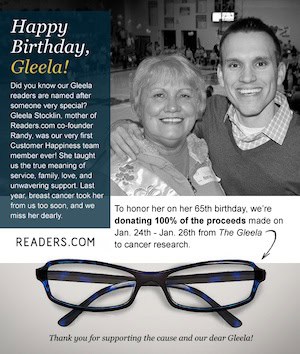 My daughter always wanted glasses and bemoaned the fact that she didn't need them because there were so many cute frames she wanted to wear. I never understood this until I spent an hour on Readers.com, trying to choose just a few styles from their huge selection.
I started by printing out their diopter chart to find out what strength readers I needed. I could have held the paper much further than 14 inches from my face and still been able to the smallest print, so I requested three styles plus a pair of sunglasses to review, all in +1.00.
They are gorgeous and all so different, I finally get why so many people consider glasses a fashion accessory. At under $20 a pair, it would be easy to rationalize buying them for every outfit.
The first pair I chose was the Gleela. It's a simple, basic style in Tortoise, which looks good with my eye and hair color. I'm thrilled to learn the history behind them and share the fact that 100% of the proceeds from these readers will go to cancer research if you buy them by tonight at midnight. That's a win-win right there.
Although the Penny is not something that's typically me, I was drawn to it because of the soothing blue and the surprising stripe. These add a real pop of color without being too bright or dramatic. Plus, it comes with a great-looking case.
I adore the Stanford (in the top photo above), a sophisticated style with temples (who knew that was the word for that part of the glasses?) in a metallic green that I'd like to paint the walls of my house. These are really beautiful and so lightweight, I think these will be my go-to readers.
Living in Southern California, I opted for a pair of sunglasses, too, and the Key West sun readers (which should be called the La Jolla, just saying) do the job with a hint of cool attitude. They're nice and dark, which I really like.
Have fun picking out your own readers — please let me see which ones you get! — and don't forget to pick up a pair of Gleelas today.
Next time we go out to lunch together, I'll be happy to read the menu to you and you won't even have to hold it up for me.