fun days in the hyundai accent!
My first reaction upon getting into the 2015 Hyundai Accent GLS was, "What do you mean there's no GPS?"
It's been a long time since I drove a car without one, and we were planning to take this one on a road trip so I definitely felt kind of, well, lost.
But I plugged in my iPhone to keep it charged while we followed Google Maps to Long Beach, and the two hour ride was smooth and easy. I realized why this car — Hyundai's least expensive — was called the Accent.
Its accent is on affordability.
That said, although the car is low on high tech bells and whistles, it doesn't mean it skimps on style or space. In fact, this sub-compact cutie is surprisingly roomy and comfortable.
The interior was big enough for Michael to work on his laptop and turn the backseat into an office while my 25-year-old son was still able to stretch his legs out in the passenger seat. And there was plenty of room in the trunk for our luggage and all our beach gear.
Best of all, I could pull into tight parking spots that I wouldn't even attempt in most cars.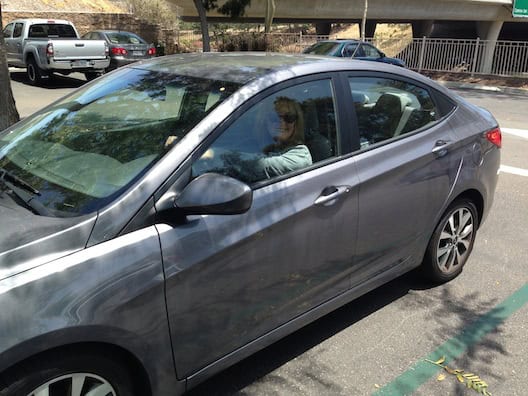 My iPod sounded great, as did the satellite radio, and the glove compartment and cup holders easily held all the goodies we picked up at the drive-through Dunkin' Donuts in Long Beach. I learned that drive-throughs are another place the petite Accent shows off its assets, so I made a number of stops at Starbucks and the bank without ever leaving the car.
We got back from our trip with lots of gas to spare and spent the rest of the week driving around to some new places we had heard about in order to get the most out of the tank while leaving just enough for the person who was picking up the car to get to the gas station.
All in all, I was impressed with the Accent. Although I can't say it had any big "wow" factor, I'm thinking that may not be the most important criteria by which to judge a car.
The fact that, in this economy, you can get a sturdy, roomy, comfy car for an MSRP of under $15,000 should be enough of a "wow."