sunday in the hyundai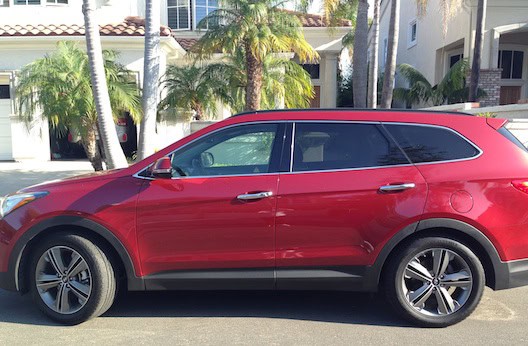 Climbing into the driver seat of the Hyundai Santa Fe felt like coming home. It felt roomy and cushy and very user-friendly. In fact, it felt a lot like my beloved Kia Sorento. 
Hyundai and Kia are sister companies so this made sense – and made for a stress-free, reliable driving experience for me.
The Santa Fe is a great, easy-to-drive car which gets good mileage and offers a smooth, comfortable ride. I love that, like my Kia, I never have to search the abyss that is my bag to find the key because the car starts with just a push of a button and it senses when the key is near so you can open and lock the doors without actually using it. For someone who can never find her keys, this is huge.
My son, Alex, and his girlfriend, Julie, came to spend the 4th of July weekend with us so, once I had test driven the car enough myself – meaning, making sure the cup holders stood up to repeated Starbucks visits, the audio kept me happy through Fair traffic on the 5, the GPS got me to a new shopping area and the third row of seats provided some nice hiding space for my purchases – I handed over the keys so they could experience the car and San Diego themselves.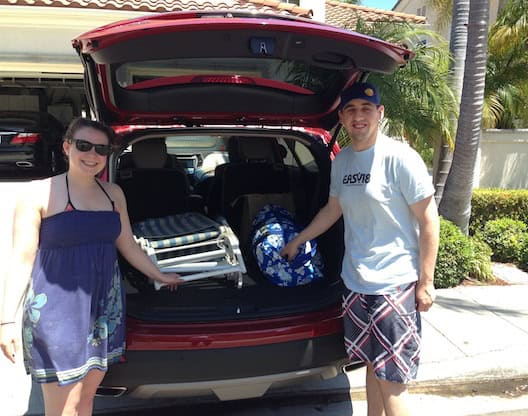 The sporty Santa Fe was perfect for their active days.
They stuffed the cargo with chairs and towels and food and spent a Sunday morning at the beach. It was even more relaxing because, although the mid-size Santa Fe feels big inside, it's manageable enough to fit into not-so-big parking spaces, thanks to its how-did-we-ever-drive-without-these rear camera and blind side detectors.
Because my son has apparently inherited a gene that skipped a generation, he and Julie also went paddleboarding that day, and said it was a snap to secure the boards to the top of the Santa Fe.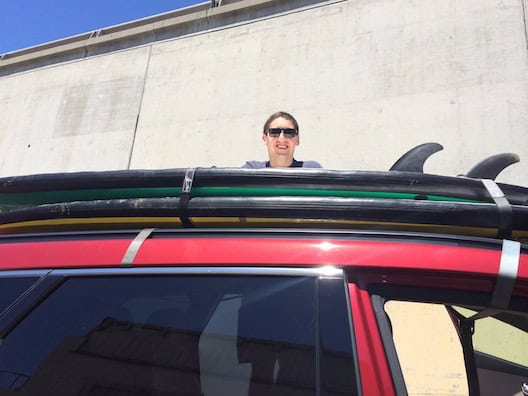 I won't go into the fact that they came home from their day in the sun as red as the car itself, despite repeated warnings from you know who to make sure to keep applying sunscreen. No wonder they raved about the cooling front seats and high-power air conditioning. Rather than say, "I told you so," though, I took the high road and thanked them for making such a noble effort to try and match the car. They are obviously both high achievers who always go above and beyond.
I hope the aloe I left in their room hasn't expired.
So, yes, driving the Santa Fe is so easy, enjoyable and relaxing, it's a day at the beach. I would happily drive it any time and would offer it to Alex and Julie again next time they're here.
Just not in red.