2 new thrillers by linda castillo and lisa unger – plus a giveaway!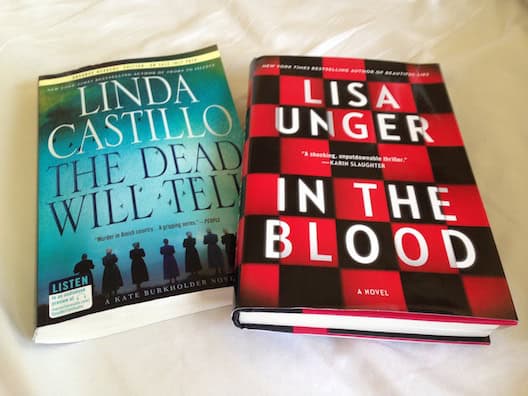 Hey, it's not my fault that the laundry is still in the hamper and the mail hasn't been picked up in days.
Blame Linda Castillo and Lisa Unger. 
If they didn't write such riveting stories, I would have been able to get my head out of their books and my butt off the couch.
But they did.
They always do.
I've featured both authors before, and am so excited they've come out with new thrillers just in time for summer reading.
Linda Castillo writes about murder in Amish country, bringing readers into this fascinating, culture where secrets are buried and nothing is as simple and innocent as it appears.
In The Dead Will Tell, an Amish family is ripped apart when a robbery goes wrong. The mother is abducted and the father and four children are killed, leaving only 14-year-old Billy.
Twenty five years later, people are dying and Police Chief Kate Burkholder suspects their deaths have something to do with the tragic events that took place on the Hochstetler farm.
I love the Kate Burkholder series because she's such a complex character – strong with a vulnerability that keeps her easy to relate to, and I find it so interesting when she's forced to remember and reflect on her own Amish roots.
The story quickly becomes a page-turning who-done-it, and, let me tell you, I was caught off guard.
Lisa Unger's In the Blood is also about secrets but is more of a psychological thriller and it totally freaked me out.
College student Lana Granger takes a job babysitting a troubled boy who is manipulative, charming and possibly dangerous. He seems to know about her own childhood, riddled with violence, and the mysterious disappearance of her close friend.
The story is chilling, thought-provoking and just plain shocking. I now need to go for a manicure because I bit my nails down to nubs while gasping my way through the book.
I highly recommend both of these books as beach reading. Make sure, though, to slather on the sunscreen first because, trust me, you're not going to want to move until you finish them.
I'm giving away a copy of both books to one lucky Midlife at the Oasis subscriber. For a chance to win, simply leave a comment below. Contest ends on July 13 at midnight Pacific time. Winner will be notified by return email. Prizes can only be sent to a U.S. mailing address.