l'oreal age perfect cell renewal and my age perfect skin!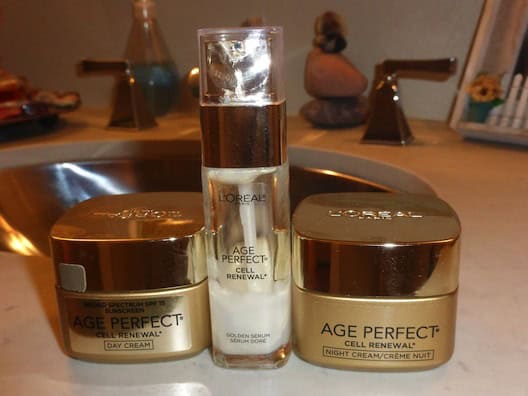 I am participating in a Vibrant Influencer Network campaign for
L'Oreal Age Perfect. I am receiving a fee for posting; however, 
the opinions expressed in this post are my own. I am in no way 
affiliated with L'Oreal Age Perfect and do not earn a commission
or percent of sales.


I've been using L'Oreal Age Perfect Cell Renewal for two months now.
And, although I still don't have skin like Julianne Moore, who is the perfect Global Ambassador for L'Oreal, I do have skin like the best version of me (who, by the way, would make the perfect Blogger Ambassador for L'Oreal).
My little bottle of Golden Serum Treatment, which I put on before applying either the Day Cream or Night Cream and which has turned out to be one of my favorite products ever, is almost empty.
You can be sure I will be picking up another bottle because this light serum glides across my face and makes it feel so soft and smooth. It sets a perfect foundation for the two creams so I'm not rubbing them into dry skin where they can clump in creases and make me feel old.
Instead, they make me feel age perfect.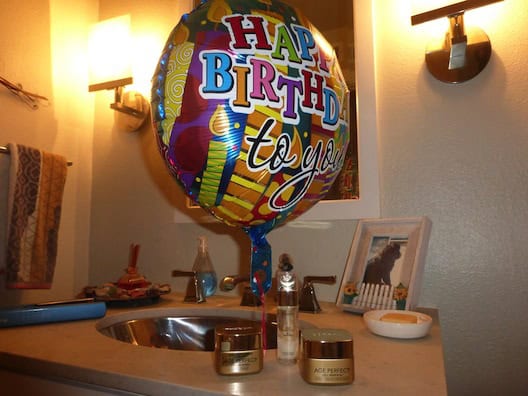 I'm grateful to have just turned 56 and I totally embrace the fact that I'm getting older. But I still want my skin to look its best.
Having used the Day Cream every single morning and the Night Cream most nights before I go to bed (that's a little harder to remember), I can tell you that the little lines above my mouth seem a little less noticeable. That makes a huge difference in how I feel.
I'm so glad I got to test these products because they have completely changed my skincare routine — and my skin. Now if L'Oreal could just come out with a line of Age Perfect Cell Renewal products for the rest of my body …