the red-hot 2015 mazda6
Other than "zoom-zoom," the word you most often hear associated with driving a Mazda is "fun."
They're not kidding.
How can you not have fun when you're driving a cute little sporty number like this 2015 Mazda6?
I had a week with that baby, and it definitely made me get my swag on.
Because the Mazda6 deserves more than just a trip to Ralph's (although it does seem to have upped my coolness factor with the check-out guys), Michael and I decided to take it for a weekend in Long Beach.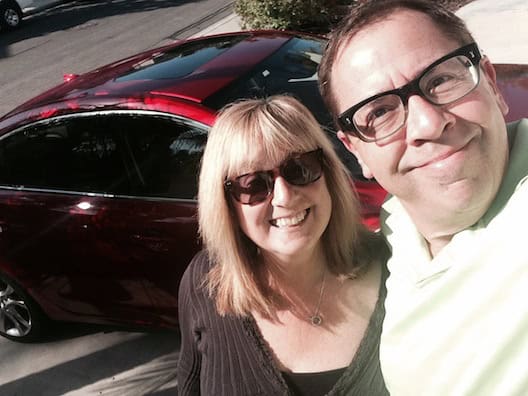 We loved zipping up the freeway but had to watch our speed because that red-hot exterior definitely stands out. The car handles smoothly and brakes easily, which we learned when a coyote – yes, a coyote! – jumped out of the bushes, in front of the car, and on to the other side of the road as I was taking a wide curve to exit. WOW!
When we looked up spirit animals later, we read that the appearance of a coyote signifies playfulness, which just happens to be another word for "fun." Duh! We also learned that there's something serious and solid behind that lightheartedness, and that's so true for the Mazda6.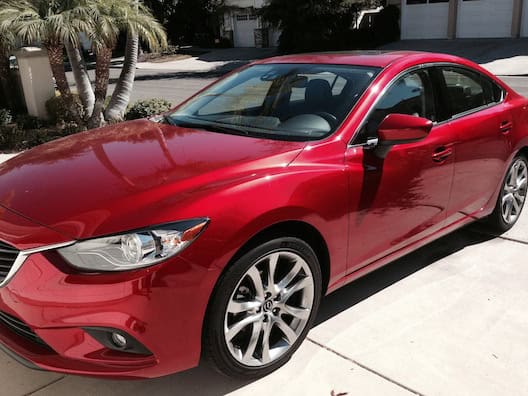 Not only does it react immediately but it's got a ton of safety features, including my favorite – the blind spot detectors on the side mirrors. The car also somehow manages to balance itself out to help keep you in place rather than throwing your head back when you have to stop short, which is amazing.
One of its best features is the navigation system, which not only has a nice, clear voice you can actually hear and understand, but tells you when there's a delay due to traffic and asks if you'd like to find an alternative route.
"That's awesome!" Michael screamed when it announced we were delayed three minutes, making me practically jump out of my seat and discover what I told you about stopping short.
We loved the screen and how easy it was to see, read and figure out all the functions.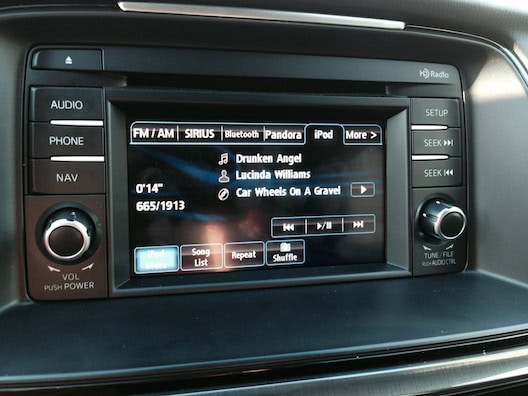 Okay, I probably should have chosen to take a photo when a different song was playing. Regardless, we had a great time listening to my iPod when I drove and Sirius radio when Michael took the wheel.
Because the Mazda6 got such good gas mileage, I was able to take another trip up to Orange County later in the week all on that same tank of gas, which was pretty impressive.
I would absolutely consider the Mazda6 if we were looking for a new car. And, although I didn't take these photos in the Mazda6, these are the songs that represent it way better than the one I used above.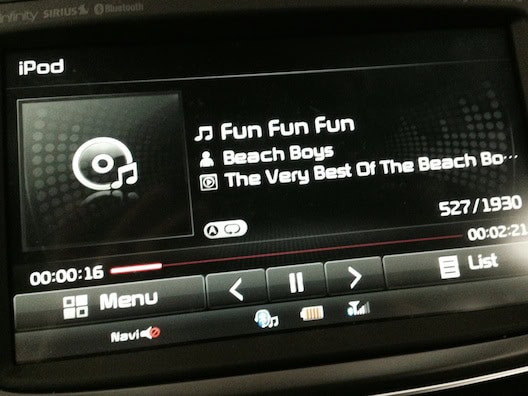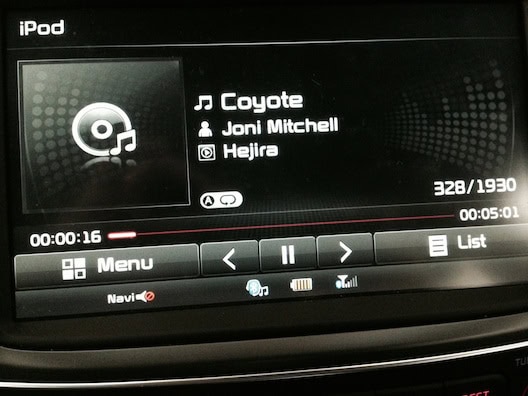 Zoom-zoom, indeed.