mitsubishi mirage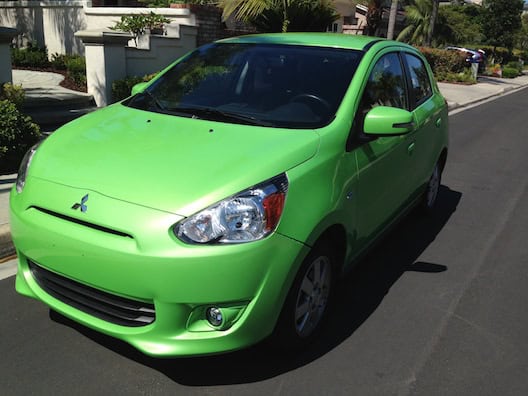 As I get older, I realize more and more that substance always trumps style.
Although there's something to be said for being cute and small, I've learned that it's more important to be solid, dependable and trustworthy.
Which brings me to the Mitsubishi Mirage.
When I first saw the car on Facebook, I thought it was adorable. In fact, I thought it was so adorable, I immediately reached out to my friends at Mitsubishi to see if I could test drive one for a week.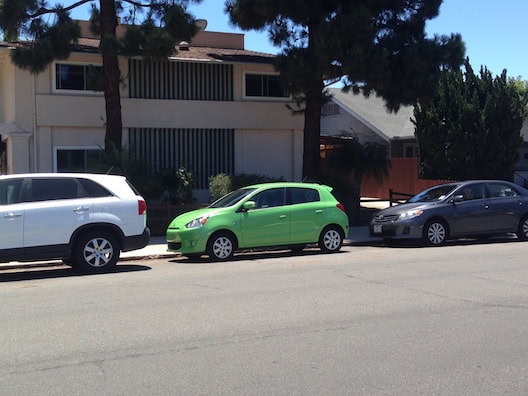 As soon as it pulled into my driveway in Kiwi green, I felt a little unsure of that decision but decided to embrace it. I felt a little better when a couple next to me at a red light started gesturing excitedly for me to roll down the window so they could tell me how much they loved the color and how it reminded them of their hippie days. They even suggested I stick some of those big flower decals you may remember from the '60s on it.
I didn't think Mitsubishi would go for that idea but I smiled and starting scrolling down my iPod for some Peter, Paul and Mary.
The good news about the Mirage is that it fit into every single parking spot I attempted. Nothing seemed to be too small for this baby.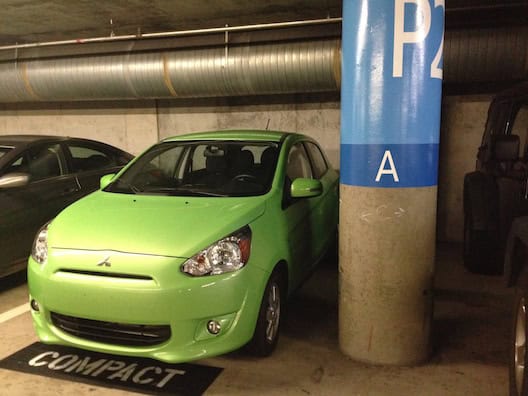 The not-so-good news is that it didn't drive smoothly at all and the ride was very loud. I felt intimidated driving next to SUVs and giant trucks on the freeway, and I could hear every sound the car made.
Because of its diminutive size, I can see people thinking the Mirage would be a good choice for new drivers. But I have to say that, if I felt unsure of myself in it, I can't imagine how a teenager with little experience handling a car would fare.
Also, the navigation system got us totally lost on our drive to Costa Mesa, which was extremely frustrating. As we've had to do with other Mitsubishi cars I've reviewed, we ended up pulling out our phones and using Google Maps instead. Even when we were in the correct place, we had to pay close attention because the voice tells you to make a right or left in whatever distance but it doesn't tell you the names of streets.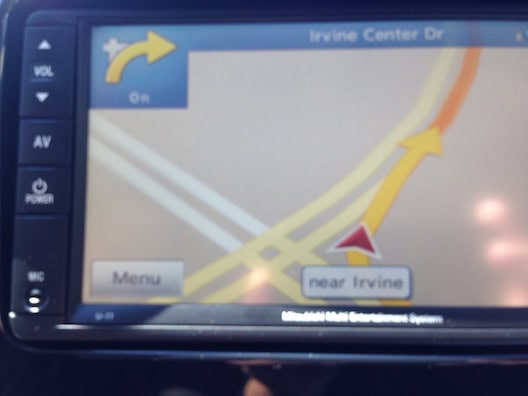 Worst of all, though, was the little incident I had. I drove to one of my favorite coffee places, which has a little slope into its parking lot. And I do mean little. I've never even thought about it before but somehow – I guess because the Mirage is so low to the ground – the front of the car scraped it.
Not only that but it separated a piece of the car by the driver's side front wheel well. I was mortified.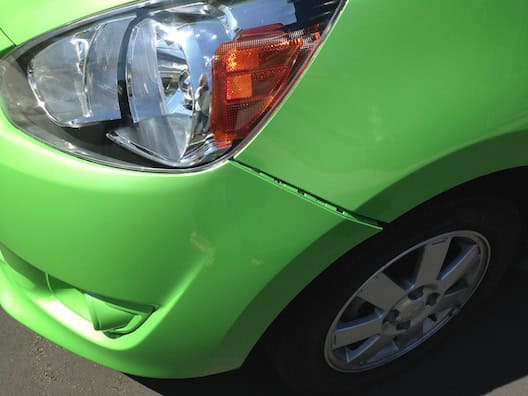 I drove it home slowly and we were able to mostly push it back into place because, honestly, it felt like plastic. But it wasn't 100% fixed, and I still feel terrible about it even though I didn't do anything that warranted a reaction like that from the car.
After that, I left the car sitting in front of my house until it was picked up, and I did a little research on the Mirage. You should know that it does have excellent safety ratings so I don't want to give the impression that it's an unsafe car.
It's just not for me. Although it fit nicely into tight spots, it also put me into too many.
And for someone who is all about making life an oasis, this cute little car was, well, simply a mirage.