road tripping in the mitsubishi outlander sport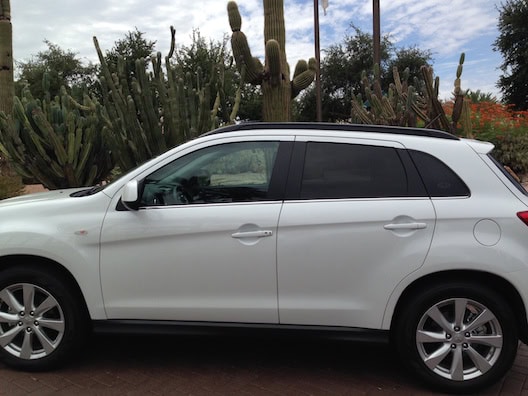 Because the last time I reviewed the Mitsubishi Outlander Sport in 2013, I stayed close to home, I decided this time I needed to take it on a real road trip. After all, the definition of "outlander" is "a foreigner, a stranger." It seemed like the perfect car for Sara and me to drive on our mother/daughter spa week in Arizona — a state only an hour and a half flight away yet, in so many ways, the equivalent of another planet.
Thanks to the Outlander Sport, though, we felt right at home. Here are some of the ways it made us feel like we belonged:
* It had room for our favorite things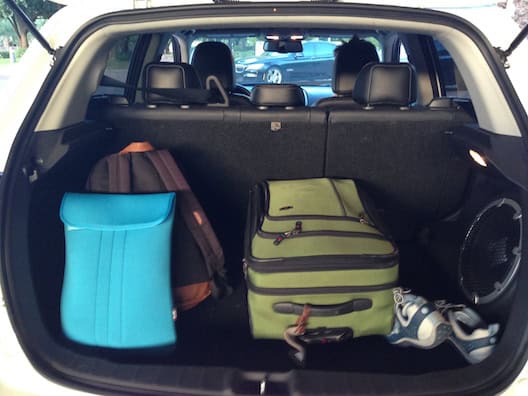 You know how you always feel better when you're surrounded by your own beloved possessions? Well, the Outlander Sport had a ton of room for all our stuff. Even though we ended up living in spa robes most of the week, we had overpacked — as usual — but had no problem fitting our bags in the cargo. We were also able to bring along all the snacks and water the hotels so graciously sent us off with — we were going through the desert, you know — including a couple of pretty glass bottles that remained in one piece throughout our trip.
* It helped us keep our cool
Okay, I know we've turned into weather wimps since we moved to San Diego but 106 degrees???? Really??? And look at the rest of the week! The iPad on our desk at the Phoenician gave us up to date weather reports so we made sure to keep the air conditioning on high in the car so we didn't pass out. Thankfully, it didn't take long for it to cool in there. Keeping cool and collected in the Outlander Sport during an Arizona summer? No sweat.
* It always fits in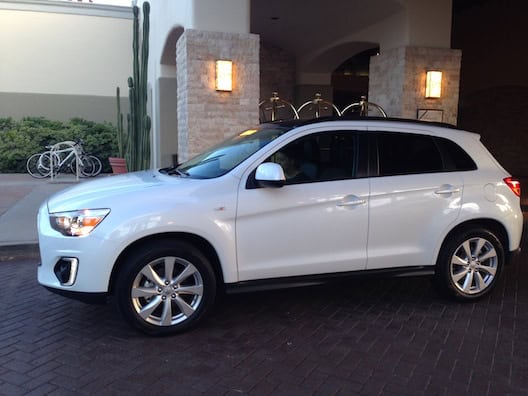 See how nice the Outlander Sport looks with the cacti in the background in that top photo? And see how nice it looks in this picture in front of the Fairmont Scottsdale Princess? I love that it's appropriate pretty much anywhere and has the flexibility for driving wherever you want to go.
* It drives smoothly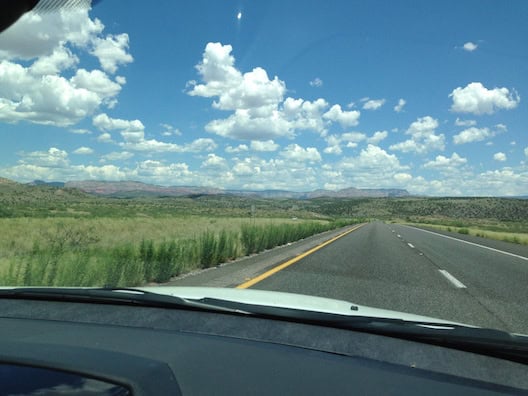 Whether we were in the mountains, the desert, on the freeway or the side streets, the Outlander Sport handled well and provided an easy, smooth ride. It's not too big or too small, and it made the drive so pleasant. Plus, we made it to three spas without having to stop for gas.
* It sounds good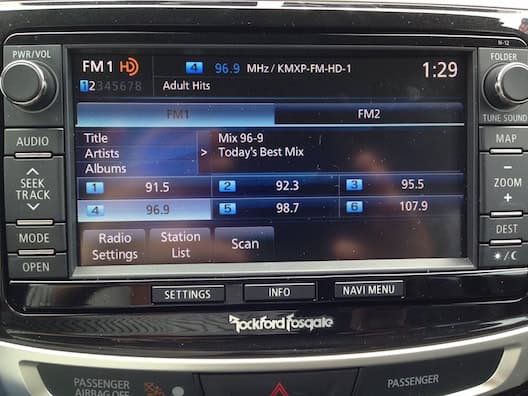 Sara and I always argue over whose music we're going to play in the car and she usually wins because I have to admit I learn about great new songs and artists from her. Thanks to her, I put "Royals" and "Wake Me Up" on my iPod months before Lorde and Avici became household names. On this trip, we were able to plug in her phone and my iPod and, when we wanted a change, we got great reception on the satellite radio. My favorite moment: singing the Dixie Chicks' "Wide Open Spaces" together as we drove through miles of just that.
Unfortunately, music wasn't the only thing we used our phone for during our trip. I've mentioned the unreliable Mitsubishi navigation system before and, although we happily gave it another chance, I hate to report that it failed us again.
Thank goodness the concierge at the Phoenician had told us that the drive to Enchantment in Sedona would be about two hours because when we plugged the hotel into the GPS, we got this: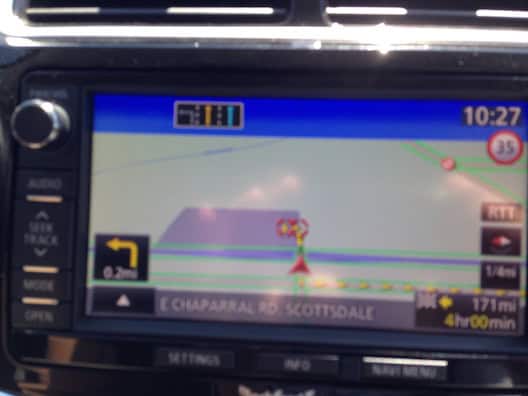 That made no sense to us so we assumed we made a mistake, and typed in the address just in case it was the wrong Enchantment.
When it still said four hours, we turned to Google Maps.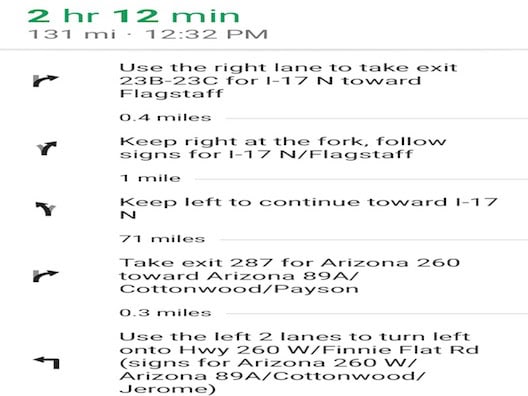 Now, this is a problem for obvious reasons. If we hadn't known how long the trip should take, I can't imagine where we would have ended up four hours later. And using Google Maps eats up data fast so we had to take screenshots of the directions so we could turn it off.
This is where the Outlander Sport's name sadly becomes appropriate. If we had followed the navigation system, we really could have been strangers in a strange land.
But it all worked out and we had a great trip. As we approached the Red Rocks of Sedona in this beautiful part of America, Woody Guthrie came on the radio and all I could think was that, other than the GPS, this Outlander Sport was made for you and me.