an amazing way to pay tribute to someone you love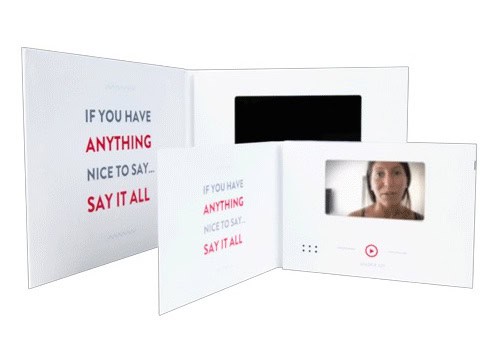 Last year, Michael, our kids, my parents and I all received emails from a company called Tribute, saying that my brother-in-law was putting together a video montage for my father-in-law's 90th birthday and asking us to participate.
I was intrigued by the idea, especially since the family videos we created more than a decade ago for our kids' Bar and Bat Mitzvahs are among my most prized possessions.
The Tribute process was super simple. We basically just had to click the link, make a short video on our smartphones telling my father-in-law how much he meant to us, then click "submit."
We were there on his birthday, when my brother-in-law pulled up the video on the computer and my father-in-law sat there, mesmerized, as his family and friends poured out their love for him. It was so touching to watch his reaction and, although I actually took photos, the moment feels too personal to share.
So, with Michael turning 60 earlier this week, I decided to make a Tribute video for him. I started the process two weeks ahead of time and set a deadline for a couple of days before his birthday. I can't stress how easy they made all of this.
You write a short letter to your "guests," explaining why you're doing this and giving them a prompt or two in case they don't know what to say. I suggested they explain how Michael has impacted their life, and told them to feel free to share a favorite memory or just talk about how much he means to them. I added a baby photo of Michael — how cute is he?! — and asked them to please keep this a secret.
I then put in all the guests' email addresses — Tribute shows you exactly how to do this — and that was it. (FYI, I included myself on the email list so I could get the same notices everyone else did.) Tribute sends out reminders on a regular basis, which gives people the nudge they need because they're often intimidated by the idea until they actually do it.
I think I sent out about 45 invitations and ended up with 37 videos. I loved watching them as they came in. They were as varied as the people who created them — people from every stage of his life. There were short ones, long ones, funny ones, mushy ones. The final video was over 40 minutes long but since I wasn't planning to show it publicly, I thought it was fine. After all, who would complain that too many people were gushing over them?
Tribute gives you the option to edit your video yourself but I opted for the Concierge service because I didn't want to take any chances. Not only did they do a fantastic job — they added an opening and closing frame and some background music — but they were such a joy to work with.
Two guests who were overseas had trouble with the link, so the Tribute people sent step-by-step instructions explaining exactly how to email their videos independently. And when one important video came in after the whole thing was already completed, they unhesitatingly added it, no problem.
Seriously, everything should be this easy, organized and pleasant. Take a look:
When I presented the video to Michael, he was blown away. Yes, there were tears.
I'm now thinking of ordering the video card, above, so he has something to actually hold other than his phone or computer.
Tribute bills itself as "the most meaningful gift on earth," and I would have a hard time challenging that. I mean, what could be better than being able to just click on a video like this when you're feeling down and listen to person after person tell you what they love about you? Knowing you're loved definitely gives you all the feels; but knowing why takes it to a whole other level. I know this gift is something Michael will treasure forever.
I can't recommend Tribute enough and, if you have any questions, please feel free to reach out. I'm happy to help you because I really believe everyone should have a video like this.
In fact, I'm (not so) secretly hoping that someone will make one for me when I turn 60.
Or maybe 59.