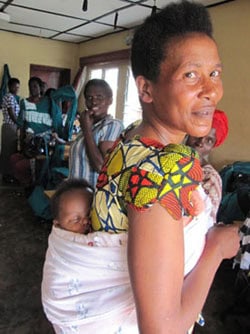 I boarded the plane at 2 a.m., as is customary in Kigali, Rwanda. This is the time when the hills that pepper the country are etched in fog, and the sky fills with a loneliness that whispers of the horrors that Rwanda has endured. I felt myself fill with dread. I shivered as I fervently willed the plane to be delayed. With each stop I felt heavier — as I ate the last of spicy African food, as I floated above the fields of Kenya. With each flight toward home, the food became plainer and my heart became heavier. I saw the roads ordered and manicured in front of me and felt trapped. I missed the dusty roads filled with African-garbed sashaying-hipped women with food piled high on their heads and babies on their backs.
Only a short three weeks before, life in San Diego had seemed ideal to me. Then I arrived in Rwanda to work with women who were victims of gender-based violence and for two weeks the women captivated me. Their beauty was staggering and their courage seemed to emanate from deep within their souls.
I decided to stay for an extra week to work with orphaned street boys. They had all come from horrible situations stemming from the social decay following the genocide in 1994. Boys had been abandoned to the streets or left in the forests of the Congo at ages as young as five years old. Despite all of their pain they were alive, filled with hope and joy, and within minutes of hearing their mischievous laughs and seeing their bright warm chocolate eyes, I was head over heels and hopelessly in love.
I returned to California at Thanksgiving time. I tearfully ate turkey and stuffing, but my head was filled with Africa. Thankfully, I was fortunate to have someone very supportive who helped me make a plan to go back. A few days after 2010 rang in, I was at the airport. With each step I took toward the gate, my guilt about leaving loved ones and my hunger to return to Rwanda did battle. By the time I landed in Kenya for my last stop and saw every color of the rainbow, I felt alive again.
For eight glorious months I felt so lucky to be able to look out the windows of Rwanda. I spent hours teaching, mentoring and counseling the boys. Every day, they made me understand the meaning of "time flies."  I rode buses with people who told me stories of the genocide while preparing for their college degrees. I held babies with malaria who would later die. I met women who had escaped the sexual violence of the Congo. I rode on the back of a motorcycle driven by a man who spoke five languages.  The view was the most beautiful and biggest gift I have ever received.
So you are probably wondering, "Did this crazy girl get this Africa thing out of her system?" Ha! I wish! And so do my loved ones! As my friends get their kids ready for playmates, I am once again packing. Preparing, thanks to the gift of a generous donor in Colorado, to open an orphanage in Africa for street children. Excited to look out the windows to again to the most beautiful views I have ever seen.