macy's celebrates 10 years of the rwanda path to peace initiative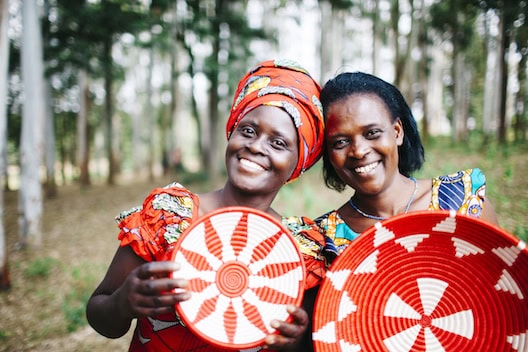 This post is sponsored by Everywhere Agency. All opinions are, as 
always, 100% my own. Note: Please click on the links even if you 
see strikethroughs, which I can't seem to get rid of. They still
work and this is such an important cause.


I have always believed that female energy has the power to change the world, and Macy's Rwanda Path to Peace initiative absolutely proves that's true.
In 1994, more than a million people were massacred in the tiny African country of Rwanda in a violent ethnic cleansing. In a period of 100 days, 20% of the population was slaughtered. It was one of the worst genocides in human history yet the rest of the world went about its business, oblivious to the horror and suffering.
With so many men dead or in jail, the women of Rwanda, most of whom found themselves suddenly needing to become the breadwinners of their families, took it upon themselves to do what needed to be done. The Hutu and Tutsi women, representing both sides of that deadly genocide, came together to weave baskets of peace.
Politicians and world leaders could learn a big lesson from them.
As a traditional and ancient Rwandan art, basket weaving was a perfect symbol of the women's cooperation and a natural way for them to make a statement — and a difference. Each design is unique and handcrafted from sisal and grass by women who learned to weave from their aunts, mothers and grandmothers.
In 2005, Willa Shalit, an American artist, activist and social entrepreneur, showed the baskets to executives at Macy's who made a commitment to sell the baskets and go into business with the weavers.
"Macy's Rwanda Path to Peace program was one of the first-ever 'trade-not-aid' efforts and is the longest-enduring, impacting thousands of women throughout the country of Rwanda," she said. "This important initiative, in partnership with the Rwandan weavers' cooperative, Gahaya Links, has enabled women in Rwanda to take care of essential human needs, send their children to school, buy health insurance and malaria nets, and to help rebuild their communities. We are so grateful to Macy's and its customers who have responded with open hearts, so that Americans can directly support peace and prosperity from one continent to another."
I was lucky enough to be in New York last week for the 10th anniversary celebration at Macy's, where they revealed these gorgeous red and white commemorative baskets.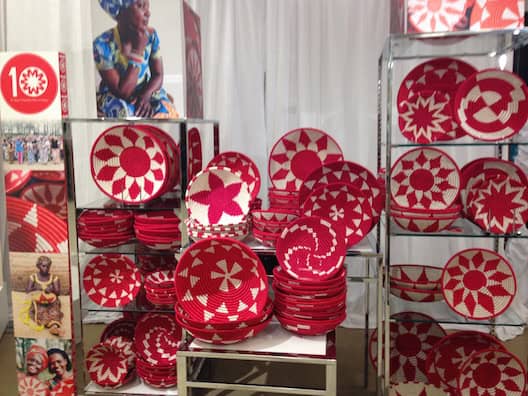 I would love to visit these women in Rwanda one day because I was so moved listening to Janet Nkubana, who runs the program in Kigali and works directly with the weavers, as she described the way entire villages have been transformed by the income generated by the sale of these baskets.
Besides the financial benefits, one of the most important results of the initiative has been a decrease in overall violence. In many cases, women whose families were "enemies" during the genocide, have made peace with each other through weaving.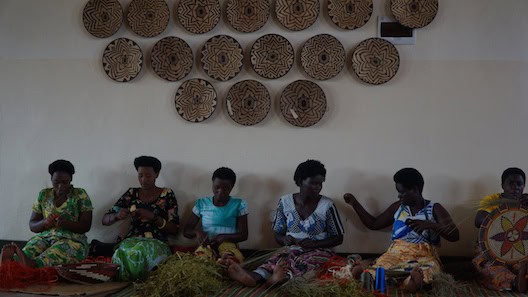 Additionally, the baskets have not only led to peace between the Hutu and Tutsi, but also between men and women. Domestic violence has decreased dramatically now that men respect that women are wage earners. That fact also allowed women to have increased personal power in a formerly male-dominated culture, which has led to greater stability throughout Rwandan society.
The gratitude of the Rwandan weavers was demonstrated in a hand-beaded shield Janet presented to Terry J. Lundgren, chairman and CEO of Macy's, Inc.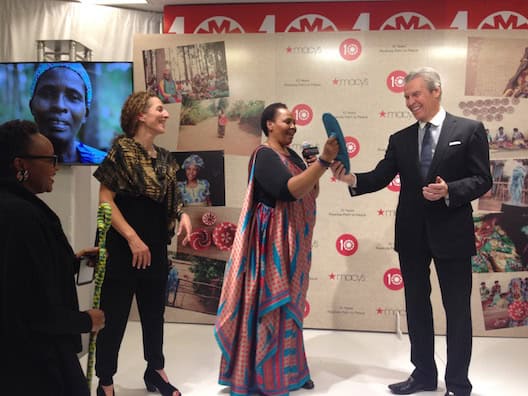 "From my first visit to Rwanda, my life was permanently changed by the strength of the weavers I met," he said, "knowing what they have endured and all they have taught us about courage, forgiveness and grace. I want to thank our customers for continuing to support this effort and for helping us make a difference in the world."
The longevity and success of this amazing initiative are truly a testament to how we can use our shopping dollars to make a difference.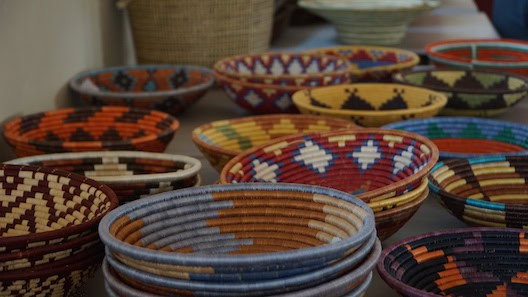 Let's support our sisters in Rwanda by giving their beautiful and unique baskets as holiday gifts this year. They would make ideal hostess gifts and beautiful decorations for our own parties. And just think how meaningful the baskets would be to teachers, who could use them in classrooms and share the story behind them with their students.
What could be an easier way to show the power of female energy than shopping with a conscience?