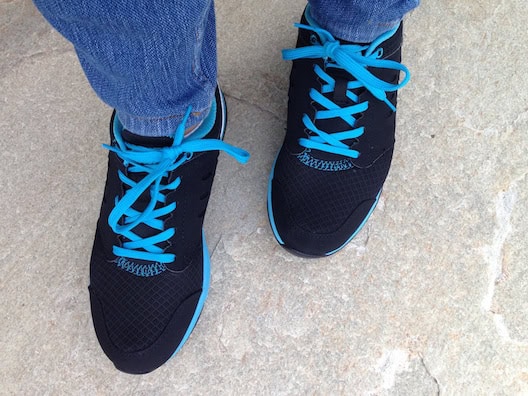 Oh, if only I'd had these shoes when we were in Paris!
We walked so many miles every day, I would inevitably have to stop and put my feet up at some point while Michael, who had walked the 500+ mile Camino de Santiago last year, waited patiently. [Read more…]
Have you ever bought a gift for someone and then, because it was such a great present, ended up buying another one for yourself? Well, at TOMS Shoes, you can shop guilt-free because they do the opposite: for every pair of shoes you buy, TOMS gives a pair to a child in need. It's a brilliantly simple – and simply brilliant – philosophy.
TOMS founder Blake Mycoskie came up with this life-changing idea while relaxing on an Argentinian farm after losing "The Amazing Race" in 2006. Inspired by the alpargatas – the lightweight canvas slip-ons lined with leather and favored by Argentinian workers – on his own feet, Blake decided right then and there he was going to open a shoe company and help the people of the impoverished villages he had visited.
True to his word, Blake gave 10,000 pairs of shoes to children in Argentina during the company's first year, and 50,000 pairs to children in 2007. This year, he's planning to donate a whopping 200,000 pairs.
TOMS have quickly become a staple for stars like Keira Knightley and Sienna Miller who appreciate their good looks and comfortable fit as well as their philanthropic nature. A blend of espadrilles and Vans — the hip Southern California footwear brand – these are shoes that literally look good, feel good and do good! In fact, they've even been honored with the Cooper-Hewitt People's Design Award.
Blake's company philosophy is "One for One," and he's definitely putting his money where his mouth is. He also provides so many ways for individuals to get personally involved. Through his non-profit organization, Friends of TOMS, people can participate firsthand in Shoe Drops, giving them a chance to literally put shoes on the feet of children who need them. Our goal is to join Blake on one of these missions.
In the meantime, my daughter and I are happily doing our part by buying more TOMS.
This post originally appeared on my former blog, StyleSubstanceSoul.com.