freewaters: shoes that look good, feel good and do good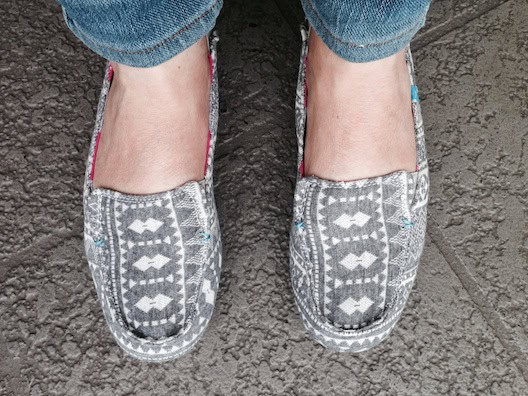 How cute are these shoes?!
I am in love – LOVE – with my new Freewaters and, most of all, with the fact that each pair provides clean drinking water to those in need.
Freewaters is a great brand with a casual, California vibe – not surprising since its two young founders studied together at the Art Center College of Design in Pasadena and opened their own studio amidst the redwoods in the Bay Area.
Their shoes are so me!
This particular style, appropriately named Snuggle Bug, is so comfy cozy, it's like a pair of slippers you can wear anywhere. It's got stretch fit elastic at the tongue and heel to create a really custom fit. (Dear Eli and Martin, can you please make jeans, too?)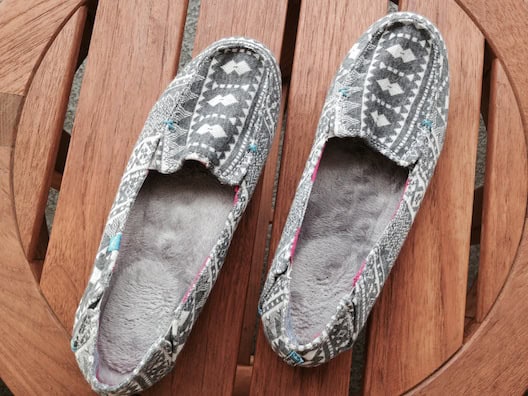 The signature Freewaters Super Pillow Insole has a faux fur lining which makes my feet feel like they are literally being snuggled, and the medial and lateral arch support is especially welcome at my age – and rare in casual shoes like these.
These are ideal shoes for travel because they smush easily into a carry-on yet they're sturdy enough to withstand long days of sightseeing. They also come with a stress-free limited lifetime warranty. Don't I look stress-free hanging out at the Hotel Maya in Long Beach?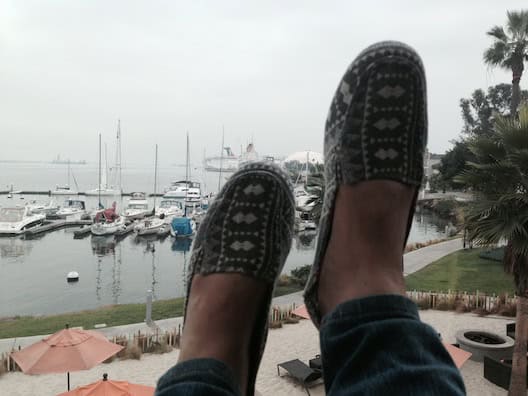 I love the soft cotton canvas and the ethnic print, with the bold hot pink and gray striped lining. And I love the surprise of the two different tags on the back of each shoe, one bearing the message, "Do some good."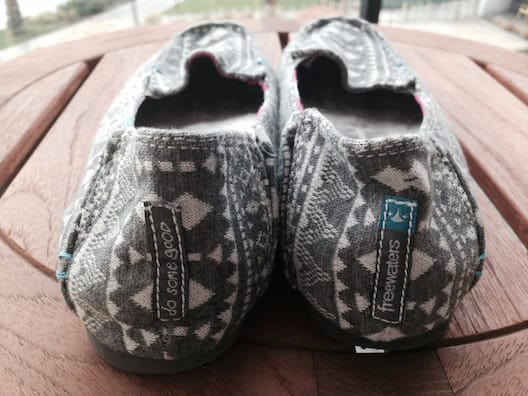 That's what you're doing just by buying these shoes. I'm a big believer in supporting companies that give back, and Freewaters is all about that. For every pair of shoes you buy, money goes toward digging wells in remote villages where people are dying from lack of clean water.
So shop away, knowing you're making a difference in people's lives. I've got my eye on the Songbird Boot and the Harlee, and think my husband would happily live in Escape Artist.
I'm thinking the person who came up with the expression, "Putting your best foot forward," must have been wearing Freewaters.